U.S. 84 Trek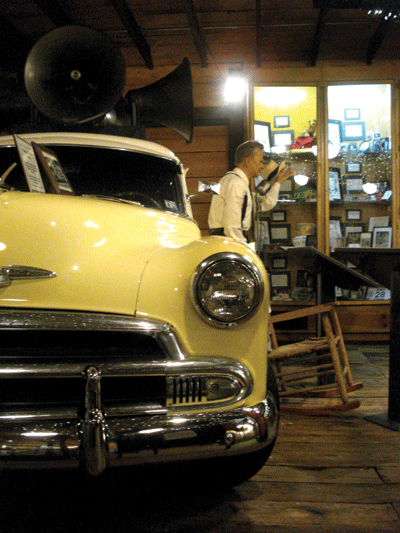 The "Images of America" series – small volumes filled with big collections of vintage photography – continues to generate books celebrating the histories and traditions of Louisiana places, the newest being Winn Parish by longtime Winn Parish Enterprise publisher Bob Holeman and Carolyn Phillips of the Louisiana Political Museum in Winnfield (aided by the "Friends" of that don't-miss-it attraction). That book inspired this "Traveler" trek, but while we're at it, we might as well take a spin on good old U.S. Highway 84 all the way through Concordia, Catahoula, La Salle and Winn parishes, as scenic and historic a drive as any in the state.
From earliest times, as indicated by the "El Camino East/West Corridor" signs posted along 84, this area was the vital link for settlers heading west. The Natchez Trace, with its highwaymen and equally treacherous wayside inns, led from Nashville on the Cumberland to Natchez, where travelers had to cross the Mississippi and, some 115 miles west, cross the Red at scenic Grand Ecore Bluff and follow El Camino Real ("the Royal Road") to their destinations and destinies.
WESTWARD HO
Old 84 leads through delta-lands and hill country – passing cotton fields, Indian mounds, endless woods-and-water opportunities and two halls of fame on subjects dear to Louisiana hearts. Depending on your interests, plan on two hours, two days or two weeks.
The first exit on the good side of the Natchez-Vidalia Bridge will swing you around to Concordia Avenue, which leads over the levee for a stop at the State Tourist Center (112 Front St., (318) 336-7008) in the new riverfront development called Vidalia Landing. The Riverwalk there offers close-up views of the wide Mississippi plus an opportunity to reconnoiter the landing's new hotels, medical center, Convention Center and amphitheater.
Lucky folks who visit on Sept. 23-24 can see a re-enactment of Jim Bowie's world-famed Vidalia Sandbar Duel (Sept. 19, 1827), which, along with lots of food and music, is part of the annual Jim Bowie Festival. The Natchez Balloon Festival follows on Oct. 14-16, augmented by a carnival and flea market in Vidalia as the big balloons drift by.
Backtrack on Concordia, and fork left on Carter to find the old Concordia Courthouse, facing U.S. 84. Built in 1939, the four-story art deco landmark is now home of the Concordia Library.
The Post of Concord was established here in 1798 by Commandant Don José Vidal, and westbound 84 traverses much of Vidal's original Spanish land grant. Beyond the new Concordia Courthouse and just past the intersection of Highway 3180, turn right on the often unmarked street that leads to Taconey Plantation Road to find the circa 1850 manor (pronounced ta-CO-ney) of the cotton empire of Alfred Vidal Davis (private but viewable from roadside).
Louisiana loves its so-called oxbow lakes, former bends of the river abandoned by the meandering Mississippi, and you can't take the 10-mile drive to Ferriday without talking about meanders. The ridges along the north side of the highway are remnants of one old river loop's natural levee, bordering, beyond those ridges, a believe-it-or-not arm of the state of Mississippi amputated when the river moved east. The curving tip of an even older phase of that same loop is now the pride of Ferriday, the beautiful trophy-bass waters of Lake Concordia.
U.S. 84 takes a left at Louisiana Avenue in Ferriday, but detour right to see the historic commercial district, where the restored Arcade Theater presents plays, kids' movies; civic gatherings; and frequent blues, country and gospel shows, all in perfect harmony with its next door neighbor, the now famous Delta Music Museum.
Overseen by the Secretary of State, this "musicians museum," in its old brick post office, is home of the Delta Music Hall of Fame, with displays honoring its 17 inductees (blues, rock, gospel, funk and jazz players), with more to be named during the Delta Music Festival on Sept.10. Local favorites, of course, are Ferriday's three famous/infamous first cousins, Jerry Lee Lewis, Mickey Gilley and preacher-singer Jimmy Swaggart, whose wax images surround a vintage piano as though jamming at a family reunion. Visitors come from around the world to browse the exhibits and buy the shop's souvenirs and CDs, including pilgrims traveling the "Blues Highway" along the Mississippi on U.S. 61, for whom Ferriday is now a standard detour.
Head back along Louisiana Avenue to the old Lewis family home at 712, where Jerry Lee's sister Frankie Jean conducts tours of an unimaginable and captivating horde of that bad-boy rock star's memorabilia. You'll be inspired to dust off your 1989 DVD of Great Balls of Fire! back home, but for now you'll be content playing your new Lewis and Gilley CDs as you drive the 7 miles west on U.S. 84 to incredible Frogmore Plantation.
After passing a few miles of Frogmore cotton and just past Buddy and Lynette Tanner's 1815 raised cottage, park at the old Frogmore commissary for tickets. A standard plantation history tour is offered daily (closed Sundays), but also ask about special tour topics such as the cotton industry; Delta music; Civil War involvement; or even the Music, Mistresses, & Marriage tour. For more background on one of the most diverse plantation experiences to be found in the South, call (318) 757-2453 or visit frogmoreplantation.com.
Ten miles and a few more Jerry Lee songs down the road, cross Black River into Jonesville and turn right on Front Street to explore remnants of Indian mounds and surrounding ridges (called the Troyville site by archaeologists, the name taken from an 18th-century local plantation) upon which the town was built. A cemetery at Front and Second streets, maintained by nearby First Methodist, sits atop one of the better-preserved mounds, and two blocks later Front actually climbs the large mound at the corner of Little River Road.
The opening in the Front Street sea wall at First Street is the entrance to Three Rivers Park, just a stone's throw downstream from the point where the Ouachita River is joined by the Tensas and, there and then, assumes the alias of Black River. The Black is then joined almost immediately, actually at the park, by Little River and heads south in search of Red River.
From First, turn left on Pond Street, which, just beyond Second, leads past a small mound on the left and, on the right (adjacent to Trinity Presbyterian), the scant remains of – I wouldn't kid you – an 82-foot mound. DeSoto saw it in 1542, and it was still 50 feet high in the 1860s, but in 1931 it became fill for the approaches of Jonesville's first bridge. Lost forever? See "Best Bets" on page 32.
From Jonesville it's 10 miles to Louisiana 28 and then another 1.5 along 84 to a fine spot for glimpsing famed Catahoula Lake. Turn left at the Wildlife Management Area sign, and look for Wildlife Drive, which skirts the northeast tip of the big lake and circles a scenic bird habitat called Duck Lake. A ranger station offers bird lists and information about other opportunities in the WMA, or you can contact refuge manager Robbie Dailey at (318) 992-5261 or Robbie_dailey@fsw.gov.
Ten miles later the La Salle Parish seat of Jena will entice you with good restaurants and motels, and it's 15 more to the northern fringes of Kisatchie National Forest's big Catahoula District, bounded there by the Dugdemona River passing by on its way down from Winnfield.
WINNFIELD AND BEYOND
You know even before you get to Huey and Earl's hometown that this is going to be all about politics. And why not? Everything you've ever heard about our politics stems from this town. Three governors were born here, and two more, careful calculators have calculated, were sired here. Where else will you find a Huey P. Long Vo-Tech, Uncle Earl's Hog Dog Trials (every March) or a Pea Patch Gallery (good food, good art, named for Earl's Pea Patch Farm)?
Touring the town is easy: Everyone's favorite landmarks are lined up right along Main Street – all except for the bronze statue of Earl at the Long family home site where he and Huey grew up, a block off Main on Maple. Earl donated the square for a city park, and he's buried there beneath his statue just as Huey lies beneath his own towering statue at the State Capitol.
Main Street is much unchanged. The fanciest boardinghouse/inn still stands at 801 E. Main as it has since 1908 – piano in the parlor, rockers on the porch – even though it's got a pool in back now and a new name (Southern Colonial Bed & Breakfast, (318) 628-6087). The "oldest building in town" still stands at 101 E. Main, built in 1852 as the general store of a Prussian immigrant. Across the street the old Bank of Winnfield (now Heard Insurance Co.) looks the same as when Huey's office was upstairs or when it was the target of Bonnie and Clyde's last bank job. They got away but without a cent – the bank had been awaiting delivery of money at the time – and three days later they were gunned down by lawmen in neighboring Bienville Parish.
Next door a statue of Huey as a young lawyer, law books in hand, stands under shade trees at City Hall, and three blocks away, in the Louisiana Political Museum and Hall of Fame (the old L&A depot), he is depicted in wax at the height of his power, law books lining the walls of a lavishly furnished office (using furniture from the Longs' Audubon Place home in New Orleans).
Across the exhibit room, a waxen Earl stands beside a shiny yellow sound car, delivering a tirade to an unseen crowd. Push the right buttons, and you can even hear the brothers speak, Huey bellowing and Earl rasping, "high popalorum" and "socks on a rooster."
Dozens of display cases present photographs and ephemera of other men and women who have made our politics a thing of legend: every name you can think of, from contemporaries to old-time reformers and reformers of reformers, alongside such personalities as editorialist Wiley Hilburn; editorial cartoonist Pap Dean; and musician Jay Chevalier (composer of "The Ballad of Earl K. Long"), who often hit the campaign trail with Earl to perform.
The museum, which will feature a special Louisiana Governors exhibit during the Louisiana Bicentennial in 2012, is open weekdays, or call (318) 628-5928 in advance for a Saturday appointment.
Four miles west of town, the Winnfield Salt Dome sports a rare layer of cap rock, 400 feet thick, that has been mined for minerals for 75 years. Just past the company's entrance gate, a view station provides a look into the quarry, 100 feet down, exposing three distinct layers, says Darwin Spearing in his Roadside Geology of Louisiana: anhydrite, calcite and mixed minerals.
The Winn District of Kisatchie stretches from Winnfield to Red River, and until it drops into the river valley, U.S. 84 is quite hilly, with frequent highway cuts through colorful sandstone – a road Spearing credits
with "proving that Louisiana really does have some genuine rocks."
Kisatchie stretches miles north and south of 84, but by luck, a great introduction to this district, the Gum Springs Horse Trail, waits just off the highway 4 miles west of the quarry. A sign marks the trailhead, and two looping trails, 5.6 and 18 miles, promise an exciting horseback exploration of these Kisatchie hills. For details, call the Winn Ranger District at (318) 628-4664.
At the U.S. 71 intersection in Clarence, U.S. 84 ends, becoming Louisiana 6, which leads 3 miles to the Red River Bridge at Grand Ecore Bluff, the full face of the 80-foot bluff in view for westbound drivers. Once across, turn right on the marked drive and follow signs to the Corps of Engineers Welcome Center, where film dramatizations, models and artifacts tell of the river's prehistory, the Indian era, the 180-mile logjam cleared by Henry Shreve, the steamboat era and today's lock-and-dam control of water levels for commercial and recreational uses. The views of the river far below the welcome center's porches and walkways are a sight to behold.