Vitus Shell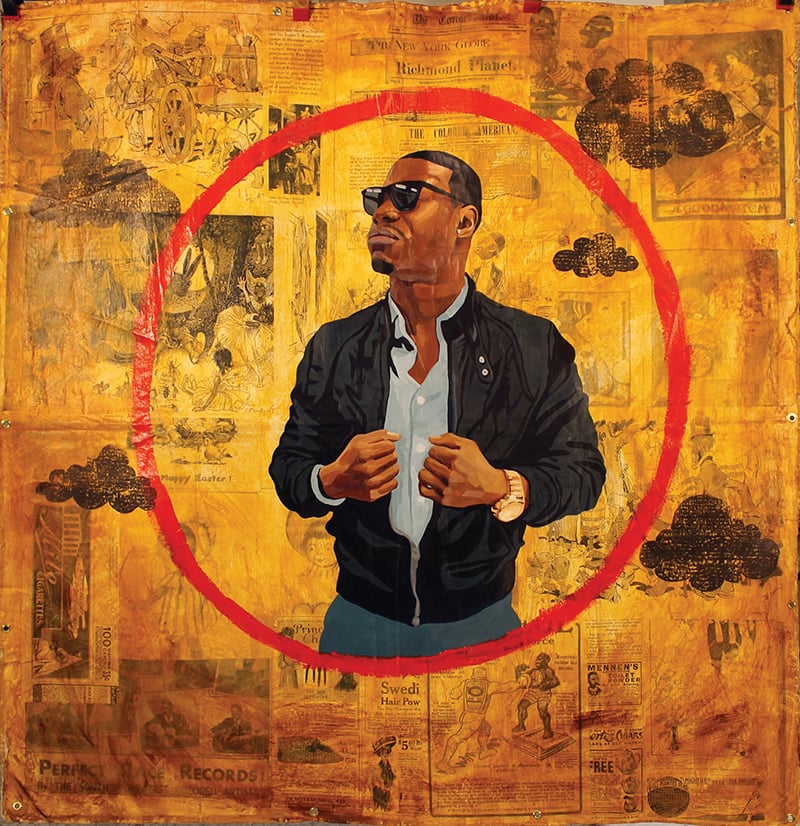 The poet and playwright Bertolt Brecht said, "Art is not a mirror to reality but a hammer with which to shape it." To Vitus Shell of Monroe, art is indeed a hammer. It is a means to shape reality for the outside world to see the African American experience through strong, compelling and often unsettling images of black contemporary life in America. His paintings focus public attention on a long dormant subject that has become as relevant today as it was in the troubled 1960s. Three themes drive that message — irony, activism and his notion of black coolness.
"My large scale paintings are geared toward the black experience, giving agency to people from this community through powerful image deconstruction, sampling and remixing identity, civil rights and contemporary black culture," Shell says. "In my work, I strive to bridge the gap between the older and younger generations by exploring and uncovering factors that contributed to the unfortunate relationship breakdown between the two. Moreover, my layered, mixed media painting examines parallels between present day behaviors and attitudes that date back to African roots. My artistic goal is to exude the hip-hop lifestyle with a Southern vernacular."
That "Southern vernacular" takes on varying imagery, depending upon his unwritten story line. Shell says he is "apt to pair depictions of grizzled hustlers, veterans of the street, with images of angelic school girls." By so doing, he presents black culture "as something multi-dimensional and nuanced."
New Orleans writer, storyteller and photographer L. Kasimu Harris likened Shell's paintings to the poems of Harlem Renaissance poet Langston Hughes and to the writings of the early 20th-century Pan-African civil rights activist W.E.B. Dubois.
"Vitus Shell's work is steeped in the double consciousness that Dubois explored in 'The Souls of Black Folk,'" says Harris. "Shell's canvases speak in bold declaration of blackness, examining the idealism of patriotism, but the reality of a pariah. And his subjects of everyday black folk who are often displayed on the white walls in galleries provide viewers a glimpse into lives other than their own. They are a confrontation of race, class and privilege that America wants to ignore."
Shell's journey in art began at Wossman High School in Monroe where his teacher, Linda Ward, introduced him to painting and encouraged him to experiment with color and subject matter. From there he studied at the Memphis College of Art where he met and assisted artist Brenda Joysmith and her husband Robert. He credits them for teaching him how to be an artist and the business of art.
In Memphis he also met other artists and formed a group called the NIA Artist Collective that helped launch his career and those of other African-American artists. NIA, or Nia, means "purpose" in Swahili.
Upon graduation in 2000, Shell remained in Memphis for nine years, doing odd jobs while slowly coming to the realization that he didn't want to work for other people. He needed the freedom to explore his art.
"I locked myself in my extra room and started working towards my love," Shell says. "In 2003, I was commissioned to fabricate five murals for the Orange Mound Community Service Center in Memphis. That gave me the confidence and money to be a full-time professional artist."
That confidence got a major boost in 2007 when he received a Joan Mitchell Foundation grant to attend the University of Mississippi where in 2008 he received a Master of Fine Arts. Shell spent the following summer at the Skowhegan School of Painting & Sculpture in Maine before returning to Monroe where he now resides and teaches drawing at the University of Louisiana Monroe.
Over the years, Shell has developed an expressive style of painting that incorporates layered, mixed media images that often include photocopies of old magazine and newspaper ads.
"The use of vintage advertisements allows me to create narrative-based environments, which comment on stereotyping, bigotry and oppression," he says. "Having spent much time researching graffiti art, I incorporate a variation of its characteristics, techniques and unique aesthetics into my work such as paste-ups, stamps and stencils. Using graffiti techniques allows me to challenge the viewer's perceptions of what is considered low art or high art, which also addresses classism."
Shell is unconventional in how he displays his art. He hangs his un-stretched canvases from walls on grommets as a way, he says, "to subvert, to some degree, museum and gallery presentation standards for art." By doing this, his work has the energy of a "good tag" on a moving freight train while bringing to mind the work of other activist artists connected to the civil rights movement.
That activism and what he describes as an "undeniable sense of coolness" are key elements in a series he calls "Slim Crowism." It is a style, he says, that gives viewers a way to see his work from a perspective that is not mainstream. That entry point is often music.
"Using hip-hop lyrics as the basis of my work, I refer to the musical references to create visual icons in my work," Shell says. "With strong ties existing among the history of rhythm and blues, reggae, and blues music, I depict the social conditions that are apparent in these musical forms and reproduce the images in my own work. In the past, I have often had a problem with art that is too conceptual; however, with the use of the figures, my work becomes accessible to audiences on all levels."
That approach has brought him considerable recognition and exposure. In addition to a dozen grants, fellowships and artist residencies, Shell's mixed media paintings have appeared in exhibitions across the nation from Oregon to Georgia, including high visibility shows at the Ogden Museum of Southern Art's 2017 "Louisiana Contemporary" and the Joan Mitchell Foundation's 2008 show in New York City. In January 2018, the Nebraska-based Bemis Center for Contemporary Art selected Shell and seven other artists from 344 applicants worldwide to serve a three-month artist-in-residence stint in the winter and spring of this year at the Center in Omaha.
"I believe in karma," Shell says. "So if you work hard, it will pay off."
Indeed it has.
For more information about Shell and his work, visit theshellofvitus.com
---
Restoring art for art's sake in Monroe
Since the 1960s, the Masur Museum of Art in Monroe has been the center of Northeast Louisiana's art solar system. But all of that almost changed on April 25, 2017, when a fire at the museum's nearby storage building badly damaged the museum's valuable collection of European, American and Louisiana art. According to Masur Director Evelyn Stewart, approximately 500 paintings from the museum's 600-painting collection suffered smoke and soot damage. The staff quickly moved the damaged art to another location and set up conservation labs in the museum's upstairs galleries. A year later, the Masur with the help of volunteers and a professional art conservator has cleaned approximately three-quarters of the paintings. But there is still a lot of work to do, says Stewart. The restored paintings must be reframed and a new storage location found.
---
Exhibitions and Events

Through May 19
Lafayette
Paul and Lulu Hilliard University Art Museum. "Lynda Frese: Holy Memories & Earthly Delights." Highlights early experimental photographs made in California by Lynda Frese, a professor emeritus at the University of Louisiana at Lafayette College of Art, before she moved to Louisiana in 1986. hilliardmuseum.org
Through June 3
Baton Rouge
Louisiana Art & Science Museum. "Tradition in Transition: Inuit Art and Culture." Features the artwork of Canada's Arctic native people, the Inuits. lasm.org
Through May 28
New Orleans
New Orleans Museum of Art, "A Queen Within: Adorned Archetypes." The museum will feature experimental gowns, headpieces, and jewelry by avant-garde fashion designers Alexander McQueen, Gucci, Gypsy Sport, and Iris van Herpen. More than 100 articles of daring fashion are presented in a dramatic gallery design that explores eight archetypal personality types. noma.org
through June 17
Baton Rouge
LSU Museum of Art. "Robert Williams: Slang Aesthetics." Features 25 new oil paintings and other artwork by Robert Williams, who has been called the "godfather of the lowbrow and pop surrealist art movements." lsumoa.org
through June 23
Alexandria
Alexandria Museum of Art. "Witness to Wartime: Takuichi Fujii." Features the work of a Japanese-American artist, his life and experiences in America during World War II. themuseum.org
Through June 23
Monroe
Masur Museum of Art. "Afghan War Rugs: The Modern Art of Central Asia." Exhibit focuses on the contemporary practice of Afghani weavers, abandoning traditional, non-figurative styles to better reflect the current political, military and cultural climate in Afghanistan. masurmuseum.org
may 19 – July 28
Lafayette
Paul and Lulu Hilliard University Art Museum. "Spotlight on Francis Pavy." Examines the work of nationally acclaimed Lafayette artist Francis Pavy and his unique symbolic narratives and mythologies inspired by Louisiana's Cajun culture. hilliardmuseum.org
Through Aug. 19
New Orleans
Ogden Museum of Southern Art. "A Precise Vision: The Architectural Archival Watercolors of Jim Blanchard." Exhibit brings together an extensive number of Blanchard's exquisite watercolor paintings of South Louisiana historic architecture. ogdenmuseum.org
through Sept. 2
New Orleans
Ogden Museum of Southern Art. "Salazar: Portraits of Influence in Spanish New Orleans, 1785-1802." Features the work of Spanish colonial New Orleans's best-known portrait artist, Josef Francisco Xavier de Salazar y Mendoza. ogdenmuseum.org
Through Oct. 14
Baton Rouge
LSU Museum of Art. "Carrie Mae Weems: The Usual Suspects." Two recent series by acclaimed photographer Carrie Mae Weems explore stereotypes associated African-Americans, crime and deaths at the hands of police. lsumoa.org
Through Nov. 11
Shreveport
R. W. Norton Art Gallery, "Enlist! Art Goes to War, 1914-1918." See what life was like in Shreveport and Caddo Parish during World War I and how artistic posters were used to urge men to enlist and women to become nurses and join the Red Cross. rwnaf.org