Viva Lafayette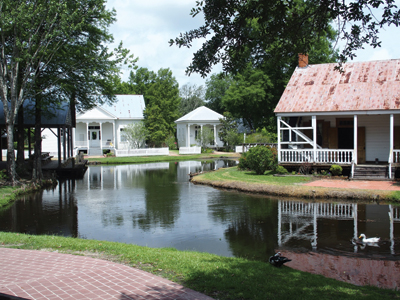 It's no surprise but still good news that several Louisiana towns rank at the top of the Wall Street Journal's current "Market Watch" list of "Happiest Cities in America," which also names Louisiana as the happiest state. Lafayette tops the chart as the happiest spot of all, and, although the city is emotionally reeling now from the unimaginable theater shooting of July 23, nothing can diminish the resilience and spirit of the place or the attributes that make it unique.
The original settlement, called Vermilionville, took shape where the Old Spanish Trail (Pinhook Road) crosses the Vermilion River (now often called Vermilion Bayou), but in 1821 activity shifted a bit north to property – today's downtown – being developed by a second-generation Louisiana Acadian named Jean Mouton. He provided squares for a church and courthouse and, sure enough, when a new parish was carved out of St. Martin in 1823, his town became the seat. The parish was immediately named in honor of the Marquis de Lafayette of Revolutionary War fame, but the renaming of Vermilionville was delayed until another town named Lafayette lost its "city" status upon annexation by New Orleans.
There's no denying that much of the appeal of the "Capital of Acadiana" hinges on its local music and menus, but travelers are also drawn by the story of the Acadian exiles and come with an eagerness to see tangible crafts, garments, furnishings and even structures that actually played a part in that saga. And in fact many landmarks do remain from Lafayette's earliest days, such as a former riverside inn at the Spanish Trail crossing that now houses the haute Cajun restaurant called Café Vermilionville at 1304 Pinhook, and the Lafayette Museum that occupies a structure begun about 1816 by Jean Mouton himself (1122 Lafayette St., lafayettemuseum.com).
Mouton's original two-room "Sunday house" grew dramatically, with rooms and upper levels added by his son Gov. Alexandre Mouton and other owners over the next 40 years. Finally, as if by destiny, it attained the perfect size for displaying the museum's memorabilia, which span two centuries of Lafayette life plus portraits and furnishings of the founding family. The attached Sunday house and a brick smokehouse still stand in the rear gardens.
An 1820s Creole raised cottage built by another of Mouton's sons, Lt. Gov. Charles Homere Mouton, is now Bois des Chenes B&B – 338 N. Sterling St., (337) 233-7816 – its vintage outbuildings now converted to guestrooms. After a beautiful breakfast guests experience a home tour that's unusual and fun, with art and antiques coexisting with intriguing items that reflect the other enterprises of octogenarian owner Coerte Voorhies and wife Marjorie: his fishing-photography guide service (theatchafalayaexperience.com) and her Breaux Bridge Antique Mall.
Other houses, for cultural and architectural preservation, have been moved from the bayous to form two collections, beginning in 1972 with Acadian Village (west and north from Johnston Street via Duhon and DeBelier, acadianvillage.org). Its church, school and stores (replicas) are clustered like an early Cajun community, and its six original homes include an 1820s Youngsville cottage, birthplace in 1894 of State Senator and Hadacol patent medicine king "Coozan" Dudley Leblanc.

---

LEFT: George Rodrigue's Longfellow Memorial RIGHT: Roddie Romero & Zachary Richard cross paths at "Louisiana Crossroads." (photo by Denny Culbert)
---
Then in 1990 came the 32-acre living history park called, of course, Vermilionville (300 Fisher Road, vermilionville.org), a riverside grouping of architectural treasures that range from a tiny presbytere (priest's house) to the relatively large 1790 home of Amand Broussard, son of Acadian resistance fighter and exile leader Joseph "Beausoliel" Broussard. Herbs, fruit trees and ornamentals beautify the homes as in days of old, and the scene is made complete by costumed folk-crafters and vintage furnishings. For lunch head for the park's Cajun buffet at La Cuisine de Maman, or visit Oct. 30-31 to overeat at the popular Black Pot Festival and Cook-off.
Set in Beaver Park just downstream from Vermilionville, the Acadian Cultural Center (satellite of Lafitte National Park, 501 Fisher Road, nps.gov/jela) provides a crash course in Cajun folkways, with artifacts and audio-visual introductions to 19th–century agriculture, fishing, trapping and lumbering, as well as food, music, religion and entertainment (from Mardi Gras and horseracing to homemade dolls, clay marbles and even cypress golf clubs).
Beaver Park is also the trailhead of the Atakapas-Ishak bicycle and pedestrian trail whose connection from the river to downtown Lafayette is nearing completion. Three parks in the city's Bayou Vermilion District offer launches, fishing and picnic facilities, and schedules for guided canoe/bateau/kayak tours are available at Vermilionville or at (337) 233-4077, ext. 211.
Farther up the Vermilion, bordering the Mississippi River floodplain, the Acadiana Park Nature Center and Acadiana Nature Trail (south of I-10 via Louisiana Avenue and Alexander Street, naturestation.org) offer seven miles of hiking/running trails, a 150-acre forested park and a three-level Nature Center that doubles as interpretive facility and observation tower.
Maps and advice from the splendid Lafayette Welcome Center, beside its scenic mini-swamp below I-10 in the broad median of Evangeline Thruway, are essential for grasping the variety of Lafayette's diversions, from the dining rooms and dancehalls you'd expect to surprises, like the ecclesiastical art of the 1916 Cathedral of St. John and Cathedral Museum (515 Cathedral St.), the Children's Museum of Acadiana where kids can "play grownups" in miniature stores and businesses (201 E. Congress St.) and the Lafayette Science Museum with its planetarium shows plus exhibits on world geology, space travel and sea life (433 Jefferson St.).
Art lovers can enjoy the murals and sculptures of downtown Lafayette while scouting for local art at shops like the Arts Co-op, St. Pierre's Gallery, the Cajun Picasso and Adrian Fulton gallery. The Sans Souci shop in its 1880s cottage displays creations of Louisiana Crafts Guild members (219 E. Vermilion), and the renowned Francis Pavy's own gallery is at 210 Gordon St. The late George Rodrigue's gallery is just off West Pinhook at 1434 S. College, not far from his massive Longfellow Memorial sculpture on Asma Blvd. (south of Pinhook via Kaliste Saloom Road).
Every month brings a 2nd Saturday Art Walk, complete with live music in one of the downtown parks (6-9 p.m., downtownlafayette.org), with September's walk promoted to "Art Stomp" status thanks to its addition of grape stomping and wine tasting at Parc Sans Souci.
Two truly grand galleries, the University of Louisiana-Lafayette's Hilliard Art Museum at 710 E. St. Mary and the Acadiana Center for the Arts at 101 W. Vermilion, offer galleries of changing exhibits plus permanent collections including Louisiana names like John McCrady, Elemore Morgan Jr., Francis Pavy, Cora Kelly Ward and George Rodrigue. Don't leave UL-L without seeing famed architect A. Hays Town's 1967 art museum adjacent to the Hilliard, beautiful little Cypress Lake near the Student Union and the Lafayette Art Association Gallery at 1006 E. St. Mary.

---

LEFT: Old UL-Lafayette art gallery seen from the new (photo Paul Stahls) RIGHT:Nonc Jules Guidry plays "Jolie Blonde" at Vermilionville
---
Lagniappe at the Acadiana Center for the Arts includes a busy schedule of stage performances at its new Moncus Theater and frequent PBS tapings of the acclaimed "Louisiana Crossroads" music-and-conversation series. Next up at the Crossroads are Beausoliel's Michael Doucet and Bijou Creole's Cedric Watson on Oct. 2-3, then "Preservation Hall's Creole Christmas" concert on Dec. 9-10, with tickets available at (337) 233-7060 or acadianacenterforthearts.org.
Click "Music Mecca" at lafayettetravel.com for an overwhelming list of Cajun and Zydeco clubs and dancehalls, but in fall the music overflows the clubs and fills the city, thanks to series like "Downtown Alive," 5:30 Fridays, Sept. 11-Thanksgiving (line-ups listed at downtownlafayette.org). Monthly "Acadian Roots" concerts are presented in the Community Room of the Daily Advertiser (1100 Bertrand Dr., theadvertiser.com), Community Coffee sponsors amateur Cajun jams (led by top local musicians) at Vermilionville's Performance Center at 1 p.m. Saturdays, the Lafayette Science Museum's "Bach Lunch" performances are at noon Fridays at Parc Sans Souci, and bluegrass jams at Cité des Arts (109 Vine St.) are Mondays at 6:30,
The most famous music and food event of fall, however, is the beloved Festivals Acadiens et Creole, a tradition since 1972. Now grown to six stages plus tents for speakers sharing the lore of Louisiana music, the festival has been combined since 1977 with the big Louisiana Crafts Festival and irresistible Bayou Food Festival, and the six-day party starts Oct. 6 in Girard Park near UL-L.
Be there or be couillon.