Walking through History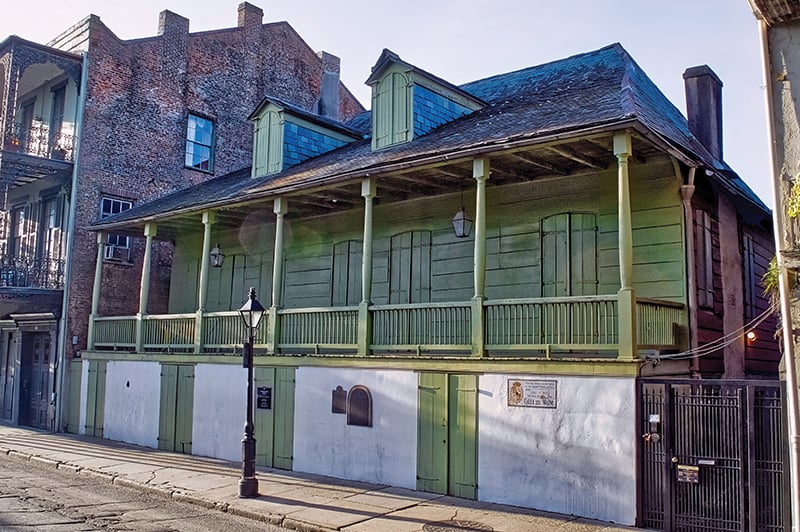 There's no better starting point for a personal observance of the Crescent City's Tricentennial than the upper galleries of the Historic New Orleans Collection at 533 Royal St., where the town's history is laid out chronologically in art and artifact, but what if we could actually visit 18th-century New Orleans? It can be done.
Such a tour would naturally feature the Cabildo, St. Louis Cathedral and Place d'Armes — original governmental, religious and military centers of the entire Louisiana Territory — but it's the homes and everyday workplaces (survivors of time itself, plus two great 18th-century fires) that can best introduce us to life in that era.
Begin at 632 Dumaine where a French Colonial-style abode lost in the great fire of 1788 was quickly duplicated by its owner. That replica survived the city's next inferno in 1794 to become an architectural Rosetta Stone of sorts, our key to the features of early-18th-century French Colonial dwellings. Known as Madame John's Legacy based on its fictional role in "'Tite Poulette" (an 1879 short story by George Washington Cable), it is the oldest structure possessed by our State Museum and currently houses a collection of Louisiana's beloved Newcomb Pottery.
Next follow Dumaine to the brick-between-posts corner house at 901 Burgundy, built on a river plantation in the 1770s by Gabriel Peyroux. In 1781 he had it moved to this site, where it now forms part of Hotel St. Pierre (504-524-4401, hotelstpierre.com).
Turn right to take St. Philip two blocks to the famous corner bar at 941 Bourbon called Lafitte's Blacksmith Shop, more likely just a typical corner store but of great importance as an early-1700s French Colonial with its double-pitched hip roof and brick-between-posts exterior.
Farther down St. Philip, turn right on Decatur and park for a walk through Jackson Square (laid out in 1762) to the Cabildo and Presbytere.
Both begun in 1795, the Cabildo was completed first, in 1799, just in time to host the final signings and ceremonies of the Louisiana Purchase transaction. The two buildings, near twins, are the birthplace of our 106-year-old State Museum (504-568-6968, louisianastatemuseum.org), and, flanking the 1788 St. Louis Cathedral, they form the center of a National Landmark complex.
A walk around the cathedral leads to points of interest like a one-time William Faulkner residence on Pirate Alley (now Faulkner House Books) and the circa-1795 Montegut House on Royal whose street-level shops include Gem de France at 729 (French linens and décor) and the Hemmerling Gallery of Southern Art at 733.
Complete the circle via Pere Antoine Alley, with its good views of a beauty spot behind the church named (unofficially) Pere Antoine's Garden, in honor of the Capuchin friar believed to have secretly buried, on those consecrated grounds, French loyalists executed in 1769 for defying the new Spanish governor a year earlier.
From Decatur, right turns on Toulouse and Chartres lead to the Jamie Hayes Gallery, occupying the 1795 Bartolomeo Bosque home at 617 Chartres, a Creole townhouse known for its Spanish Colonial ironwork.
Take the next left to the circa-1795 Commagére house at 630 St. Peter, home of the beloved Gumbo Shop since 1945 (504-525-1486, gumboshop.com), and another left leads to 627 Royal where Currents Jewelers now occupies home and commercial spaces built circa 1789 for Antoine Cavalier.
The 1792 Jean François Merieult House at 527 Royal was and remains the entrance to and center of the Historic New Orleans Collection (504-523-4662, hnoc.org), founded in 1966 and now vastly expanded to include several buildings with many tours and exhibits.
Built after the fire of 1794, first as a storehouse, later a bank and then home of international chess champion Paul Morphy, the newly renovated colonial at 417 Royal has been home of famous Brennan's restaurant since 1955 (504-525-9711, brennansneworleans.com).
Now take two immediate left turns to find, at 440 Chartres, the 1788 building that served as a coffeehouse and infamous slave auction called Maspero's, but now home of a popular Cajun and Creole restaurant (504-524-8990, originalpierremasperos.com).
Turn right on Toulouse and a left on Decatur, then left again at the old French Market onto Ursulines and right on Chartres, to the Old Ursuline Convent at 1112. Completed in 1753, this French Colonial treasure is open for tours daily except Sundays, and this year's exhibit in the Convent Museum is "300 Years of Catholicism in New Orleans."
From Chartres turn left to follow Esplanade Avenue toward Bayou St. John, which holds importance as a link to Lake Pontchartrain as it actually determined the location of the colony, and now a left turn on Moss Street at the Esplanade bridge will lead to three 18th-century country houses. Two of those, a Spanish Colonial called the Louis Blanc House at 924 Moss and a French West Indies home at 1300 (once, possibly, a Spanish customhouse) are both private residences, but the beloved Pitot House at 1440 Moss (offices of the Louisiana Landmarks Society, 504-482-0312, louisianalandmarks.org) is open to the public for tours Wednesday through Saturday.
Built as the country getaway of Bartolomeo Bosque and later of Mayor James Pitot, the home today is outfitted with furnishings and household accoutrements of that era.
---
DO!
St. Louis Cemetery No.1
Older than many other colonial landmarks of New Orleans, and itself a city of sorts, St. Louis Cemetery No. 1 is the oldest of New Orleans' fabled "Cities of the Dead."
Some of its aboveground tombs are stark cubes with perhaps a simple pediment, others more substantial and elaborate, some topped by crosses or small sculptural figures, some even relatively huge with multiple panels for members of social and military societies. In short, St. Louis No. 1 is as varied in architecture as New Orleans itself.
Established in 1789, it's no surprise that the names of many of the cemetery's occupants are familiar from history and legend, like territorial Gov. William C.C. Claiborne, nobleman Bernard de Marigny de Mandeville, mayor and sugar pioneer Étienne de Boré, voodooienne Marie Laveau and chess champion Paul Morphy.
This is a good year to get reacquainted, and this little walled city on Basin Street at St. Louis is open for tours every day and 9 a.m. to 12:30 p.m. on Sundays (504-596-3050, saveourcemeteries.org).