Weekends at Borden's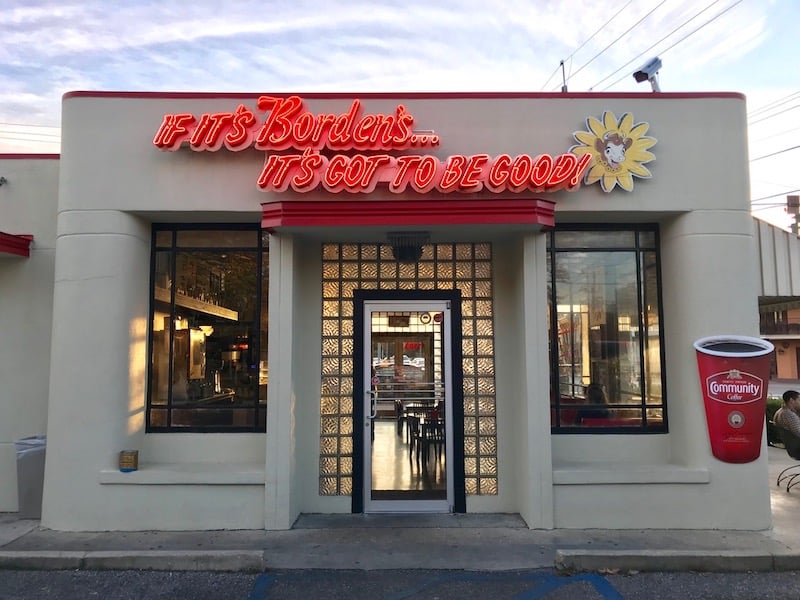 You hear it a lot in Lafayette, that the Borden's Ice Cream Shoppe downtown is the last free-standing parlor of its kind. The store on Johnston Street built in 1940 is the final retail store of the ice cream company sporting Elsie the cow, and because of its uniqueness, the retro Borden's store attracts tourists and locals alike.
When I first arrived in Lafayette, nabbing a mint chocolate chip malt at Borden's was high on my list. But my initial experience was quickly surpassed when my mother moved to town.
Borden's is located just outside the gates of the University of Louisiana at Lafayette, once called the University of Southwestern Louisiana and, before that, Southwestern Louisiana Institute. (Yes, the school has a long identity issue.) My New Orleans mother attended SLI back in the day and loved every minute of her college years. During her time in Lafayette, she visited Borden's on many occasions.
So, when we visited one afternoon after she and my stepfather retired to Lafayette, my mother was amazed at how the quaint ice cream parlor had not changed. We slipped into a red vinyl booth and enjoyed the creamy ice cream inside crunchy waffle cones.
My mom's now 90 and a trip to the grocery store and lunch is about all she's willing to handle. Borden's slipped low on the list and our visits disappeared.
Until my sister arrived.
Danon attended USL (that second incarnation of our local university) and has an intense affinity for ice cream. She would suggest a trip to Borden's on weekend afternoons and my mom's eyes would light up. Now, it's become a regular outing.
Chalk it up to the ice cream if you will because Borden's delivers a wonderful taste sensation for an affordable price, but I believe it's balm for a 90-year-old soul to relive four of the most wonderful years of her life.
My sister loves to capture mom in photos with her weekend ice cream cones. This past Sunday I tagged along and took a shot of the two Lafayette alumni. I think their faces explain everything.
As we head into Thanksgiving, we're reminded of how food and good company makes life worthwhile. A little nostalgia helps as well. May we continue to keep those institutions alive that make life so joyful.
Thank you, Borden's, for continuing to bring happiness to my family.
Borden's is located at 1103 Jefferson St., Lafayette, and open daily. For more information, visit bordensicecreamshoppe.com.