What's Brewing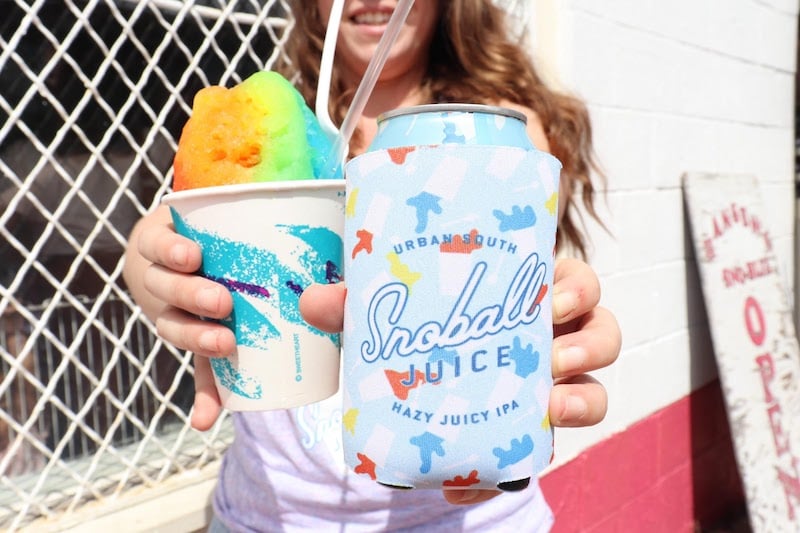 Despite the recent economic turndown due to COVID-19, Louisiana craft breweries are staying online, producing new products — even creating hand sanitizers!
Take Urban South Brewery of New Orleans. This month the company has released more than 20 unique brews for beer-to-go pick-up at its Tchoupitoulas Street taproom. All customers have to do is order online, drive by the taproom between 11 a.m. and 5:30 p.m. and bring home some tasty brews. Every Wednesday in April the brewery will release limited quantities of new-to-go beer options so check out announcements on Sunday afternoons and pick up the new products on Wednesdays.
Want a taste of what Urban South is releasing? How about the award-winning Snoball Juice IPA, a tropical-flavored nod to the city's famous sugary treats we all love in the summertime. The Nectar Cream Snoball Juice takes it a step further, a hoppy milkshake-style IPA. Some of their quarantine titles include Porch Fest, Virtual Happy Hour and Glimmer of Hops.
Parish Brewing is working with online retailer Tavour to deliver its popular Ghost in the Machine outside of Louisiana. The company's best-selling beer, an imperial IPA, will now be sold in 25 additional states through Tavour's app, in addition to Louisiana's neighbors in the Deep South. But don't worry, it's still available here.
Shreveport's Great Raft Brewing may have closed its taproom temporarily, but pick-ups are available daily. If you're feeling adventurous, choose from the fruity 318 Strawberry, the tart Life Itself Key Lime Pie Gose or the Peanut Butter Old Mad Joy. Their traditional brews, such as the 318 Golden Ale and Reasonably Corrupt, are also on the menu.
Crying Eagle Brewing Company in Lake Charles offers a double deal. Their "Curbside Special" combines one of their pizzas with any six-pack for $20 from 3 p.m. to 8 p.m. Wednesdays through Saturdays. Add an order of wings for $5 and have a party – just stay 6 feet apart! Call (337) 990-4871 to order.
This Thursday, Bayou Teche Brewing in Arnaudville will release its Pop's Tangerine Hard Seltzer, a dry citrusy beer available in a $9 four-pack while supplies last. Customers may also purchase the brewery's Cinco De Bayou Mexican Style Lager, just in time for a virtual celebration.
Give them a hand
We applaud our craft breweries for the ongoing supply of our favorite drinks, but many are also creating hand sanitizers to meet the demand during the coronavirus crisis.
Bayou Teche saw the need, applied for the right authorization from the Alcohol and Tobacco Tax and Trade Bureau and began making hand sanitizers last month. They're not alone. NOLA Brewing, Urban South and Parish Brewing has also been creating hand sanitizers, joining Sazerac Company, Porchjam Distillery and Celebration Distillation in alcoholic companies switching gears to meet the need.
Events brewing
Want to know more about craft brewing? Urban South head brewer Alex Flores will lead a Web"BEER"nar once a week via Instagram Live, offering information behind the brewing process and answering questions here. The brewery also brings back Trivia Tuesday, where teams of five may compete via Zoom at 7:30 p.m. Tuesdays.
And remember that hard times, like a good beer, never last long. Check the many breweries located across the state for upcoming events and new releases.
Websites:
Urban South
Parish Brewing
Great Raft Brewing
Bayou Teche
Crying Eagle