Wildthings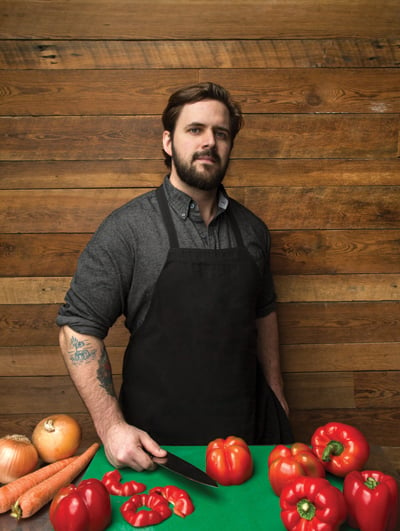 The shop is closed on this post-Christmas rush Tuesday in late December, but the work continues feverishly inside Iverstine Farms Butcher in Baton Rouge. A smoky, salty scent drifts through the air.
"We're making head cheese," says Jordan Ramirez from behind the block, his meaty, tattooed arms crossed over a black apron, a tuft of dark hair tucked beneath a well-worn Filson patch cap. "We didn't plan on closing today, but we've literally run out of everything."
That's saying something for the butcher who, along with owner Galen Iverstine, savors using every piece possible of every animal delivered through the door of the popular space that opened last fall.
At 34, Ramirez is not long into his career as a butcher but loving it. The launch of Iverstine Farms Butcher, founded from a generations-old family farm near Kentwood, has not only given Ramirez a new career and the opportunity to create his own menu, it has made immediate waves with capital city foodies looking for locally-sourced chicken twice a week, fresh cuts of responsibly-raised livestock, deli-style lunch sandwiches and Louisiana classics like andouille sausage links and gumbo.
It was after six years as a Whole Foods team leader where he oversaw beer, wine and cheese stock and organized monthly five-course dinners for the brand's Baton Rouge location that Ramirez decided he was in need of a major change.
He wanted to learn the skills of a butcher, and even more he wanted to become a food entrepreneur on the back of a little something he'd been cooking up in his kitchen for friends and family.
It was Carnival season a few years ago when Ramirez debuted the first gallon jug of his hot sauce as a condiment for the Cuban sandwiches he made while hosting a pre-parade house party. "They lapped it up so fast and wanted to know how I made it," Ramirez recalls. He began bottling it and giving it out as gifts, then selling small batches at local festivals and arts markets. Those market appearances led to pop-up dinners Ramirez called the Southern Wild Supper Club where he featured the sauce in his own tacos, tamales and red curry turkey nachos.
In a state known for ruby red liquid hot sauces like TABASCO and homegrown shake-on seasonings, Ramirez's Southern Wild Spicy Pepper Sauce stands out. His is not vinegar based — in fact there is no vinegar in it at all — and its emulsified texture feels more like a thin paste.
---
"It's got a depth of flavor that's unique. You can mix it with more foods and other sauces, and because of the texture you can spread it on anything."
---
"People think it's mustard-based because of the color, but it's not," Ramirez says. "It's an olive oil base with cooked vegetables and peppers, and that makes it more versatile. It's got a depth of flavor that's unique. You can mix it with more foods and other sauces, and because of the texture you can spread it on anything."
Raised in Sulphur near Lake Charles, Ramirez spent his youth roving the outdoors and learning the food and culture of his Puerto Rican father and grandparents. His sauce is a culmination of sorts, a flavorful blend of his roots in the Caribbean and southwest Louisiana — places where whether one is hunting, raising or sharing food, it's always an adventure.
Ramirez is already testing recipes for his next sauce.
"This one is just my baby to start with," he says.
After some help with the logistics of launching a small business from the LSU AgCenter's Food Incubator, Ramirez settled on Southern Wild for the name of his creation, and launched the first sauce in local stores last summer.
"The name describes the hot sauce well," he says. "I wanted to keep it regional, and it reminds me of my youth, time spent outdoors, and tying that into what I'm passionate about now and what Louisiana has always been all about."
Bottles of Southern Wild Spicy Pepper Sauce as well as Southern Wild merchandise are available directly from southernwildfoods.co, and the sauce can be found at Baton Rouge retail locations including Calvin's Market, Main Street Market, Mod Salon and Red Stick Spice Company.
---
Q&A
What do you do for fun when you're not working? I grew up fishing, shrimping and crabbing in Cameron Parish with my dad, and still love to do
that. I will go see family in Puerto and fish down there, too. I have good friend, and each year we plan a big hiking and climbing trip together. We've done Wyoming, Arkansas and Colorado. Once in the Ozarks we found these old bootleggers caves and just hung out where they used to hide their liquor. It's not on any official trails. That was really cool.
What's the highest you've climbed? Last year in Colorado we did the Maroon Bells in the Elk Mountains, which was four different mountain passes at about 12,000 feet. But I did my first 14,000-foot peak in Snowmass, Colorado.
Talk about how social media has affected your brand. That's how I tried to build the whole thing, through Instagram and posting photos from pop-ups and events, and building up a bank of recipes that we
try at home and getting pictures of those dishes. What else happens is that friends will use the sauce in different ways and tell me about it. Usually I think, "Wow, that's a great idea I hadn't thought of yet."
Who are some entrepreneurs that inspire you? Locally, the first was Nathan Gresham of Beausoleil Restaurant and Bar. The guy cooks good food. Really down to earth. Has always been willing to help me out and answer my questions. He's really into his family and the outdoors. He was one of the first people in town I really kind of followed. The second is, and I hope it doesn't come off as cheesy, but my wife, Erica. When I met her she had just opened Mod Salon a few months earlier. She's now been open for almost six years. She's the one who really drove me to do the hot sauce as a business, has given me tons of advice and gotten me in touch with the right people.
---