Willis Reed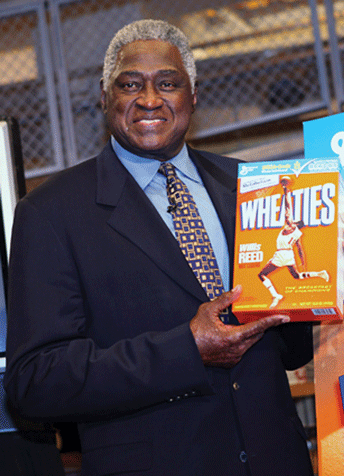 Willis Reed has come full circle, but his travels have led him on a circuitous path of thousands of miles over the past 68 years. Born in the tiny Lincoln Parish hamlet of Hico on June 25, 1942, Reed has settled down on a beautifully landscaped hill studded with ponds and pines just north of Grambling.
If you've kept up with this gentle giant from North Louisiana, you already know that he moved from Hico to Bernice at the age of 6, where he established himself on the basketball court, earning a scholarship to Grambling State University. After a stellar career with the Tigers, averaging more than 26 points and 21 rebounds per game, it was on to the NBA when he was drafted in the first round by the New York Knicks.
Reed's 10-year NBA career was simply out of this world. For starters, he helped lead the Knicks to two NBA championships, was named Rookie of the Year in 1965 and played in seven NBA All-Star games in 10 years in the league. Incredibly, in 1970 Reed was the first player in NBA history to be named Most Valuable Player in the NBA All-Star game, NBA regular season and NBA playoffs all in the same year. That year, he was also named to the All-NBA first team and NBA All-Defensive first team and was chosen as ABC's Wide World of Sports Athlete of the Year and Sporting News' NBA's Most Valuable Player. In 1982, Reed was enshrined in the Basketball Hall of Fame, and his No. 19 jersey number was later retired. In 2009, he had his countenance emblazoned on a Wheaties cereal box.
While Reed was wowing fans at Madison Square Garden, he was doing something else away from the gaze of his adoring fans: "I was slipping out after practice to a friend's farm hunting deer with my bow," he says. "I got into hunting as a kid by going with my dad, Willis Sr. Dad had some good dogs, and he hunted squirrels during the day and coons at night. It was just natural for me to get hooked on hunting because I was exposed to it at an early age. The worst whipping my dad ever gave me was the time I took his dog out chasing rabbits; it just about ruined the dog for treeing squirrels and coons."
Scanning the walls of his spacious home leaves no doubt that hunting has been a big part of his life –– mounts of trophy whitetail deer, mule deer, moose, caribou, cougar and antelope adorn the walls. Three ponds surround his home, and Reed enjoys sitting on the pier and catching bream with his grandson.
"While I was playing ball, I was able to purchase some property in New Jersey and Pennsylvania where I could hunt with my friends whenever we had the chance," Reed says. "Today, a group of us guys have a hunting club over in Alabama where we hunt deer and turkeys, and every year or so, we head to faraway states. Last year, we went to Montana to try for elk and mule deer with bows and arrows. I didn't score, but there's nothing quite like going after these big rascals armed with nothing but archery equipment."
Reed reflected on his retirement from playing basketball and why he decided to quit the game when he did: "In 1974, the season after winning an NBA championship, we were playing the Lakers in Los Angeles. I was running down the court when something snapped in my right knee. The doctors checked it and said I'd need surgery to repair the damage, and at that moment, my mind was made up. I decided to retire because there was some more hunting I needed to do and some mountains I wanted to climb. I had two championship rings and some nice awards, and I decided it was time to hang it up. I've never second-guessed my decision, and today, I'm happy where I am."
Where Reed is today is just 15 miles from Hico –– where he first saw the light of day 68 years ago.