Won't You Let Me Take You On A (Disney) Cruise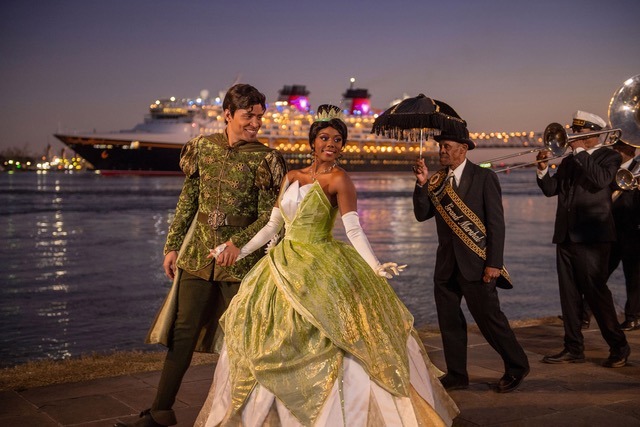 If you're curious about how popular cruising has become, head to the Port of New Orleans to view the line of cruise ships ready for action. New to the local fleet is the Disney Wonder, which sailed last Friday on its inaugural voyage out of New Orleans.
It's the first time Disney Cruise Lines has made Louisiana a homeport and will sail a limited-engagement season to the Bahamas, Caribbean and Disney's private island, Castaway Cay. The ship returns next year to New Orleans for another season.
Disney offered a few journalists a sneak peek of Wonder, one of four cruise ships within the Disney fleet. Having been on a couple of cruises, I expected much of the same. Silly me, I forgot I was dealing with Disney.
The attention to detail is astounding. Staterooms have two entrances to different parts of the bathroom, our tour guide Melody Vagnini explained, so more than one family member can use the bath. Movies are shown poolside but also in a real movie theater and many times Disney premieres are shown. The French Quarter Lounge doesn't just resemble the Vieux Carré and serve New Orleans cocktails but includes a full-sized streetcar. Even the elevator needles are Mickey's hands pointing to the floors.
Dining rooms are elegant and elaborate but they also provide activities and shows. For lunch, we enjoyed a sample lunch at Animator's Palate while watching our rough attempts at drawing being brought to life on screens throughout the dining room. And to tie in with New Orleans, the ship includes Tiana's Place, a restaurant themed after the Disney animated film "The Princess and the Frog" that's set in Louisiana. Visitors receive a dine-around itinerary and their assigned servers follow them throughout the ship, remembering their likes and dislikes, Vagnini added.
There's nightly entertainment in the 977-seat Walt Disney Theatre, including "Frozen, A Musical Spectacular." The story follows "sisters Anna and Elsa as they embark on a journey to discover the meaning of sisterhood, inner strength and true love," according to the press release. But don't worry, the film's iconic songs are included.
Kids have the run of Deck 5, with teen clubs, Oceaneer Lab and Club and It's a Small World Nursery. There's also pools, water slide, sports area and several places where only adults hang out. Daily activities such as trivia games, workshops and crafts are part of the fun.
We disembarked the ship like salmon swimming upstream. Families were heading on board and as they reached the three-deck Atrium Lobby, with its Ariel statue and dramatic glass artwork, Disney crew members announced them by name. Again, it's those extra touches that make Disney special.
I'm sure Disney cruises come with a pretty big price tag; no one mentioned costs. And my kids are now grown. I still couldn't help dreaming of a trip to the Caribbean with Mickey.
To learn more about Disney Cruise Line or to book a vacation, visit disneycruise.com, call Disney Cruise Line at (888) DCL-2500 or contact your travel agent.