Xavier Gonzalez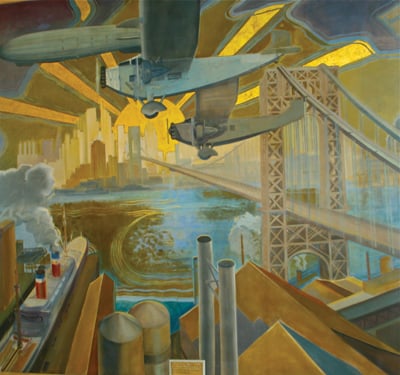 For over a year, Elise Grenier and her assistants have patiently restored seven large, historic murals lining the grand atrium of the 1930s-era New Orleans Lakefront Airport. It is one of Louisiana's finest examples of Art Deco architecture, built during the age of Amelia Earhart and the early years of commercial air travel.
Constructed by the Orleans Levee Board between 1928 and 1933 at a cost of about $3.6 million, the airport — one of Governor Huey Long's pet projects — sits on a spit of land jutting out into Lake Pontchartrain. The board's architects, Weiss, Dreyfous and Seiferth, hired the Mexican-born New Orleans sculptor Enrique Alférez to create bas-relief friezes for the building's interior and exterior and Newcomb College art instructor Xavier Gonzalez to paint murals depicting the wonders of international air travel for the terminal's walls. Initially, the airport bore the name Shushan Airport for levee board chairman and Long crony Abe Shushan. The board renamed it New Orleans Airport after Shushan and other Long allies fell from power during the state's political scandals of the late 1930s.
Until now, the airport's elegant Art Deco façade stood hidden behind drab concrete panels added in 1964 to modernize the building. Interior ceilings were lowered and walls covered with wooden panels. Those panels protected the murals. Unfortunately, sections of Alférez's exterior deco designs were destroyed to make way for the concrete outer walls.

---
---
Then came Hurricane Katrina in August 2005, and an opportunity arose to restore the terminal and murals. According to Wilma Heaton, director of governmental affairs for the Southeast Louisiana Flood Protection Authority-East and a prime mover in the airport's restoration, New Orleans Mayor Ray Nagin and his unpopular recovery czar Ed "Cranes-in-the-Sky" Blakely wanted to level the building.
"The storm surge damaged the first floor and the roof leaked into the second floor," Heaton says. "The building was a wreck, but I knew it could be restored to 1934 instead of 1964. I informed Dr. Blakely that the mayor would not be demolishing the terminal because he did not have jurisdiction. I told him the airport was owned by the Orleans Levee District, a political subdivision of the state.
"He pulled out his flip phone and called the mayor to relay my declaration. The mayor said I didn't know what I was talking about. Well, Blakely is back in Australia, Nagin is in federal prison, and I am chairman of the New Orleans Lakefront Airport Committee. As you can see the airport was not demolished."
Between 2006 and 2013, the levee district, working with Richard C. Lambert Consultants of Mandeville — the lead architect was Alton Ochsner Davis — and a group of contractors, restored the terminal with $20 million in hurricane restoration grants from the Federal Emergency Management Administration.
The stunning restoration is nearly complete. Grenier and her assistants, Meghan Murphy and Kaitlyn Richard, are restoring seven of Gonzalez's murals, which were painted on canvas and glued to the walls in 1933. They bear the titles "Paris and the Lindbergh Landing," "Mayan Ruins," "Egypt," "New York Metropolis," "Admiral Richard Byrd's Flight Over the South Pole," and "Mount Everest." He originally painted eight murals, but one titled "Bali" has been missing since the 1964 remodel. Another one, "Rio di Janiero," went to the Louisiana State Museum but was recently returned to the airport. Grenier, with old photographs in hand, plans to recreate the "Bali" mural to fill the vacant wall. Airport officials hope the original will turn up one day.
Looking up at Alférez's friezes, Grenier says Alférez was, in a friendly way, critical of Gonzalez's murals.
"He said the murals were like travel postcards, tame," she says with a smile. "Gonzalez was not into politics like Picasso or Alférez. He did art for art's sake. He wanted to capture the beauty and safety of flying, which was still very new to most people."
After the airport project, Gonzalez worked for the New Deal-era Works Progress Administration, or WPA, painting murals in Alabama, Texas and Louisiana, including post offices in Covington and Hammond. He later moved to Washington, D.C., and eventually to New York. In 1936 Alférez, also working for the WPA, built the monumental but controversial fountain "Four Winds" that stands crumbling just beyond the airport's front entrance.
Restoring murals like these requires special training, Grenier says. With a master's degree in art history from LSU and diplomas in art restoration from universities in Italy, she has restored artworks in major historic buildings across Italy and Louisiana. Grenier also owns an art conservation company in Baton Rouge and Florence, Italy. The Gonzalez murals are her latest challenge.
"These paintings are in such good condition despite time, cover and Katrina," she says. "They didn't require any retouching at all."
During the 1964 remodeling project, someone applied rice paper to the surface of each mural to protect them. She and her assistants are meticulously removing that paper.
"It's like surgery," Genier says. "You don't know what's ahead. The most important phase is testing to determine materials, what they can withstand during restoration and what the issues are. When the treatment is correct and successful, it is a wonderful feeling."
During these restorations, Grenier has become an unintended guide for people visiting the airport.
"I have met everyone from World War II pilots to men who met their wives at dances in the airport's famous Walnut Room," she says. "I love talking to them. One person told me to be careful of the friezes because his grandfather had worked on them."
Meanwhile, Wilma Heaton hopes to create a small museum in the airport to capture these stories and to celebrate its contribution to a golden age in American aviation history.
"I'm just so glad to see this airport come back to life again," Grenier says, tracing her finger across a section of mural yet to be cleaned. "I'm really attached to this airport. It's like my baby."