A Louisiana Life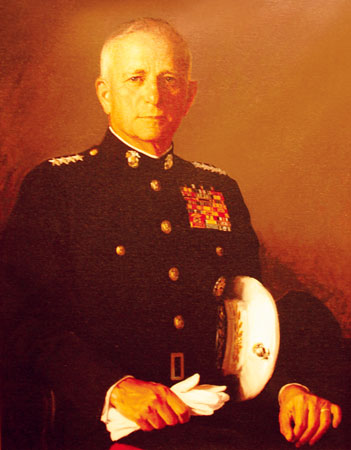 Because the Sept. 11, 2001, terrorist attack on the Pentagon did not damage the endless corridor where hang the oil portraits of America's previous commandants of the Marine Corps, Louisiana visitors can still find there the likenesses of Gen. John Lejeune of Pointe Coupee Parish and Gen. Robert Barrow of West Feliciana. At a time when the Corps was in danger of dissolution, Lejeune, commandant 1920-29, firmly established it as America's permanent amphibious assault force. A half-century later, Barrow, commandant 1979-83, is credited with saving the Corps again, steering it clear of potentially death-dealing politics lingering from the Vietnam era, even expanding its role in our rapid response strategy, then stiffening the requirements for applicants to the Corps to maximize performance and retention.
On a recent drive to New Roads with one of his sons, Gen. Barrow posed at the Pointe Coupee Courthouse for snapshots with the statue of Lejeune by Louisiana sculptor Patrick Miller. He spoke lightheartedly that day about the unlikelihood of two Louisiana country gents sharing their title, but the humor could not disguise his pride.
Born in 1922, Robert grew up at Rosale Plantation, spending his Sundays in St. Francisville as an altar boy at Grace Church and his weeks in the woods, exploring, camping, night-hunting by the light of a kerosene-in-a-Coke-bottle lantern. Today his namesake, retired Marine Lt. Col. Rob Barrow, firmly believes that upbringing uniquely qualified his dad for the guerrilla warfare he would wage in Japanese-occupied China in World War II.
Then came Korea, Vietnam and eventually –– wearing his fourth star and decorated with the Navy Cross, the Army's Distinguished Service Cross, the Navy Distinguished Service Medal, the Defense Distinguished Service Medal (with clusters), three Legion of Merit medals, a Silver Star and a Bronze Star –– he went to Washington to brave the intrigue and politics on that front as commandant –– the voice of the Corps on the Joint Chiefs of Staff.
In all, he spent 41 years at war fronts and Washington despite a constant yearning to return to Louisiana. "For him," says his adopted son Charles Pulliam, "every promotion was a painful postponement of his retirement and return." He confided to his family, however, that he felt each star meant his country still needed him, so he could not possibly say no.
Through it all he remained as close to his Feliciana ties as a man who had never left. He spent every leave there, vividly remembering two especially poignant visits when telephones rang to announce "Afton is burning" in 1963 and, nine years later, "Greenwood is burning" and rushing to those legendary family homes to share the tears and exhaustion of kinsmen, staff and neighbors dragging family treasures from the flames.
When the retirement ceremony did come, President Ronald Reagan spoke for the nation when he bade the commandant farewell, and Gen. Barrow flew home to be greeted in Baton Rouge by well-wishers and at Rosale by four years of steady work restoring the house and pruning the oaks. He thoroughly enjoyed running the place, once advising a Louisiana Life writer just to tell his editor: "I've been there. There's no story. He looks and acts just like everyone else in West Feliciana. He's tied to the land, more interested in his damned trees than he is in politics."
After losing his wife, Patty, and growing frail himself, he moved east for a time to be near his children, but even for that brief while he was not content without frequent visits home to hobnob with relatives and coax his sons to drive him to the river, to incredible Ellerslie Plantation, to the Tunica Trace or to Afton Villa Gardens.
A commander to the end, he instructed his children to bury him in Grace churchyard, here in the land settled two centuries ago by his ancestors, farmed and defended by so many generations. Louisiana. Feliciana. Home.
He died Oct. 30, 2008, and on Nov. 3 a full contingent of straight-backed young Marines, followed by family, friends and military brass, accompanied Gen. Robert H. Barrow through the streets of St. Francisville to old Grace Church, the first commandant of Marines ever buried anywhere other than Arlington Cemetery. Semper fidelis.