Arnaud's Celebrates Anniversary with Table d'Hôte Menu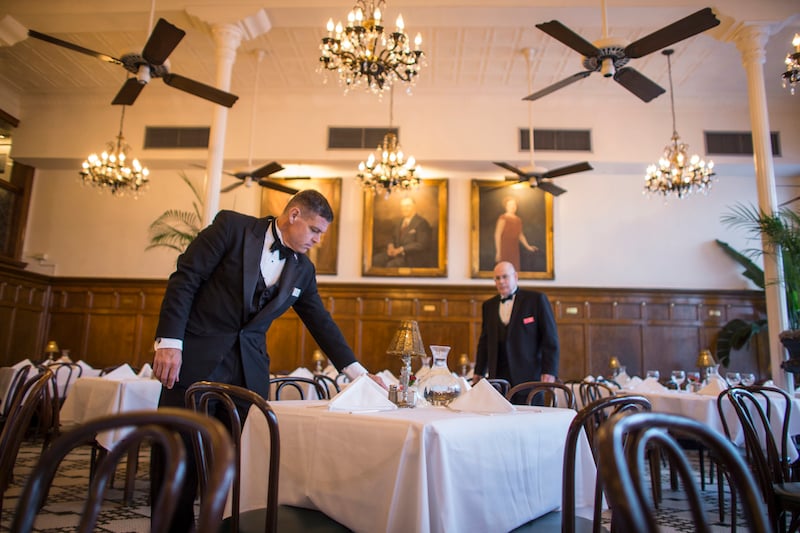 There's so many reasons to visit Arnaud's restaurant in New Orleans. Go for the signature Creole remoulade, the flaming café brulot, the Carnival exhibits on the second floor or the French 75 cocktail in the bar of the same name. And then there is, of course, the fabulous Creole cuisine served in one of New Orleans' oldest and most atmospheric restaurants.
The French Quarter establishment began in 1918 by "Count" Arnaud Cazenave, who believed a good meal was the key to happiness.
"When choosing a New Orleans Restaurant — a dinner chosen according to one's needs, tastes and moods, well prepared and well served, is a joy to all senses and an impelling incentive to sound sleep, good health and long life," wrote Cazenave. "Therefore, at least once a day, preferably in the cool and quiet of the evening, one should throw all care to the winds, relax completely and dine leisurely and well."
This year marks the 100th birthday of Arnaud's so now you have one more reason to visit, and you should do so before the holidays kick in. The restaurant has been offering special Table d'Hôte menus in honor of its 100 years, but these special dinners will cease at the end of November. From Sept. 17 to Oct. 31, for instance, the Table d'Hôte menu looks at the restaurant's third 30 Years (1978-2008) under the leadership of the late Archie Casbarian and Jane Casbarian. In November, the last menu will bring diners up to the present-day before launching into the holiday season with Arnaud's annual Reveillon menu.
Here's this month's special anniversary menu, priced at $50 a person.
Table d'Hôte (1978-2008)
Mushrooms Jane – Baked mushrooms stuffed with lump crabmeat, white wine, cream and green onions.
Creole Onion Soup
Frisée Salad consisting of bacon, sweet red pepper, garlic crouton, fresh herbs and a Dijon vinaigrette.
Choice of…
Drum Leslie, pan-seared and served with white wine Velouté, hazelnuts, carrots and cucumbers.
Chicken Dijon, Panko- and Dijon-encrusted chicken with Dijon cream, smothered greens and potatoes.
Veal Lafitte, panéed veal Scaloppine with artichoke, iceberg lettuce and Vermouth cream.
Choice of…
Triple Chocolate Mousse with milk chocolate, Bailey's chocolate, white chocolate and chocolate tuile.
Cheesecake, apple compote and streusel crumbs.
Éclaire with salted caramel cream and ganache.
Be sure to check out the ball gowns and other Carnival memorabilia belonging to Arnaud Cazenave's daughter, Germaine Cazenave Wells, a New Orleans socialite who ruled over 22 Carnival balls. The Carnival exhibit is located on the second floor.
For a nightcap, Arnaud's French 75 Bar, named a James Beard Award finalist three years in a row and recognized as one of the "Top Ten Bars in America" by Esquire magazine, is open nightly. The French 75 Bar offers classic cocktails, such as the French 75 and New Orleans Sazerac, in an intimate setting.
For more information, visit www.arnaudsrestaurant.com.