Bicentennial Festivities
Lafayette launches year-long celebrations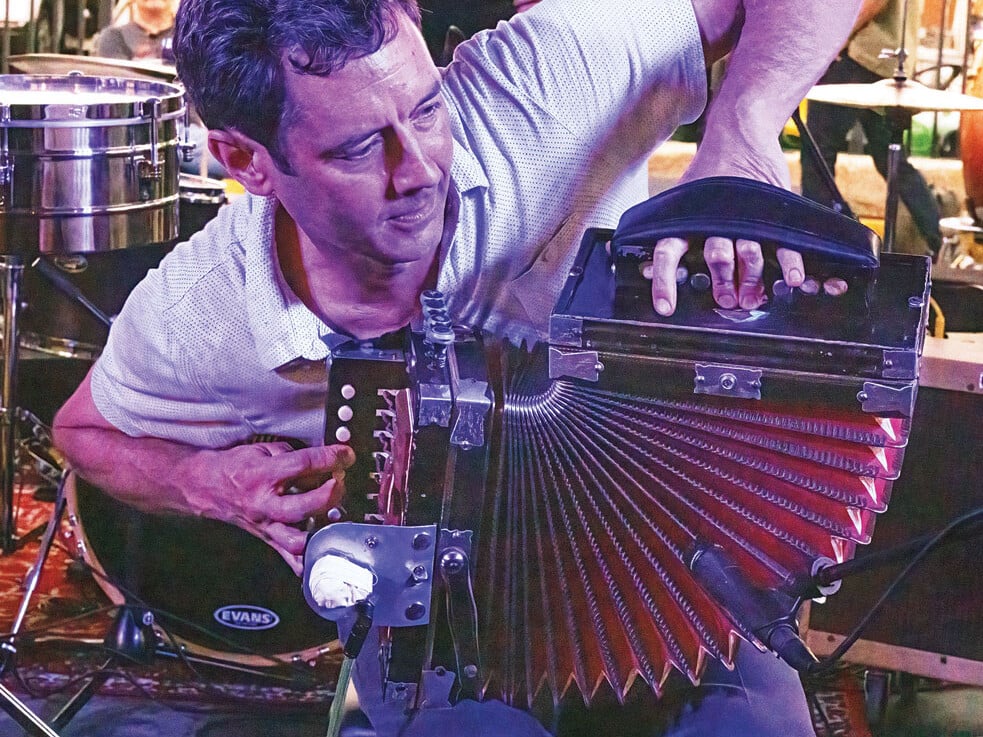 Lafayette's year-long bicentennial revelries continue with the Celtic Bayou Festival bicentennial celebration March 17-18 (celticbayoufestival.com) followed by the March 26-30 Festival International de Louisiane bicentennial celebrations (festivalinternational.org). Chartered by the Louisiana Legislature in 1823 two years after its founding, the community of Vermilionville was renamed Lafayette in 1884 after Marquis de Lafayette (1757-1834) who fought with American colonists against the British. In 1803, he declined President Thomas Jefferson's offer to become governor of the newly acquired Louisiana territory.
New Iberia
Literary Culinarians
Among the many distinguished authors and panelists participating in the March 31-April 2 Books Along the Teche Literary Festival are two writers for Louisiana Life and one of its sister publications, Acadiana Profile. Leading the April 1 Writing and Publishing Louisiana Cookbooks panel discussion are authors Stanley Dry (Louisiana Life columnist and Acadiana Profile contributor) and Marcelle Bienvenu (Acadiana Profile columnist). Bienvenu is also hosting the Great Southern Chefs Food Demo. Lisa Wingate, New York Times bestselling author of 30 novels, is the 2023 Great Southern Writer (books-alongtheteche-literaryfestival.com).
Lake Charles
Seafood Cook-Off Relocates
For the first time since its inception in 2004, the Louisiana Seafood Cook-Off will be hosted in Lake Charles (Golden Nugget on June 27). Tip: One lucky sweepstakes winner and a guest will attend Chuck Tastes for free as VIPS, tour a brewery and enjoy a private feast prepared by last year's winner, Chef Amanda Cusey (louisianaseafood.com).
New Orleans
Jazzing it Up
Over 5,000 artists will perform on 14 stages during the 52nd annual New Orleans Jazz & Heritage Festival on April 28-May 7. Headlining the massive lineup are Ed Sheeran (with "Shivers" and "Celestial" on his tour playlist and a new album dropping in 2023) and Lizzo (also headlining at BottleRock with Post Malone in May). New Orleans luminaries taking the stage include Big Freedia (boasting a new nightclub/micro hotel opening for Mardi Gras 2024), Trombone Shorty (on tour promoting "Lifted") and Jon Batiste, whose incendiary "We Are" will get crowds dancing on May 5. Can't go? WWOZ is broadcasting live (90.7 FM) daily from the festival. Tip: Louisiana residents pay just $50 at the gate on May 4 (jazzfest.com).
Too Late if You Wait
New OrleansWhile the New Orleans Jazz and Heritage Festival's previous seven official posters by James Michalopoulos have always depicted single musicians (in a vertical format), his elaborate 2023 commemorative poster, Holding Forth, features 58 figures (many selected from paintings spanning his career) vibrantly detailed via the artist's first horizontal format (preorder at Art4Now).
Write Like a Pro
The 37thannual Tennessee Williams & New Orleans Literary Festival, held March 23-26 with master classes and theatrical performances, literary panels and book signings, contests and culinary events, recently introduced a free monthly writing workshop series in partnership with Baldwin & Co. Coffee and Bookstore. Led by top New Orleans writers, the interactive Saturday workshops run through December. All experience levels are welcome (register at
tennesseewilliams.net
).
Baton Rouge, Atchafalaya Basin
Gutsy Gator Gal
Hunter, archer and jewelry maker Anna Ribbeck, a social media strategist at LSU AgCenter in Baton Rouge, has joined Season 14 of the History Channel's "Swamp People" series launched in January. Foregoing a shotgun, Anna braves a bow and arrow to take down a gargantuan gator with a quarter-size kill shot in February's Episode 5 (play.history.com/shows/swamp-people#episodes). Her online apparel collection features everything from swamp jewelry to archery tips and recipes (annathearcher.com).
Smooth Blues
The 2023 Baton Rouge Blues Festival brings Luther Kent, Tommy Castro and the Painkillers, Peterson Brothers, Veronica Lewis, Gregg Martinez, Mia Borders, DK Harrel, Moonlight Benjamin and other hit-makers downtown April 21-23 (batonrougebluesfestival.org).Tip: Want to jam with top local bluesmen? Bring your instrument to Phil Brady's (philbradys.org) or Teddy's Juke Joint in Zachary(teddysjukejoint.com) on jam night.
Broussard
Of Gumbo Glory
Prejean's Cajun Restaurant in Carencro, famed for its pheasant, quail and andouille gumbo served annually at the New Orleans Jazz Fest, recently opened a second location in Broussard featuring live music, expanded hours, Sunday brunch and alligator décor galore in the former Trapp's location (facebook.com/prejeansrestaurant).
St. Bernard, Terrebonne
Wetland Restorations Underway
Two NOAA-sponsored habitat restoration projects have been approved for more than $64 million: The East Delacroix project will support approximately 414 acres of marsh habitat and 15 acres of terraces in St. Bernard Parish. The Island Road project will support restoration of approximately 295 acres of marsh habitat in Terrebonne Parish; both projects include vital hurricane evacuation routes (noaa.gov).
Erath
New Seafood Hub
A groundbreaking for the new Acadiana Seafood Hub, which will serve as a bridge between fishermen, entrepreneurs and customers, was recently held in Erath. The $2 million project will provide abundant cold storage and retail space, food processing, a professional equipment commissary and certified kitchens, slated for 2024.
Barataria Basin
Miles of New Land by 2050
Louisiana's Coastal Protection and Restoration Authority (CPRA) will receive $2.26 billion to pay for a first-of-its-kind, ambitious construction plan to reconnect the Mississippi River to the degraded Plaquemines Parish marshes, a cornerstone of CPRA's coastal master plan. Funding for the Mid-Barataria Sediment Diversion will come out of settlement dollars resulting from Deepwater Horizon's 2010 oil spill. Once constructed, the two-mile-long diversion is expected to build up to 27 square miles of new land by 2050 (
coastal.la.gov
).