Bienvenue, Papa Noel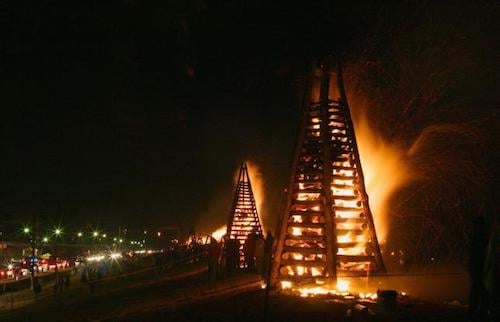 While most of the United States anxiously awaits the arrival of Santa Claus on Christmas Eve, in Louisiana children look for Papa Noel. To help the French Santa find their stockings hanging by the chimney with care, we light bonfires along the Mississippi River levees between New Orleans and Baton Rouge.
And these are serious bonfires, some high as 20 feet tall! Most are pyramid shaped, which work well to light and produce massive flames, but some resemble paddlewheel steamboats and plantations. One thing's constant, they attract hundreds of people to the levees where the winter night air, food and hot chocolate make for a delightful evening for families as these oversized bonfires send sparkles like fireflies into the air.
You can find these bonfires all along the river, but most congregate around the towns of Gramercy, Lutcher and Paulina in St. James Parish. My family loves to drive along the River Road on both sides of the Mississippi, pausing to enjoy bonfires and people selling interesting foods and drinks. Stopping and letting the kids run up the levee to stand close to a bonfire — within a safe distance, of course — is a must.
If you can't make it on Christmas Eve, the Festival of the Bonfires will be Dec. 14-16, at the Lutcher Recreational Park in Lutcher. The weekend pyro fest includes live entertainment, Louisiana food and a gumbo cook-off, crafts, arts contest, a children's area and pageant, 5k run and walk and, of course, bonfires nightly.
According to Louisiana tourism, there are two theories as to why we light bonfires on the levees. One is that it's an old European tradition where bonfires were celebrations of successful harvests. Most Louisiana residents, however, prefer the Papa Noel story, where the bonfires make sure Santa can find his way into the swamps and bayous of Louisiana.
Be sure to bring along books for the children, such as "Bayou Santa" by Leif Nedland Pedersen and "The Legend of Papa Noel: A Cajun Christmas Story" by Terri Hoover Dunham. For adults, a fun read that highlights the Louisiana bonfires is Ellen Byron's latest cozy mystery, "A Cajun Christmas Killing."