Kitchen Gourmet: Chicken Dance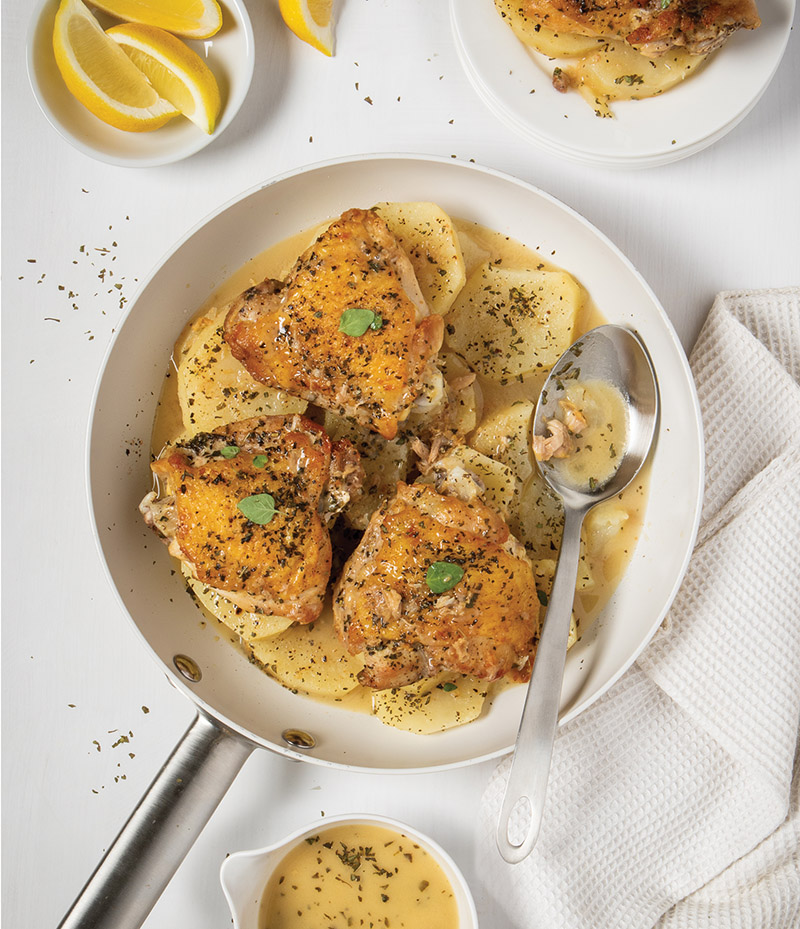 Chicken is to a cook what an empty canvas is to a painter. It suggests infinite possibilities, limited only by one's imagination and talent. There have probably been more culinary improvisations involving chicken than most any other ingredient, in part because chicken is so adaptable. Modern chickens are often criticized for their lack of flavor, which may be why they are such an inspiration for adventurous cooks who can enhance them with spices and seasonings.
Chicken can be cooked quickly or slowly, either whole or in pieces, on the bone or boneless, with the skin on or off. It can be fried, sautéed, baked, broiled, boiled, stewed, grilled, cooked most any way you can imagine and, if done well, any method can yield delicious results.
Asked what comes to mind when thinking of chicken, many will say fried chicken, roast chicken or rotisserie chicken. Depending on personal taste and preference, others might choose chicken gumbo or jambalaya, chicken and dumplings, barbecued chicken, chicken soup or salad, chicken sandwiches or any number of other preparations.
Chicken has been a subject of countless cookbooks, among them John T. Edge's revelatory "Fried Chicken," but it also crops up frequently in modern music. The great jazz saxophonist Charlie Parker was known as "Bird" (shortened from "Yardbird") because of his love for chicken, and many musicians have recorded chicken-themed songs, such as the wild and rousing "Eat That Chicken" by Charles Mingus, "Chicken Strut" by The Meters and "Chicken Fried" by the Zac Brown Band.
This month's chicken recipes are quick and easy to make. Three of them call for chicken thighs and one for chicken breasts, but you can substitute other pieces, if desired, though cooking times will vary some. Today's chickens have been bred to produce large breasts, so often it makes sense to cut each breast in half. Boneless and skinless chicken thighs are readily available.
---
Baked Chicken Thighs With Lemon, Oregano And Potatoes
¼ cup extra-virgin olive oil, divided
4 chicken thighs
coarse salt and freshly ground black pepper
1 cup water
2 pounds russet potatoes
½ cup freshly squeezed lemon juice
1 teaspoon dried oregano leaves
Preheat oven to 350 F. Heat 1 tablespoon olive oil in a heavy casserole. Add chicken, skin side down, and cook until browned. Turn and brown the other side. Remove chicken and season with salt and pepper. Pour off fat from casserole. Add water and scrape up brown bits from pan.
Peel potatoes and slice thickly. Add to casserole and season with salt and pepper. Place chicken on top of potatoes. Pour over remaining olive oil and lemon juice and sprinkle with oregano. Cover casserole and bake until chicken is cooked through, about 30 minutes. Transfer chicken and potatoes to serving plates and spoon over some of the pan juices. Makes 4 servings.
---
Chicken Breasts With Caper Sauce
2 boneless, skinless chicken breasts (about 1 pound)
coarse salt and freshly ground black pepper
¼ cup all-purpose flour
2 tablespoons butter
2 tablespoons vegetable oil
½ cup chicken stock
½ cup white wine
2 teaspoons lemon juice
2 teaspoons capers, drained
2 teaspoons chopped parsley
Cut chicken breasts in half and season with salt and pepper. Dredge in flour. Add oil and butter to a large skillet over medium heat. When butter has foamed, add chicken breasts and cook until browned on one side. Turn and cook on the other side until chicken is cooked through. Remove chicken to a warm serving platter or plates.
Pour off the fat in the pan. Increase the heat to high and add chicken stock and wine. Scrape up the brown bits that have adhered to the pan. Cook until the liquid has begun to thicken. Add lemon juice and capers. When the liquid turns syrupy, remove pan from the heat and spoon sauce over chicken breasts. Sprinkle with chopped parsley. Makes 4 servings.
---
Chicken Thighs Stewed With Okra And Tomatoes
4 chicken thighs
coarse salt and freshly ground black pepper
3 tablespoons extra-virgin olive oil
1 medium onion, chopped
4 cloves garlic, minced
1½ pounds okra, trimmed and sliced
2 cups whole peeled tomatoes with juice
2 cups chicken stock
1 bay leaf
1 teaspoon dried thyme leaves
cayenne pepper
hot sauce
steamed rice
Season chicken thighs with salt and pepper. Add olive oil to a heavy casserole or dutch oven over medium heat. Add chicken thighs and brown on both sides. Remove chicken and set aside.
Add onion and cook until softened, stirring occasionally. Add garlic and simmer briefly. Add okra and cook, while stirring, for about five minutes. Add tomatoes and chicken stock. Break up tomatoes with a spoon and stir to combine. Return chicken to pot, cover, and simmer until chicken is cooked through and okra is tender, about 30 minutes. Season to taste with salt, black pepper, cayenne and hot sauce. Serve over steamed rice. Makes 4 servings.
---
Broiled Chicken Thighs With Creole Mustard And Breadcrumbs
4 boneless, skinless chicken thighs
coarse salt and freshly ground black pepper
4 teaspoons Creole mustard
4 teaspoons Panko breadcrumbs
Preheat broiler and oil a broiler pan. Open chicken thighs so they lay flat. Remove visible fat and discard. Season both sides with salt and pepper. Broil until juices run clear when pierced with the tip of a small knife. Remove broiler pan and coat each thigh with mustard. Coat with breadcrumbs. Return to broiler until breadcrumbs have browned. Makes 4 servings.
---