Cycles of Life Along the Creole Nature Trail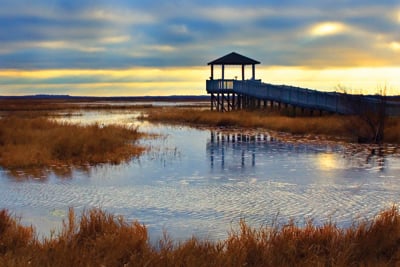 Road trip!
From the farthest corner of Louisiana, it's only four hours to a destination that attracts nature-lovers from the farthest corners of America. The Creole Nature Trail – among the first of the U.S. Department of the Interior's 150 National Scenic Byways – has now been promoted to All-American Road status, one of only 34 in the nation, and together its central route and spurs traverse the Southwest Louisiana Wildlife Complex, ranked as an Internationally Important Bird Area.
Louisiana's hills, prairies, swamps, river valleys and coastal marshlands are all as different in flora and wildlife as they are in appearance. You can't claim to know your state till you've seen them all, and the Creole Nature Trail offers by far the easiest and best introduction to our Gulf Coast.
These wetlands are teeming all year long with non-migratory birds; amphibians; reptiles; and, of course, fur-bearing critters such as muskrats, otters and mink – of great importance and certainly fun to spot in
the wild, even though it's the spring migration of birds and butterflies that gets all the press from February to early May. After all, it's hard to top the drama of innumerable species arriving wave upon wave after the astonishing 600-mile nonstop flight across the Gulf of Mexico or the phenomenon of exhausted songbirds dropping like hail into the first clusters of trees they see – the oak-covered ridges called cheniers strewn along the coast – to recoup in the marshlands before dispersing for their summer vacations throughout North America.
The remaining months of spring and summer are great for gator-watching; photographing fur-bearers (with a zoom and some luck); or crawfishing, crab-netting and fishing from roadsides and levee tops. Some folks even reel in big Gulf fish from beachfront piers, but I think I'm jinxed.
In fall and winter the small birds and butterflies pass this way again, ready for their flight back across the Gulf, just as the geese and ducks are flying south to spend winter here. Also flocking in will be avid birders from across the continent, come to enjoy the semi-competitive events called Winter Bird Counts (your nearest Audubon Society can provide details).
Withal, it's a full year of constantly changing scenery, activity and life, for the wildlife and for us.
The 180-mile primary route of the Creole Nature Trail is U-shaped Louisiana 27, which departs Interstate 10 at two spots, heads south through (occasionally) dry land and freshwater marsh to the Intracoastal Waterway and then moves onward through brackish marshes to the Gulf of Mexico where it junctions with beachfront Louisiana 82 for 20 miles before heading north again. The spurs are those Gulf Coast stretches of 82 that lead west from the primary route to the Sabine River and east from the main trail to the Rockefeller Wildlife Preserve. Plan on at least a four-hour drive for the central route, which with the spurs can grow to eight or more.
Ready? OK. First gather cameras, binoculars, a Wild Louisiana Stamp (from Wildlife & Fisheries, not necessary for holders of hunting/fishing licenses) and bug spray (mostly for evening hours), and then visit CreoleNatureTrail.org to question its Interactive Map about specific sights and to download its Creole Nature Trail app. Don't think, however, that these are a substitute for your essential first stop on North Lakeshore Drive in Lake Charles, where the visitors bureau will provide trail maps, National Wildlife Refuge brochures and bird/wildlife checklists, of course, but also the loan of a handheld video device called the GPS Ranger that will track your progress and recite the features and activities of each point of interest as you go.
I-10's two intersections with the big "U" are Exit 36 just east of Lake Charles (from which you would zigzag 17 miles southeast via Louisiana 397/14/27 to Cameron Prairie National Wildlife Refuge), and Exit 20 west of Lake Charles at Louisiana 27 in Sulphur, which will be our starting point today because … oh, just force of habit.
For a last look at a city before the gators get you, turn north on 27 (Ruth Street) and fork left on Huntington to the Brimstone Museum. Sulphur was named for a nearby sulfur dome where Herman Frasch, a German immigrant, devised a method of mining brimstone that revolutionized the industry worldwide, and the museum features a film with vivid footage of the Frasch Process in action: melting the sulfur with steam far below-ground for pumping to the surface.
Southward lie marshlands and the sea, a prospect that somehow always makes me hungry, but fortunately it's just 18 miles down 27 (crossing the busy Intracoastal Waterway and entering Cameron Parish) to Hackberry, made famous by the Hackberry Ramblers and by (nota bene) Brown's Food Center. More than a grocery, Brown's opens at 5 a.m. for fishermen and early-bird trail- riders who stop for their day's takeouts (plate lunches, poor boys, deli sandwiches and boudin) plus all the essentials for fishing and crabbing.
Now it's 8 miles south to Sabine National Wildlife Refuge, 124,511 acres of coastal prairie and marsh (freshwater, intermediate and brackish), established in 1937 to protect the habitat of migratory ducks and geese and all species of year-round residents that wade, slither, walk and fly, from raptors, snowy and great egrets, cormorants, alligators, blue crabs, shrimp and turtles to otters, muskrats and mink. You'll find recreation areas for crabbing, fishing and picnicking along 27, but of prime importance for wildlife-sighting at Sabine are the elevated walkways and observation decks at Hog Island Gully, Blue Goose Trail (reaching all the way to big Calcasieu Lake) and the 1-mile roadside loop called the Wetland Walkway.
Leaving the Sabine, you'll be nearing the actual Gulf Coast, and you'll notice the colors of freshwater plants and greener grasses fading to more somber browns as the salinity increases. When 27 reaches the Gulf at Holly Beach, the main route turns east on Louisiana 82/27 to follow the seashore, but be aware that some of Holly Beach's camp houses can be rented, and the visitors bureau in Lake Charles (337-436-9588) can provide phone numbers for these and others along the coast. The 82 West spur, for instance, leads 8.5 miles to Gulf View Road, where shiny-new cabins are clustered just outside the Baton Rouge Audubon Society's Peveto Woods Bird & Butterfly Sanctuary – a chenier that becomes quite popular during spring migrations. Heading back from Peveto, notice the monument at the new (well-elevated) Cameron Parish Library. Created in 2012 by sculptor Jerry Gorum of Glenmora, it depicts the waterfowl, fish, wildlife and shrimp boats of the region, all emerging, appropriately, from a big bronze book.
Back on the main route, the shore east of Holly Beach can be white with sand or partially covered with seaweed that washes in from time to time (also bringing a fresh layer of seashells for beachcombers), and soon you'll reach Cameron, seat of Cameron Parish, by way of what's likely to be the shortest ferry ride of your life. Head for the railing with your camera, though, because this Calcasieu Ship Channel is jumping with porpoises and alive with birds.
In a state famed for festivals, Cameron boasts the first of the year, January's Louisiana Fur and Wildlife Festival, with music, amusements and great food, of course, but also competitions in wetland skills such as retriever dog trials; skeet-shooting; trap-setting; and, yes, muskrat-skinning. Year-round attractions include Airboats and Alligators at 1151 Oak Grove Highway, where an ATV-pulled cart delivers you to the airboats and gator ponds (337-274-2395), and the Cameron Jetty Pier Facility at 799 Davis Road, with its playground; RV park; observation tower; elevated walkway to the beach; and, best of all, its spacious pier complex projecting into the Gulf where you can snag tarpon, snapper, wahoo and all their friends (337-775-2800).
East of Cameron you must choose between curving now onto the northward upswing of the Louisiana 27 "U" or first taking the trail's 82 East spur, which will pass famous Grand Chenier and smaller ridges on its way to Rockefeller Wildlife Refuge. Rockefeller is credited with saving the once-endangered American alligator, and it's still the go-to source of expertise for nurturing crocodilian populations around the world. Boaters can arrange for credentials to explore that 76,000-acre preserve (337-491-2593), and, three-quarters-of-a-mile west of refuge headquarters, Price Lake Nature Drive is a prime spot for fishing, crabbing and shrimp-netting that actually leads 3 miles (partway by foot) into our very briniest of marsh. Taller canes and grasses soon turn the pathway into a virtual tunnel, but suddenly the cane disappears, leaving nothing ahead but a dramatic vista of short marsh grass, ponds, mud flats – and a million birds.
It's not impossible to see an occasional whooping crane around Rockefeller, and back on 27, heading up the eastern side of the "U," you'll pass, above Cameron Prairie National Wildlife Refuge, pastures sometimes visited by sandhill cranes, hundreds of them, looking to be nearly 4 feet tall.
Cameron Prairie, maintained to provide natural foods for resident and migrating waterfowl, is a wonderland of geese, ducks and wading birds, of course, but also of otter and other fur-bearers. "Fishing roads" will entice you as you pass through on 27, and watch for the turn onto Pintail Wildlife Drive, a popular 3-mile loop (auto and boardwalks) through the freshwater marsh. It's 2 miles farther to the visitor center, where you'll be entertained indoors by wildlife displays and a theater (where an animated Cajun grand-père and grand-mère introduce their beloved wetlands) and outdoors by an elevated walkway into a little freshwater wonderland where you'll probably see more roseate spoonbills at a glance than the total you've seen in your life.
Continue north on 27 to Louisiana 14, which marks the beginning of your final spur. Take 14 east and Illinois Plant Road 4 miles south to enter Lacassine National Wildlife Refuge, where Wildlife Drive encircles shallow Lacassine Pool with its gators, birds and furry fauna. Then, for a good comparison of marshlands and typical Louisiana swamps, head back up to 14, and drive 8 miles east to Louisiana 3056, 4 miles south to Streeter Road and 2 miles west to Lacassine headquarters where boardwalks and tower reveal the beauty of a cypress-tupelo swamp of the Mermentau River basin.
And now, oh, great navigator, get home the best way you can!
---
G.W. "Bud" Willis, a master botanical photographer and lifelong friend and supporter of Briarwood (the Caroline Dormon Nature Preserve), contributed four of the wildflower photos shown in last issue's Briarwood article but inadvertently was credited for only one. We regret the oversight and encourage readers to find more of his photography at willisfarm.net, the nursery farm on Lake Bistineau where he has cultivated native and heirloom shrubs and trees since retiring from Ochsner Hospital. Information on his "Saturday Markets," Fruits & Nuts Catalog and newsletter can be requested at willisfarmnursery@gmail.com.
---
Best Bets
War in the Wetlands: If you take the recommended Creole Nature Trail detour from Cameron down Davis Road to the Cameron Jetty Pier Facility, you'll not only be following the last 3 miles of the Calcasieu River but also skirting the site of a battle fought here on May 6, 1864.
A handsome obelisk at the Cameron Courthouse honors the 14 Confederates and eight Union Navy men who died during the Rebs' capture of two Union gunboats here, and a new book by prolific Civil War writer Michael Dan Jones of Iowa, La., The Battle of Calcasieu Pass, gives a detailed account of that encounter and a review of Union attempts at other Louisiana ports, for the duration of the war, to enforce Lincoln's blockade strategy (available on Amazon, $9.95).Knowing Your Place: It's a fact that Louisiana travelers like to read Louisiana books, even fiction set in special places, but with so many old and new titles out there, it's hard to stay abreast. I recommend LouisianaBookNews.com, a personal project of author and Lafayette journalist Cheré Dastugue Coen, whose site includes book and travel blogs, reviews and book-related events, plus lists of bookstores and Louisiana authors (with links to many).  It's also a quite convenient place to acquire her own travel guide, called Exploring Cajun Country (also available on Amazon), which divides the New Acadie triangle into nine regions and explores the history and je ne sais quoi of each one's landmarks, towns, foods, festivals and folks. You'll use it; you'll keep it.