Dining Around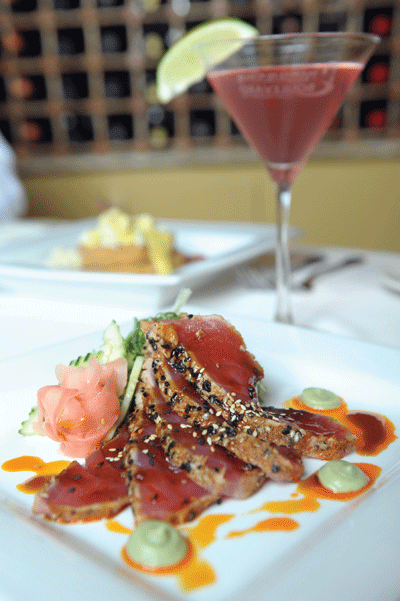 Louisiana has one of the most diverse populations of all 50 states, but one thing that ties us all together is our appreciation for good food. Just about anywhere you travel in Louisiana, you'll find an eatery worth your time. This article isn't an attempt to create a comprehensive list of worthy restaurants; rather it's a collection of a number of places that I have enjoyed during my travels around the state.
Business often takes me away from my home base in New Orleans, and over the years, I've gotten to know many excellent restaurants firsthand. But my general practice when I visit a place is to ask as many people as I can about the best restaurants or their favorite foods. A lawyer in Shreveport might tip me off to a new hamburger joint; a friend outside of New Iberia alerted me once to a casino restaurant that I'd never have found without his help. So even if this list is helpful to you while you ramble around the state, keep in mind that asking questions is almost always a good idea. If there's a restaurant you feel should have been mentioned, please write or e-mail info@LouisianaLife.com to let us know.
North Louisiana
Interstate 20 runs through the northern part of the state, and from Shreveport to Monroe, there's good eating to be found if you take the
time to look.
Strawn's Eat Shop in Shreveport is a classic diner-style restaurant that now sports three locations. The original is located at 125 King's Highway, and it's still our favorite for a full breakfast; lunches of fried chicken, meatloaf or roast beef with sides; and dinner specials such as beef tips with rice or chicken and dumplings.
The pies, especially the strawberry icebox pie, are a reason to visit in themselves.
Multiple locations, (318) 868-0634
Wine Country Bistro & Bottle Shop is more than a restaurant; it's also a wine shop and a location for local musicians. That's not why it's in this piece, though – it's because chef Michael Brady's food is a great example of the burgeoning food scene in Shreveport. The menu is a mix of bistro standards and Brady's use of the best ingredients he can get. 4801 Line Ave., Shreveport, (318) 629-9463
Chef Cory Bahr of Restaurant Sage in Monroe was named the Louisiana Seafood King at the New Orleans Wine & Food Experience back in May of this year. Bahr first created a stir in the Monroe area during his time at Canard's, and at Sage, he has continued to hone his ambitious take on Southern food with such dishes as braised short rib ravioli with mushrooms and a sage-brown butter sauce and pan-roasted sea bass with chilled avocado and lump crabmeat salad, Thai sweet chili sauce and crispy sweet potatoes.
1301 N. 19th St., Monroe, (318) 410-9400
Bella Fresca's Italian name belies the breadth of options on its menu. It's a casual restaurant serving upscale food that owes as much to Asia as Italy. The sesame tempura shrimp with a sweet-and-sour sauce flavored with rosemary and the crab cakes with a chipotle rémoulade sauce are standouts on chef Weston McElwee's menu. (Reservations recommended.) 6307 Line Ave., Shreveport, (318) 865-6307
The Blind Tiger Restaurant and Bar in Shreveport is popular for burgers and beer, and with a menu that stretches on for pages, there's something at the casual restaurant for just about anyone. Try the spicy Voodoo Shrimp appetizer and the Seafood "Gumbeaux." 120 Texas St., Shreveport, (318) 226-8747
New Orleans
New Orleans is one of the world's dining destinations. It's hard to have a bad meal in the Crescent City, and here are a few places that are guaranteed to please.
New Orleans has dozens of classic neighborhood restaurants, and Liuzza's in Mid-City is one of the standouts. The restaurant's strength is the kind of indigenous Italian food for which New Orleans is known, but more standard Creole fare is also available, as are poor boy sandwiches and ice-cold beers in huge frosted goblets. 3636 Bienville St., New Orleans, (504) 482-9120
Del Porto was on the forefront of the movement in the New Orleans area towards authentic regional Italian cuisine. New Orleans has its own version of Italian food, a combination of the cooking of Sicilian immigrants and the Creole cuisine they found when they arrived in the Crescent City. For decades, that version of Italian cooking was the only alternative worth eating. David and Torre Solazzo opened Del Porto in Covington, on the north shore of Lake Pontchartrain in 2002, and they began receiving accolades almost immediately. The menu changes seasonally, but the antipasti plate is always a winner, and seafood is typically excellent. 501 E. Boston St., Covington, (985) 875-1006
New Orleans is home to a large community of folks from Vietnam, and as a result there are excellent restaurants serving the cuisine of that country. 9 Roses is one of the best; its large menu offers a survey of the classic cuisine of Vietnam, using ingredients grown locally that most native Louisianians have never seen.
Try the grilled beef spring rolls or, when it's available, the spicy beef soup called Bun Bo Hue. 1100 Stephens St., Gretna, (504) 366-7665
There are dozens of outstanding poor boy shops in New Orleans, but Parkway Bakery and Tavern in Mid-City is unique. The menu features all the standards you'd expect, such as fried oyster, roast beef with gravy and hot sausage, as well as the Surf & Turf, which combines fried shrimp and roast beef. With a location overlooking Bayou St. John, Parkway is a great place to visit during Jazz Fest, though you should definitely call in advance to check on the wait or place an order. 538 Hagan Ave., New Orleans, (504) 482-3047 or (866) 755-9842
Cajun Country
Southwest Louisiana has a culture and cuisine all its own. Here are a few spots that are worth your while whether you're visiting or a native.
Darrell's has what could generously be called a "limited" menu: eight sandwiches in two sizes. But Darrell's does those sandwiches well. That's why it's got a devoted following in Lake Charles. The brisket sandwich with jalapeño mayonnaise is particularly good, as is the Surf & Turf, a combination of roast beef and sauteed shrimp. 119 W. College St., Lake Charles, (337) 474-3651
The first thing you'll notice about Landry's Cajun Restaurant in New Iberia is that it is quick to distinguish itself from the chain of seafood restaurants with the same name. As good as those other Landry's restaurants may be, they can't compete with the cooking of chef Alex Patout, a New Iberia native and longtime New Orleans restaurateur. The menu at Landry's features local seafood, gumbos, steaks and Cajun "camp" cooking such as shrimp-and-crab stew and rabbit sauce piquant. Patout has an excellent source for frog legs, which have become a specialty. Highway 90 at Jefferson Island Road, New Iberia, (337) 369-3772
In Lake Charles, La Truffe Sauvage has long been the first choice for fine dining. That's due to a menu heavy on classic Continental cuisine that is consistently well-executed. The seafood "pot au feu" with fennel, Gulf shrimp, scallops, clams, Maine lobster and fresh fish is a winner, as is the veal osso bucco. Chef Mohamed Chettouh is a native of Algeria whose training in the classic French culinary tradition began at the age of 14. His cooking reflects that background as well as his world-ranging travels and the bounty of ingredients available locally. 815 W. Bayou Pines Drive, Lake Charles, (337) 439-8364
Donald Link is a native of Cajun country, but until recently all of his restaurants were in New Orleans. In September, Link and partner Steven Stryjewski opened Cochon Lafayette, bringing Link's robust Cajun and Southern food home. Cochon Lafayette, like Link's restaurant of the same name in New Orleans, features house-made charcuterie and rustic dishes prepared with a sophisticated touch. 921 Camellia Blvd., Lafayette, (337) 993-9935
In Breaux Bridge, Café des Amis is known for its zydeco breakfasts on Saturday mornings featuring regional music and typically Cajun dishes such as cornmeal coush-coush and oreille de cochon, boudin-stuffed dough that's fried and dusted with powdered sugar. The restaurant is also a great place for crawfish étouffée, redfish court bouillon and oven-roasted rabbit. Give 'em a call to find out who's playing and what's on the menu. 140 E. Bridge St., Breaux Bridge, (337) 332-5273
Central Louisiana
Restaurants in the center of the state are often influenced by the cooking of the Cajun parishes to the south and west, the Creole cooking of New Orleans and the more typically Southern food of the rest of Louisiana and the Deep South. Regardless of influence, here are a few spots to check out.
Lea's Lunchroom is renowned for its pies, but the "meat and three" lunch spot has been serving excellent home-style food since 1928. Located south of Alexandria in tiny Lecompte, Lea's serves Southern food made from scratch. The fried chicken on Sunday makes it a must-stop if you're in the area, and be sure to try the pies – they're famous for a reason.
1810 Highway 71, Lecompte, (318) 776-5178
Lasyone's is one of the best places in Louisiana to sample the famous Natchitoches meat pie. The restaurant serves breakfast and lunch, including daily specials such as chicken-fried steak and grilled liver and onions with a wide choice of sides, but the meat pies are the real draw here. You can also buy them frozen to cook at home. 622 Second St., Natchitoches, (318) 352-3353
For fine dining in Alexandria, Diamond Grill is the place. Located in a historic building on Third Street, Diamond Grill serves seafood, steaks and Creole specialties in a beautiful setting. Turtle soup and crabmeat en croute are good choices, as is the 16-ounce bone-in rib-eye. 924 Third St., Alexandria, (318) 448-8989
Natchitoches is one of the most beautiful towns in Louisiana, and The Landing has contributed to the charm of the city's National Historic Landmark District since opening in 1988. Meat pies are on the menu, of course, along with blackened alligator and fried green tomatoes, but grilled Ahi tuna and salmon grilled with a peppercorn crust are among the most popular dishes.
530 Front St., Natchitoches, (318) 352-1579
For a casual meal in Natchitoches, Mama's Oyster House is a good bet. Adjacent to the similarly named and co-owned Papa's Bar & Grill, Mama's does seafood and cold beer in a comfortable setting. Fried, raw and grilled oysters are the highlight here, but boiled crawfish are also available during the season.
608 Front St., Natchitoches, (318) 356-7874
Baton Rouge/Plantation Country
Louisiana's capital city and the area surrounding it are home to some great restaurants. From fine-dining to down-home, you'll find dozens of options. Here are a few of our picks.
Middendorf's is a longtime favorite for folks traveling between New Orleans and Baton Rouge, as well as for residents of the area around Lake Maurepas.
Known for thin-fried catfish, Middendorf's does a great job with shrimp, oysters and any other seafood found in local waters. The fried chicken is less well-known but just as good. 30160 Highway 51, Akers, (985) 386-6666
Hymel's Seafood Restaurant serves classic Louisiana seafood, boiled and fried. It's a purely casual restaurant, where schooners of beer match the fare perfectly.
Hymel's location makes it perfect for a meal if you're touring nearby Houmas House Plantation.
8740 Louisiana Highway 44, Convent, (225) 562-9910
A Lebanese restaurant may not be what you would expect for a list of places to try in Baton Rouge, but Serop's does the food of the Middle East better than just about anywhere you'll find. It's a more sophisticated experience than most restaurants of its kind, but it's far from stuffy. 7474 Corporate Blvd., Suite 307,
Baton Rouge, (225) 201-8100
Located just outside of the gates of the LSU campus, The Chimes specializes in excellent casual food and a wide selection of beers. It's a great place to go before or after a game at Tiger Stadium. 3357 Highland Road, Baton Rouge, (225) 383-1754
Stroube's in Baton Rouge is more than just a steak restaurant. Chef Scott Varnedoe has a talent for seafood, and while the steaks and chops are certainly worth consideration, not least for the wide variety of sauces with which to accompany them, don't ignore such house specialties as the Duck Duo or lobster ravioli. 107 Third St., Baton Rouge, (225) 448-2830