Great Louisiana Chef: Firing It Up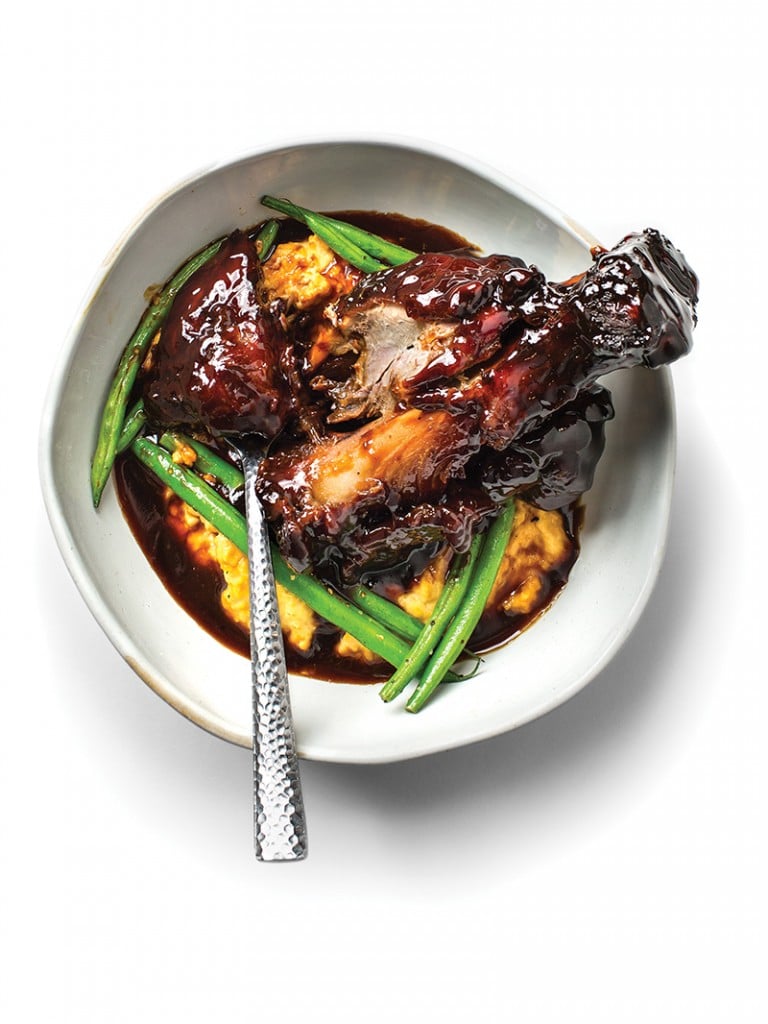 As twilight gives way to darkness, and spirits wander through the Myrtles' wintry mist, the alluring aroma of burning logs, fat dripping onto coals and ribeye steaks charring over leaping flames puts guests in a smoky trance at Restaurant 1796.
While visitors nibble on buttery cast iron cornbread and locals wield craft cocktails at the bar, Executive Chef Daniel Dreher fires up his seasonal farm-to-table creations at the 10-foot-long open hearth centering the art-filled eatery. Pineapples sliced for cocktails and legs of lamb dangle above the inferno, dancing to their fiery finish.
Dreher's small but impressive team of chefs at the charming new 100-seat restaurant includes three rising-star graduates of the Culinary Institute of America.
"I teach our chefs to respect the flame," Dreher says. "They love playing with fire. But you have to learn to control the process. I've always been mesmerized by fire, even as a little kid. I used to take all our Christmas wrapping paper outside and burn it up. I'll always be a pyro!"
A seventh generation St. Francisville native and a graduate of the John Folse Culinary Institute, Chef Dreher elevated his European fine dining skills after moving to St. Louis to helm restaurants owned by acclaimed Chef Bryan Carr.
"He became my mentor," says Dreher. "I was his chef-de-cuisine at Atlas before I returned to Louisiana and opened Fresh Kitchen in Baton Rouge. I sold it to Good Eats before joining Restaurant 1796."
The Myrtles' general manager, Morgan Moss, tapped Chef Dreher to help transform his family's 224-year-old plantation into a unique open-hearth dining destination, and transcend its reputation as "the most haunted house in America."
"I was drawn to Daniel's keen business sensibilities and creativity," says Moss. "We hope to develop agritourism by creating kitchen gardens, orchards, walking trails and other attractions."
"We'll be introducing live music in the courtyard, wine dinners and many special events at Restaurant 1796," says Chef Dreher. "We live just around the corner, so our home is where the hearth is."
---
Pork Shanks à la Restaurant 1796
4 12-ounce pork shanks
3 ounces Herbsaint
2 ounces soy sauce
1 can Steen's Pure Cane Syrup
1 ounce fresh ginger, minced
2 stalks green onion, chopped
1 ounce fresh garlic, minced
Pat the pork shanks dry and season with salt and pepper. In a heavy-bottomed pot, heat enough vegetable oil to cover the bottom and place on medium heat. Brown the pork shanks in the oil and remove from pot; drain the excess oil from the pot and return pork shanks to the pot.
Deglaze the pot with Herbsaint and soy sauce, bring it to a simmer then add the cane syrup, ginger and green onions.
Cover pot and place in a 300 F oven for 2.5 hours. Once the shanks are tender, remove from pot and reduce the remaining liquid to a syrupy consistency.
Serve with cream cheese grits; garnish with haricots verts (recipe online). Serves 4.
---
CHEF'S TIP
The pot should be large enough (5-quart Dutch oven) so that the shanks can stand up, and you won't have to rotate them while braising.
---