LA Guns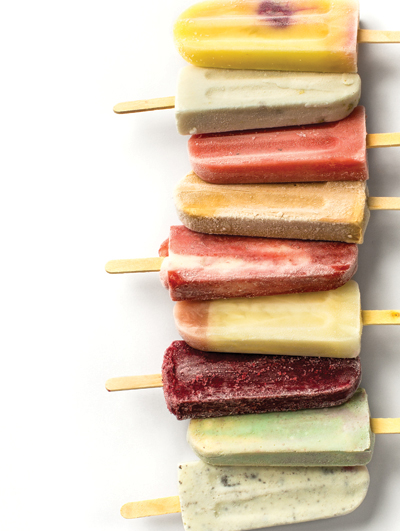 Sophisticated palates, an explosion in culinary entrepreneurism and a ceaseless demand for sweet relief from the heat of summer initiated the launch of Pops & Rockets. The highly versatile popsicle is currently one of the hottest things going in Louisiana.
Robbie Austin and Nick Villaume grew up together in Lake Charles. They share a love of '80s music, glitz and culture. In the summer of 2014 they morphed their passions into Pops & Rockets, a line of gourmet popsicles inspired by '80s music. They booted up their business with a successful crowd funding campaign, selling over 5,000 pops at the launch to get them started. Villaume is the operations manager, Austin is the creative guy.
Like the metalheads they are, the duo launched Pops & Rockets with flavors like "Back in Blackberry" made with blackberry, coconut and raspberry flavors and riffing on AC/DC's hit "Back in Black," and "Cran Halen" (cranberry and satsuma) for a fun poke at Van Halen. Those early favorites are now perennials on an expanded menu that encompasses dip pops and filled pops. Check out "Bacon the Law" a maple, bacon pop honoring Judas Priest; "Pop You Like a Hurricane," an homage to the hit song by The Scorpions and involves Pat O'Brien's Hurricane Mix. They are covering the rap scene, too with "Raz DMC," a raspberry and lime pop.
"After a lot of trial and error, we're finally about to release "You Can Still Pop in America," Villaume said. Named for a Night Ranger tune, the confection is made with strawberry cream and strawberry Pop Rocks candy suspended in white chocolate.
Pops & Rockets recently opened an expanded production facility in downtown Lake Charles on Pujo street next door to Botsky's Premium Hot Dogs, a move that makes sense for the simpatico businesses.
"In addition to a wide variety of pops, we've added hand-made ice cream to the menu," Villaume says. "It's made with milk from Hillcrest Creamery, a local, all pastured, hormone-free, non-homogenized dairy. They make that super creamy milk that you had when you were a kid and it's the perfect addition to our nostalgic fantasy."
The shop features '80s tunes and vintage arcade games. Villaume says they've also begun expansion into Lafayette, Baton Rouge and New Orleans.
"In Lafayette, we've been out selling at the popular Rythm's on the River concert series and our pops just became available at La Creperie Bistro at The Parc Lafayette Shopping center," says Villaume. "Also in Lafayette, we have partnered with Reve Coffee Roasters to reconfigure our 'Ebony & Ivory' pop. We are now using their chicory coffee blend and it is soooo good. You'll soon find our cart every Friday, Saturday and Sunday at Jefferson Towers across from Pamplona in downtown Lafayette."
The kick off in Baton Rouge was the Live After 5 concert series and the Baton Rouge Blues Festival. Villaume says the response was so big, they wound up having to drive their freezer truck back to Lake Charles that Sunday to stock up on more pops.
"We brought almost 1,000 pops on Friday," Villaume says. "We don't have any retail spaces selling our pops in Baton Rouge yet. But, there will be some coming real soon."
Pops and Rockets | 104 W. Pujo Street Lake Charles | 888-978-7677 | popsandrockets.com
GOOD BETS
Having a party, wedding, fundraiser or school event? Pops & Rockets will bring the goods. The 50 Pop Party Freezer starts at $150 and the team will deliver a freezer loaded with up to 125 pops in up to 6 flavors. Order the 100 Pop Party Cart for $300 and the team will show up at your event and give out pops to your guests.