La Nouvelle Louisiane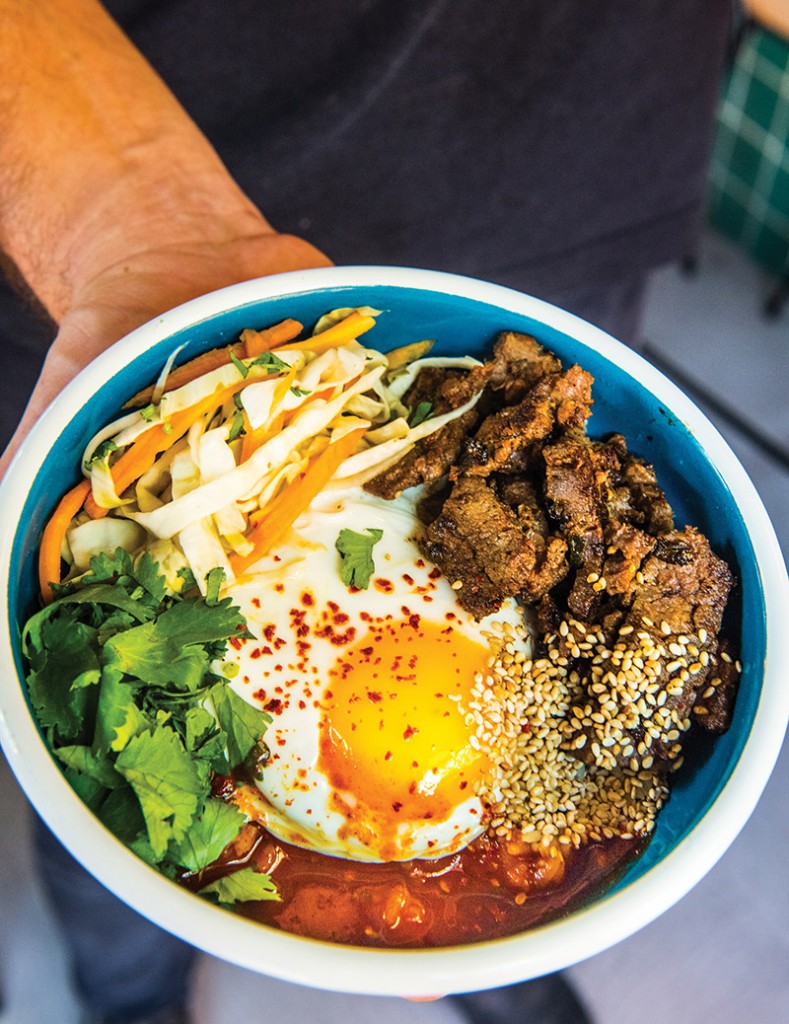 Louisiana is known
for its food and music scenes (as it should be!), b
ut has so much more to offer. So, we've curated a n
ew list. We are
proud to present La Nouvelle Louisiane—the best of what's new in the Pelican State.
---
brewery | winner

Gilla Brewing Company
GONZALES Founded in October 2019 by Brad Andersen, Alex Shillings and Derek Stewart, Gilla Brewing Company is Ascension Parish's first brewery. While the nano-brewery specializes in fruited sours, New England IPAs and pastry stouts, the founders are able to brew in small batches so there's always something new on tap. The menu includes options like Gilla Wit Dat (a wheat beer), Gilla Numpsahoola (a pilsner), Gilla Neapolitan Feels (an imperial stout) and Gilla Gilla Warfare (an IPA); a number of guest taps, such as NOLA Brewing's Peanut Butter Espresso Bon Bon Stout (an imperial stout) and Parish Brewing Co.'s SIPS: Pinot Noir Grape and Black Currant (a fruited sour); and a large selection of bottled and canned beer from other in-state brewers, such as Bayou Teche Brewing, Crying Eagle Brewing Company and Urban South Brewery, and out-of-state brewers, such as Cigar City Brewing, New Holland Brewing and Southern Prohibition Brewing. For those who aren't a fan of beer, Gilla also offers a selection of red and white wine from Sutter Home. gillabrewingco.com
finalists
Huckleberry Brewing Co.
Alexandria Jacob Willson founded Huckleberry Brewing Co. in 2018 after spending 10 years learning the art of craft brewing in Portland, Oregon. Flagship beers include Sandbar Blonde, Riverboat Razz, Trail Dog Tangerine Wheat, Upriver IPA and 3 Card Stout. huckleberry-brewingcompany.com
Rally Cap Brewing Co.
Baton Rouge Located in the Industriplex area of Baton Rouge, this craft brewery and taproom opened to the public in December. 2019. The hop-centric brewery features plenty of pale ales and IPAs. rallycapbrewing.com
Twenty 8 West Brewing
Alexandria Ray Gill, owner of Jack's bar in Alexandria, teamed up with friends Edan Moran and Mike Brunet to create Twenty 8 West Brewing as Alexandria's first original microbrewery. facebook.com/twenty8westbrewing
---
live music venue | winner
Panorama Music House
LAKE CHARLES This live music venue opened last year in a space once home to Rikenjaks. Taking its name from the old Panorama Burger House, the new venue promotes local bands, and offers a full-service restaurant and bar. Try the Panorama burger, with pepper jack cheese, poblano peppers, arugula and chipotle aioli. thepanoramamusichouse.com
finalists
The Fillmore New Orleans
New Orleans Modeled after The Fillmore in San Francisco, this new music venue features state-of-the-art lighting and sound, and a healthy dose of New Orleans-themed art and decor. fillmorenola.com
The Hub Music Hall
Monroe Serving as an event space and live music venue in the heart of downtown Monroe, The Hub offers 17,000 square feet of luxe indoor and outdoor space. thehubmonroe.com
Red Stick Social
Baton Rouge Occupying three floors in the newly renovated Electric Depot, Red Stick Social features state-of-the-art bowling lanes, game tables, live music and locally inspired fare. redsticksocial.com
---
newly notable | winner

Zion Williamson
New Orleans Pelican power forward is a powerful force
NEW ORLEANS Zion Williamson drew national attention first for his slam dunks at Spartanburg Day School in South Carolina, where he led his team to three straight state championships. He later drew attention as the first overall pick by the New Orleans Pelicans in the 2019 NBA draft. He takes to the court as a power forward for our home team.
finalists
Kerrick Jackson
Kerrick Jackson started as the head baseball coach for Baton Rouge's Southern University in 2018. The Jaguars ended the 2019 season as SWAC Western Division Champions and Conference Tournament Champions.
Quinton "Munchie" Washington
As a young and popular Black comedian, Quinton "Munchie" Washington is a regular on the downtown Shreveport nightclub scene. Often performing at LOL Comedy Club, which opened in 2019, Washington regularly sells out his shows.
Frank Wilson
First-year McNeese head coach Frank Wilson—the first African-American head football coach in school history and the second in the history of the Southland Conference—enters the 2020 season with a number of high-profile transfer athletes.
---
events & attractions | winner

Jean Lafitte World Championship Pirogue Races
JEAN LAFITTE Pirogue racing on Bayou Barataria is a tradition that dates back to the 1930s. The Jean Lafitte World Championship Pirogue Races, which started in 2018, is the town's way of bringing this event back to life. Races take place in categories such as the Championship 2 Mile (one race for women and one race for men), the Decoy Pick Up Race, the Blindfold 100 Meters and the Kayak Race 300 Meters. In true Louisiana style, in addition to the races, the event includes local music, food, and arts and crafts. Last year, other activities included a Cajun canoe builder demonstration and a pirogue history lesson. The event takes place in September, with the date and time to be announced soon. townofjeanlafitte.com/events
events & attractions finalists
Cajun BMX
Lafayette This 1,200-foot, all-dirt BMX bicycle track is a public-use facility at Picard Park. One of only four USA certified BMX tracks in Louisiana, the track hosts weekly races and practice sessions. usabmx.com/tracks/1995
NOLA Gold
Metairie While the New Orleans Rugby Football Club was established in 1973, it wasn't until 2017 that the NOLA Gold team was founded to compete in Major League Rugby. The 2021 season kicks off in February. nolagoldrugby.com
Topgolf Baton Rouge
Baton Rouge This family-friendly venue features more than 70 climate-controlled hitting bays, a rooftop terrace with fire pit, more than 200 HDTVs, and a full-service restaurant and bar. topgolf.com
---
chef | winner

Chaya Conrad
NEW ORLEANS An alumni of the Culinary Institute of America in New York, Chaya Conrad has been a beloved pastry chef on the New Orleans culinary scene for years. After working as pastry chef at Dickie Brennan's Steakhouse under notable Chef James Leeming, and later working in premium grocery store bakery management, she recently realized her dream of opening her own bakery, restaurant and cafe. As the owner and head baker of Bywater Bakery, Conrad offers breakfast, brunch, lunch and a bevy of cake varieties. Fun tidbit: Conrad invented the Chantilly cake, so, if you've bought one of these desserts in the past 15 years, you most likely have tasted her talent. bywaterbakery.com
chef finalists
Phillip Beard
Baton Rouge As the head chef at Bumsteers, a new burger joint that opened in Baton Rouge in 2018, Phillip Beard is offering chef-driven, local and affordable food in a neighborhood spot. Some of the specialties on his menu include Dr. Phill's Smoked Wings and Brisket Sliders; Bum Fries (smothered in brisket gravy, cheese, smoked bacon, pulled pork, jalapeños and green onions); tacos; burgers; and salads. bumsteersbr.com
Sierra Torres and Grace Treffinger
Sierra Torres and Grace Treffinger recently opened Cattail Cooks with the aim of cooking food that pays homage to the farmers, fishers, ranchers, crabbers, ecology and food communities of the Gulf South. Both chefs are alumni of NOCCA's Culinary Arts department, and they are currently organizing food relief aid for families affected by COVID-19. facebook.com/cattailcooks
---
restaurant | winner

Spoonbill Watering Hole & Restaurant
Lafayette's James Beard Award nominee makes a splash
Lafayette
This Lafayette-based restaurant is known for its seafood and Southern dishes, serving bunch, lunch and dinner. For brunch, choose from items such as chia pudding, smoked salmon toast or shrimp and grits. Meanwhile, the lunch and dinner menu features a variety of salads, sandwiches, wraps, tacos and fish. The restaurant opened in 2018 in a converted Conoco gas station and was named as a James Beard Foundation Award Nominee for 2020 (Outstanding Restaurant Design Award: 75 seats and under). spoonbillrestaurant.com
restaurant | finalists
BLDG 5 Market + Kitchen + Patio
Baton Rouge Located beneath the Perkins Road Overpass, BLDG 5 is an intimate marketplace offering all kinds of fixins for the pantry. Even better, grab a seasonally inspired lunch or dinner on the happening patio. bldg5.com
Vyoone's Restaurant
New Orleans Vyoone Segue Lewis' French and Afro Creole ancestry shines forth in the menu at her CBD restaurant. Choose from dishes like escargots de bourgogne, poulet confit and some of the best French onion soup in the city. vyoone.com
Zuzul Coastal Cuisine
Shreveport This Latin-American seafood restaurant is a new concept from local chef Gabriel Balderas. Here, you'll find beautiful dishes filled with fresh and sustainable ingredients, refreshing sangria and a lively patio. facebook.com/zuzulcoastalcuisine
---
museum | co-winner

Sazerac House
A fitting shrine to Louisiana's official cocktail
NEW ORLEANS This new museum pays homage to NOLA's history and traditions — not only the city's cocktail culture, but also everything else that surrounds it. The beautiful three-story museum is located within a 48,000-square-foot historic building in the CBD that dates back to the 1860s. The Sazerac House offers complimentary self-guided tours and interactive cocktail exhibitions. You'll learn about the methods used in distilling Sazerac Rye, how the world-famous Peychaud's Bitters are crafted and the history behind it all. Better yet, reserve an exclusive tasting hosted by expert bartenders for a unique experience that celebrates the city, cocktails and customs for which New Orleans is known. Before you leave, be sure to check out the shop for a vast array of spirits, apparel, bar accessories, bitters and more. sazerachouse.com
museum | co-winner
Louisiana Children's Museum
NEW ORLEANS The Louisiana Children's Museum recently opened the doors to its new $47.5 million state-of-the-art facility located on a lush 8.5-acre site in New Orleans City Park. The museum focuses on early childhood development for children ages eight and younger with five interactive, educational exhibitions, 100-foot-long mighty Mississippi River water exhibition, literacy center and a parent-teacher resource center. The museum also features outdoor environmental elements like decks, bridges, sensory and edible gardens, floating classroom and restorative, interpretive wetlands. Some of the museum galleries include Follow That Food (learning about how food travels from the Twin Cities to the Gulf of Mexico along the Mississippi River) and Dig Into Nature (learning how different natural elements work together). Plan your visit ahead of time, choosing from a number of experiences: literacy, the environment, arts and culture;health and wellness or STEM. If you get hungry, grab a bite at Acorn, a Dickie Brennan & Co. cafe. lcm.org
museum finalists
Guardians Institute
New Orleans Guardians Institute, founded by Herreast J. Harrison in honor of her late husband, Big Chief Donald Harrison, Sr., is home to the Donald Harrison, Sr. Museum and the Legacy Performance Pavilion. The museum spotlights artwork, music collections and many other artifacts from New Orleans' First Family of Art and Culture as well as other artists. guardiansinstitute.org
Sydney and Walda Besthoff Sculpture Garden
New Orleans The New Orleans Museum of Art unveiled the six-acre expansion of the Sydney and Walda Besthoff Sculpture Garden in May. In addition to a plethora of new sculptures, the expansion includes an outdoor amphitheater and stage, pedestrian bridges and walkways, a new gallery and an outdoor learning environment. noma.org/sculpture-garden
---
outdoor space | winner
Moncus Park
Lafayette Since breaking ground in 2018, Lafayette's 100-acre Moncus Park now features a new four-acre lake, a great lawn, more than two miles of new trails, a dog park and hundreds of tree plantings. Acadiana's newest green space also will soon feature a playground, a treehouse by design/build firm Nelson Treehouse of Animal Planet's Treehouse Masters, an amphitheater and an interactive Louisiana-themed water element. moncuspark.org
finalists
Alley Park
West Monroe Downtown West Monroe has recently closed a section of Natchitoches Street to vehicular traffic between Commerce and Trenton streets in Antique Alley. The area, known as Alley Park, will now be used to host concerts, a marketplace and other events.
George Rodrigue Park
New Iberia George Rodrigue Park in the New Iberia historic district celebrates Rodrigue's long career as a gifted artist, community leader, arts advocate and philanthropist.
Millennial Park
Baton Rouge Baton Rouge recently opened Millennial Park in the Mid City area featuring eateries housed in repurposed industrial shipping containers, an entertainment venue and the largest patio in the city. millennialparkbr.com
---