Louisiana Art & Science Museum Celebrates Free First Sunday with NASA Webb Space Telescope's Community Event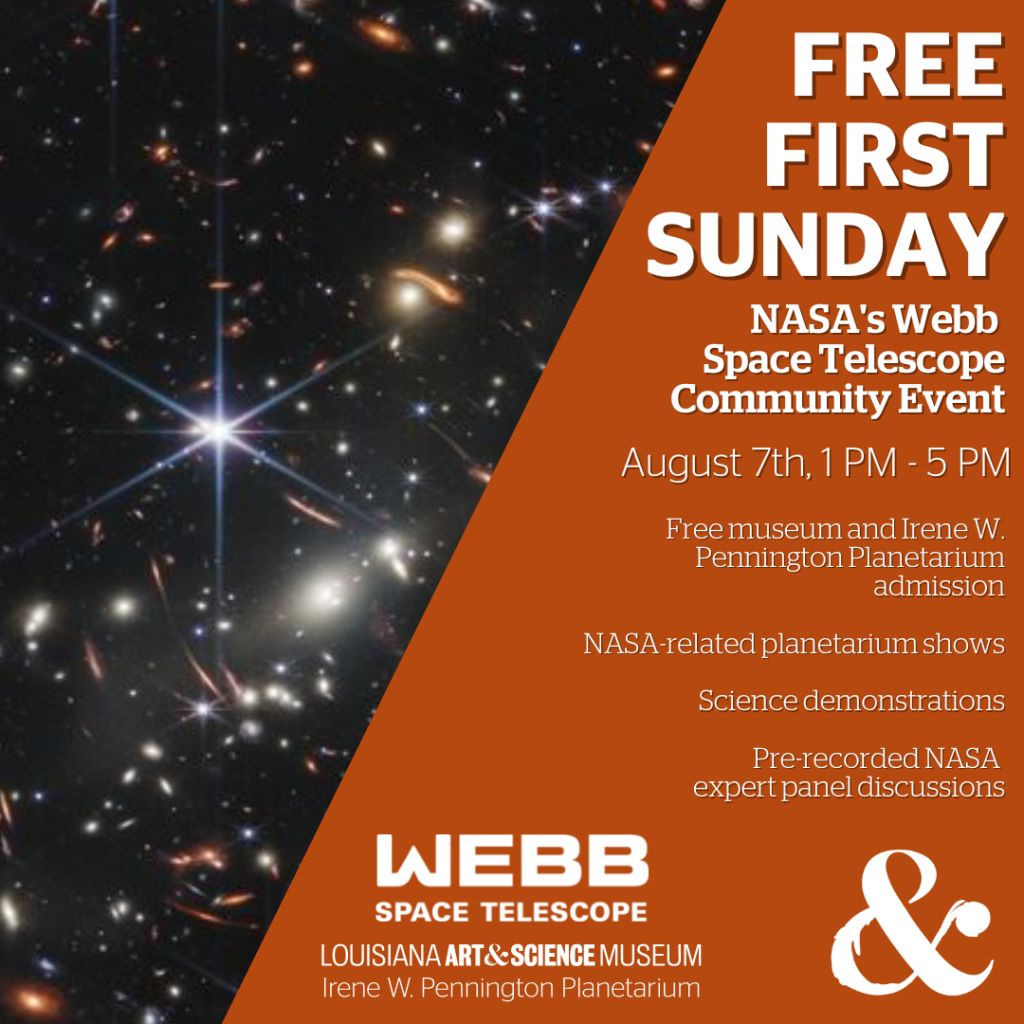 BATON ROUGE, La (press release) – The Louisiana Art & Science Museum (LASM) will host Free First Sunday on Sunday, August 7th, from 1 PM – 5 PM and will celebrate the release of the NASA Webb Space Telescope's first full-color images. Free admission to the LASM and the Irene W. Pennington Planetarium is available to the general public each first Sunday of the month thanks to a generous donation by Mr. Madison Lamar.
LASM visitors will explore Webb's stunning images and discoveries, enjoy NASA-related planetarium shows, participate in science demonstrations, view pre-recorded NASA expert panel discussions in the Adalié Brent Auditorium, and engage with NASA Solar System Ambassador and LASM Educator, Linda Gauthier.
The LASM was selected to join hundreds of sites across the country to celebrate the release of the first full-color, scientific images captured by the James Webb Space Telescope, NASA's next great cosmic observatory and the largest telescope ever sent into space. The JWST provides a view of the universe that humanity has never seen before and is an international collaboration between NASA, the European Space Agency (ESA), and the Canadian Space Agency (CSA).
"This event will take place on a Free First Sunday, since NASA's goal is to 'create and nurture generations of science enthusiasts, including underserved audiences, through long-term, meaningful engagement with Webb's discoveries,'" states LASM Education Director Nita Mitchell.  "In partnership with NASA, we are thrilled to provide this opportunity for astronomy enthusiasts of all ages to collectively celebrate this history-making mission that we believe will inspire many future scientists, engineers, and innovators."
The LASM will collaborate with several community partners during this event, including Baton Rouge Astronomical Society, East Baton Rouge Parish Library, Livingston Parish Library, National Informal STEM Education Network (NISE Network), and NASA Solar System Ambassadors.
Learn more about the NASA Webb Space Telescope at webb.nasa.gov.