Massachusetts Chef Erin Miller crowned first-ever Queen of American Seafood during the 2022 Great American Seafood Cook-Off in New Orleans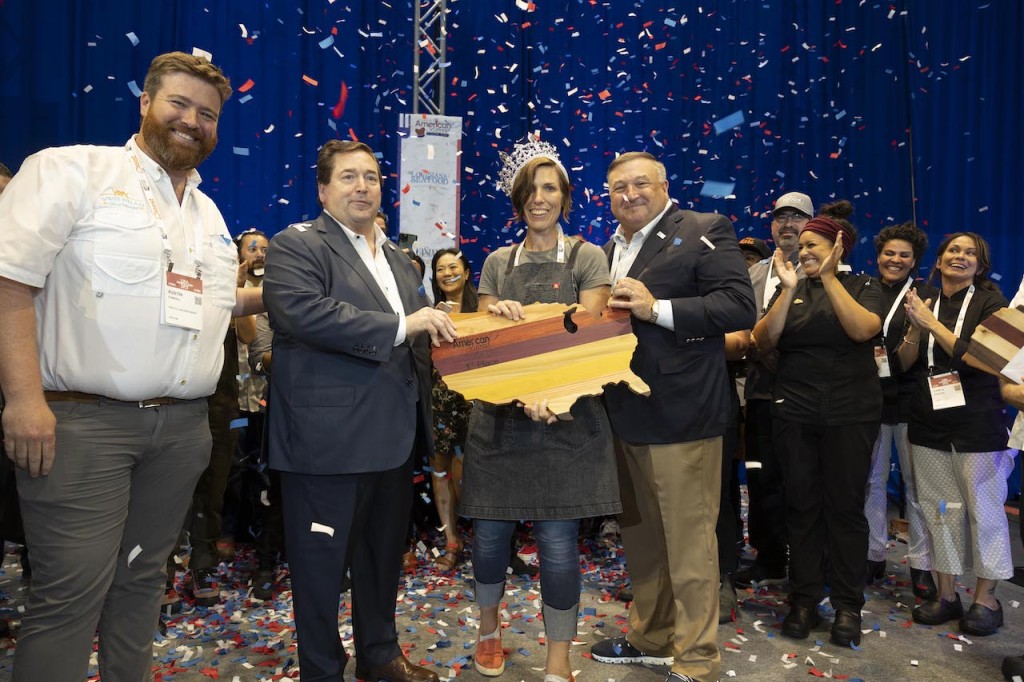 NEW ORLEANS (press release) – Louisiana Lieutenant Governor Billy Nungesser and the Louisiana Seafood Promotion and Marketing Board crowned Chef Erin Miller from Urban Hearth in Cambridge, Massachusetts, as the First-Ever 2022 Queen of American Seafood after winning the 2022 Annual Great American Seafood Cook-Off on Saturday, August 6, in New Orleans. The 18th annual event was held at the Ernest N. Morial Convention Center in conjunction with the Louisiana Restaurant Association Showcase.
To win the crown, Chef Erin Miller prepared a Cape Ann Tide Pool complemented by a consommé consisting of lobster tails and dune rose pits representing the incoming sea in the tide pool. The dish includes a scallop custard with corn and a sauté of all the flavors in the dish – sweet margarine, corn, mussels, and scallops. The dish was finished with a butter-poached lobster tail and scallops with sea beans foraged from the Cape Ann region of Massachusetts.
"We wanted to really focus in on the breadth of seafood available in Massachusetts, not only the fish and shellfish we know really well, but also the things that grow along the shore. So the dish is built around multiple layers of seafood and multiple layers of textures integrated with the sea beans and the garnishes that grow in the rocky shoals in Massachusetts," said Chef Erin Miller of Massachusetts, 2022 Queen of American Seafood. "I'm in probably my favorite city in the world right now. It just means so much to represent my state and be here with these extraordinarily creative chefs. It just makes this mean so much more."
"What an outstanding competition we had today with one of the best lineups of competing chefs in the history of the Great American Seafood Cook-Off," said Louisiana Lieutenant Governor Billy Nungesser. "It went great, the ishes are incredible. The personalities from each chef from each state from each state. This was definitely a touch decisions for our judges.
Coming in second place was Florida Chef Al Massa from Brotula's Seafood House & Steamer in Destin, FL, with his Pan Seared Florida Lionfish with black forbidden rice, melting zucchini ribbons with a chardonnay shellfish butter. Ohio Chef Chrsitian Gill from Boomtown Biscuits & Whiskey in Cincinnati, OH, took third with his Thai-marinated little neck clams with a deconstructed Korean maque choux.
Judging the dishes for the 2022 Great American Seafood Cook-Off were Louisiana Celebrity Chef John Folse, California Chef Shirley Chung, Two-time Chopped Champion and Florida Chef James Briscione, and Kentucky-based Sri Lankan-American Chef Sam Fore.
The Great American Seafood Cook-Off, which is dedicated to promoting sustainable and domestic fisheries, has been held every year in New Orleans since 2004. Previous winners of the Great American Seafood Cook-Off include:
2021: Austin Sumrall, Mississippi
2019: Nathan Richard, Louisiana
2018: Ryan Trahan, Louisiana
2017: Lionel Uddipa, Alaska
2016: Alex Eaton, Mississippi
2015: Beau Schooler, Alaska
2014: Terry White, Florida
2013: David Crews, Mississippi
2012: Gregory Gourdet, Oregon
2011: Jim Smith, Alabama
2010: Dean Max, Florida
2009: Tory McPhail, Louisiana
2008: John Currence, Mississippi
2007: Tim Thomas, Georgia
2006: Justin Timineri, Florida
2005: Randy Evans, Texas
For more information on the competition, visit www.louisianaseafood.com/great-american-seafood-cook.