Neutral Strip Bicentennial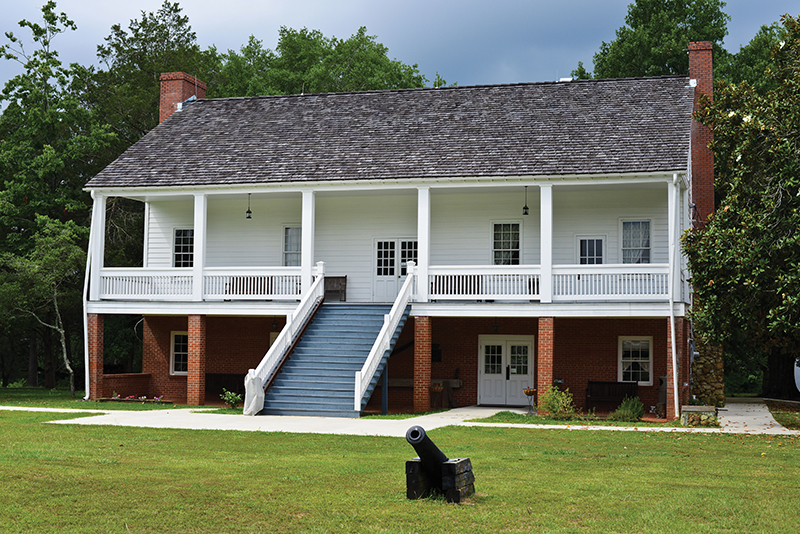 The story of Louisiana's Neutral Strip, condoned by international agreement, was created in 1806 and ended with a treaty whose Bicentennial we celebrate this year, but the desperate decades of a "No-Man's-Land" ruled by highwaymen and marauders had begun long before – soon, in fact, after France's settlement among the Caddo-Natchitoches Nation and Spain's response by positioning its Los Adaes presidio nearby among the Caddo-Adais.
The French claimed all lands west to the Sabine River, Spain all lands east to the Red River, but both were willing to abide by a makeshift border consisting of two waterways, both called Arroyo Hondo. We know the lower arroyo (stream) as the Calcasieu River, the upper a creek near Natchitoches that's not at all hondo (deep) but has retained the name, and together they would stretch to the Gulf of Mexico.
Los Adaes served as capital of Tejas for 44 years, but when the French and Indian War left the Spanish in possession of all western Louisiana and with no French army to oppose, they abandoned the presidio and pulled back to the Sabine, leaving several Spanish communities with no military presence. The territory quickly turned violent and remained so even after U.S. forces arrived after the Louisiana Purchase, with "land pirates" haunting the woodlands and ambushing travelers along el Camino Real (today's La.6), the Old Spanish Trail (today's U.S. 90) and minor trails blazed by legendary cattle and horse smugglers like Philip Nolan (killed on one of his forays into Texas).
Rather than bringing protection, the commandant in Natchitoches formally agreed with the Spanish for both to steer clear of the area until the age-old border dispute was resolved, and it was that act that gave the No-Man's-Land its officially mandated status as a "Neutral Strip."
Many murders later the prospect of life in a totally unprotected region was mercifully ended by the Adams-Onís Treaty of 1819, establishing the Sabine as the U.S. border and belatedly welcoming eight of our current parishes into the state of Louisiana.
The Bicentennial commemoration of that fateful treaty begins Feb. 15 with opening ceremonies hosted by Lt. Gov. Billy Nungesser at Sabine Parish's Fort Jesup, the U.S. outpost commanded 1822-1846 by future president Zachary Taylor.
Fort Jesup on el Camino Real and Cantonment Atkinson on today's Lake Charles lakefront introduced a modicum of law and order, but it would be decades before the zone could be called safe. Well into the 1850s "land pirates" like John "Reverend Devil" Murrell and gangs like the West-Kimbrell Clan (with cameo appearances by Jesse James) still robbed and killed at will, hiding out in Kisatchie caves or crossing the Sabine to escape the jurisdiction of pursuing lawmen.
The Civil War introduced a new breed of outlaws called Jayhawkers who often posed as military units, attacking homesteads, travelers, sometimes even supply wagons near Sabine River quartermaster depots like Niblett's Bluff (now a recreation area upriver from I-10 on La.109). Soon after the war came the timber boom with its mushrooming sawmill towns and flood of strangers, including characters like gunman Leather Britches Smith who, chased out of Texas and hired to disrupt labor union activities, was killed in the "Grabow Riots" near Merryville in Beauregard Parish.
Since the terms of the Adams-Onís Treaty did not become effective until 1821, Bicentennial events will continue through the fall of 2021, to be announced at visitnomansland.com and at the appropriate parish's site for each event: allenparish.com; beauregardtourism.com; visitlakecharles.org (Calcasieu & Cameron); discoverdesoto.com; natchitoches.com; toledobendlakecountry.com (Sabine); and vernonparish.org.
1841 boundary marker.
GO
Opening ceremonies of the Neutral Strip Bicentennial begin Feb. 15-16 at Ft. Jesup (La. 6 east of Many), with tours of the fort and welcomes from Lt. Gov. Nungesser and Bicentennial chair Linda Curtis-Parks.
Related events through 2019 include:
March 29-30. Merryville Heritage Festival Beauregard Parish
April 26-27. Choctaw-Apache Powwow. Zwolle, Sabine Parish
May 2-5. Pirate Festival. Lake Charles, Calcasieu Parish
May 10-11. Loggers & Forestry Fest. Zwolle, Sabine Parish
May 18-19. Sawmill Days. Fisher, Sabine Parish
June 14-15. Coushatta Powwow. Kinder, Allen Parish
July 26-27. Northwestern State Folk Festival Natchitoches Parish
Oct. 9. Heritage & Timber Festival. Ragley, Beauregard Parish
Oct. 9-13. W.La. Forestry Festival Leesville, Vernon Parish
Oct. 10-12. Tamale Fiesta. Zwolle, Sabine Parish
Oct. 24-26. Sabine Freestate Festival Florien, Sabine Parish
Nov. 1-2. Native American Art Fest. Zwolle, Sabine Parish
Early Nov. Powwow of newly recognized Natchitoches Tribe. Ft. St. Jean
Mid-Dec. Las Posadas 9-day Spanish Christmas event. Los Adaes, Natchitoches Parish
---