New Beginnings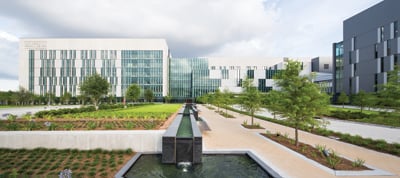 10 years post-Katrina, New Orleans welcomes a state-of-the-art hospital.

On August 1, the new University Medical Center opened in New Orleans' Mid-City neighborhood, serving as a permanent replacement for Charity Hospital.
According to statistics provided by LCMC Health, construction of the 2.3 million-square-foot complex took approximately 43 months and cost $1.1 billion. The hospital cares for patients, including poor and uninsured ones who were previously treated by Charity Hospital. It will also train LSU and Tulane University medical students and research new disease treatments.
The hospital features 446 beds, including 60 mental health beds. It's expected to staff 600 physicians and a total of 2,000 full-time employees. During construction, 15,000 individual workers logged a total of approximately 6.5 million hours on the job, equivalent to 1,042 full-time employees.
The complex is energy-efficient, with self-contained water towers, an off-site power plant, smart technology throughout and dynamic glass that optimizes natural light. In the event of a disaster, the hospital's central energy plan will support critical functions for seven days. All mission critical functions stand at least 22 feet above the base flood elevation.
"UMC New Orleans will position New Orleans as a leader in healthcare delivery, research and innovation," said UMC New Orleans CEO Cindy Nusselein. "In addition to being equipped with the latest technology, UMC New Orleans is a state-of-the-art facility and provides us with the space and resources to continue providing quality healthcare to all that need it. This environment will allow us and our partners to continue training the next generation of healthcare professionals, discovering new treatments through research and caring for our community for many years to come."
Designers wanted the hospital to feel more welcoming than most medical facilities. All patient rooms feature large windows, space for visitors and wall patterns that evoke classic New Orleans ironwork. The grounds are landscaped and feature a reflecting pool and numerous seating areas.

---
Suicide Prevention Week
According to the Centers for Disease Control (CDC), suicide is the 10th leading cause of death in the United States, with one occurring every 13 minutes. National Suicide Prevention Week is Sept. 8-14.
Many of the warning signs for suicide are well known: withdrawal from activities, sleeping too much or too little, isolating from family and friends, giving away prized possessions and talking about suicide or being a burden to others or having no reason to go on (for a more complete list, visit The American Foundation for Suicide Prevention's site at afsp.org).
The Canadian mental health website The Crisis Centre (crisiscentre.bc.ca) highlights one of the trickier indicators of potential suicide. If a depressed person suddenly seems to be doing better, that might initially seem like a cause for celebration. But sometimes suicidal people feel relief or contentment because they've finally made the choice to end their pain and suffering. A true improvement in mental health takes time.
If you're concerned about a loved one's mental health, don't be afraid to talk about it. Encourage professional help through a psychiatrist, psychologist, social worker, or counselor. In an emergency, call 911 or the Suicide Prevention Hotline at 1-800-273-8255.