Pelican Briefs: Da Kings of Cakes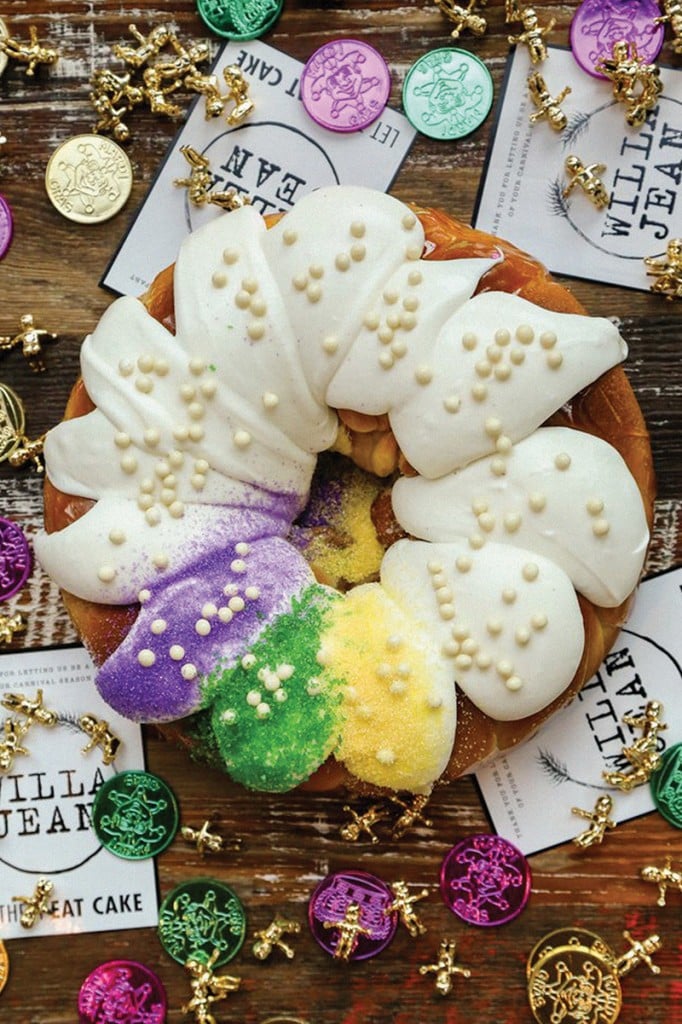 Chef Nathan Richard of DTB (dtbnola.com) was crowned the 2019 King of American Seafood for his luscious crawfish and goat cheese king cake with cream cheese pepper jelly and Cajun caviar. "I'm serving it at DTB with optional caviar during Carnival season, but you can also get it year-round from cajungrocer.com," says Richard.
Chef Kelly Fields (winner of a 2019 James Beard Award) and her team at Willa Jean (willajean.com) in New Orleans offers the famous caramel crunch king cake throughout Carnival (tip: be sure to place orders a couple weeks in advance).
Another James Beard award-winner, Dong Phuong (dpbakeshop.com) features a new coconut flavored brioche-style king cake, but you'll have wait in line for their coveted confections (tip: do an advance order online).
You can now find over 50 king cakes from a variety of places at just one location, King Cake Hub (kingcakehub.com), home of the Mortuary Haunted House featuring king cakes from Gambino's, Bywater Bakery, Cannata's, Caluda's, NOCCA, Sugar Love and Girls Gone Vegan, all in New Orleans, to name a few (tip: watch for the debut of the new Dragon Claw king cake in 2020).
---
BATON ROUGE
Carnival's Dilemma: Savory or Sweet
Check out the savory, brioche-style crawfish etouffée king cake with pepper jack cheese, andouille croutons and green onion at Stinky's Fish Camp (stinkysbr.com), a spin-off of Florida's Stinky's on Hwy 30-A. Gluten-free lemon king cake balls can be found at Brew Ha-Ha (brewhahabr.com), or go hog wild before Lent at City Pork Deli (facebook.com/cityporkdeli) for a drool-worthy bacon praline king cake topped with crisp bacon.
---

NEW ORLEANS
Shorty Gets Tall
The Krewe of Freret introduces a gigantic animatronic of Trombone Shorty, its grand marshal, when it rolls Feb. 15 with seven new animated floats. Constructed by Kern Studios, the likeness of the musician is over two stories tall, making it the largest prop ever to be featured on a Carnival float. The first annual "Shorty Gras" follows the parade, with an extensive musical lineup put together by Trombone Shorty himself (kreweoffreret.com).
BATON ROUGE
Festival Follows New Parade
An all-new parade and festival in north Baton Rouge, the Krewe of Oshun, rolls at noon Feb. 8, followed by an afternoon festival themed "Wakanda Now: Celebration, Prosperity and Expansion" featuring live music, cooking and eating contests and carnival games (facebook.com/kreweofoshunbr).
WOODWORTH, BOYCE
Anything Goes, Ending Carnival with Boats
You can rollerblade, ride bikes, tractors, trailers or cars at the unique Town of Woodworth Mardi Gras Parade Feb. 15 (alexandria-louisiana.com/mardi-gras). The Feb. 15 Mardi Gras Golf Cart and Pet Parade at Indian Creek Recreational Area has featured everything from goats to cats and turtles (alexandriapinevillela.com/event-directory/). Catch the sunset on the waterfront Feb. 25 during Tunk's Boat Parade in Boyce; great oyster bar, quail and crawfish on the edge of Kincaid Lake (tunkscypressinn.com).
---