Preferred Natives
Caroline Dormon and the legacy of Briarwood Nature Preserve in Saline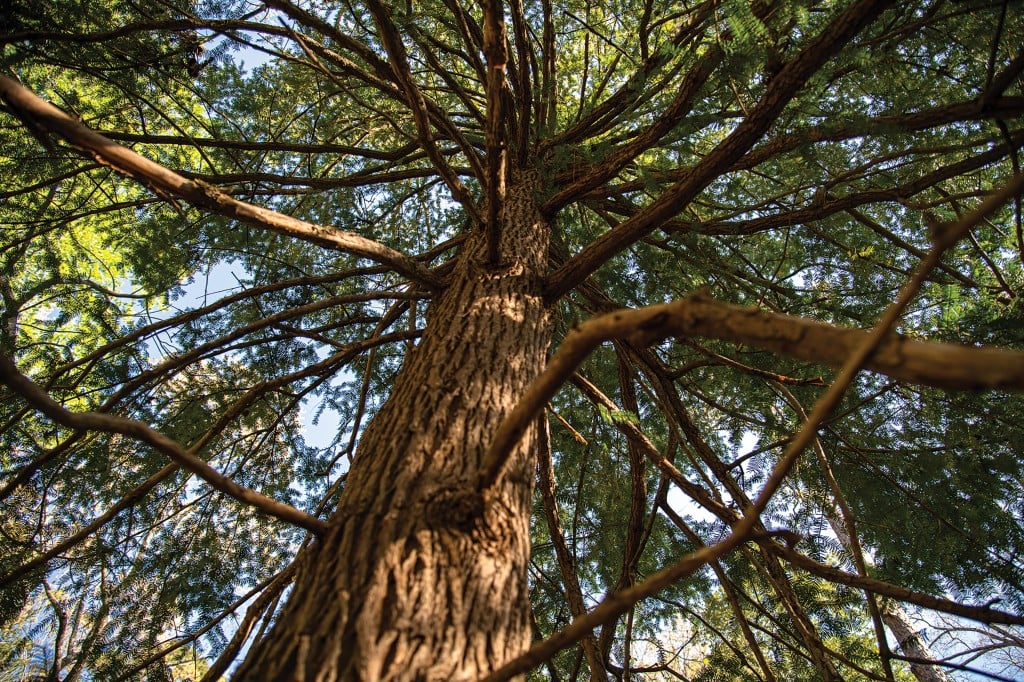 In March 2022, three months into her role as caretaker of Briarwood Nature Preserve in Saline, Bayli Quick turned off Louisiana Hwy 9 to find the tall pines along Caroline Dormon Road ablaze. Rather than turn back, Quick drove into the flames. She had neighbors to check on, not to mention the buildings, endangered trees and native wildflowers within the 211-acre preserve. A few weeks later, with everyone and everything secure, the roadside remains charred, the air tinged with smoke. Beside blackened pines lie trees that toppled after a tornado struck in April, several weeks after the fire.
Quick, age 23, smiles, unfazed by the damage. This, after all, is merely part of the cycle at Briarwood, birthplace of Caroline Dormon (1888-1971), godmother of Louisiana conservation. Dormon burned through her days, seeking intimacy with nature and educating others about the mysteries and gifts of the land. "When I know so many lovely things," she wrote, "I feel greedy in keeping them all to myself." To the public, therefore, she willed Briarwood, which boasts "the most complete botanical and wildlife sanctuary in Louisiana." This year, Briarwood celebrates its 50th anniversary.
"In her 83 years, she did it all," Quick says of Dormon, whose many lives included teacher, author, botanist, conservationist, preservationist, ethnologist, landscape designer, naturalist, horticulturist, historian, artist and archaeologist. She also attained many firsts: first woman to work for the Department of Conservation — Division of Forestry; first to create a conservation education program in Louisiana schools; first woman to become a member of the Society of American Foresters.
At Briarwood, her family's summer home and her residence from 1917, Dormon began to collect and catalogue native plants and trees. She wrote books that include "Flowers Native to the Deep South" (1958) and "Natives Preferred" (1965) and spearheaded the movements for a state arboretum and to make Kisatchie a national forest. After visiting Kisatchie, she wrote, "There the idea was born — all this beauty must be preserved for future generations to enjoy." Dormon praised the writing of John Muir, heeding his plea to "explore, enjoy, and preserve" nature. In Louisiana's wild places, she found, as she wrote, "all that is beautiful and uplifting in a rather sordid world."
On Briarwood's trails, Quick points out the tree where Dormon played as a child, the cabin where she wrote, the house that contains her art supplies, library and collections of birds' eggs and arrowheads. Dormon's possessions permeate this place. For Quick, so too does her spirit. As Briarwood's only full-time employee, Quick propagates and sells plants. She manages Briarwood's social media accounts and handles all publicity. When a tree falls, she starts the tractor and moves it or finds an arborist. She creates and sells Briarwood's merchandise and grows animated when talking about her plans for the preserve's new heat press. "I want the merchandise here to be national park quality," she says. When one of Briarwood's properties has a problem, she fixes it. "I'm not trained in electricity or plumbing," she says, but the tone in her voice suggests not yet, as though these are among the many skills that she's eager to develop.
"Everything here is based on our friendships and through donations," Quick says as she passes through the trails of Briarwood. Within several hundred yards, she sees crane-fly orchid; barbed rattlesnake-root; red salvia ("Hummingbirds love this."); pitcher plants; Louisiana bluestar; wild ginger; "Grandpappy," the more than 300-year-old longleaf pine and Dormon's favorite tree at Briarwood; a bigleaf magnolia, which grows leaves up to three feet long and flowers as much as 14 inches across. "The first time I saw one, it looked prehistoric," Quick says before leading the way to her favorite tree, a Florida yew that Dormon traveled to the Sunshine State to obtain. This tree, its species critically endangered, continues to thrive at Briarwood. Beneath it, Quick looks up in wonder, as someone who has tapped into one of life's secrets that hides in plain sight: The world reveals itself to those who look deeply.
Fortunate are individuals who recognize, early in life, their passion and purpose. Quick embodies Dormon's legacy. In January 2022, when she assumed her role as curator of Briarwood, she worried about the gaps in her knowledge. "Then I realized something," she says. "You never stop learning. There's always something new to see and do. That's the beauty of it."
At a Glance
Location
Natchitoches Parish
Flora
Spider lily, six species of native irises, mountain laurel
Fauna
Henslow's sparrow, Louisiana pigtoe, bobcat
Did you Know?
Facts and Figures
• The Louisiana State Arboretum was dedicated in 1964 for the preservation and protection of native trees and shrubs. In 1966, the state legislature named the arboretum's lodge after Caroline Dormon.
• Kisatchie became a national forest in 1930 thanks to Dormon's efforts. The United States Forest Service donated land from Kisatchie for the establishment of Caroline Dormon Junior High in Woodworth, which opened in 2012. Kisatchie has a 10.5-mile Caroline Dormon Trail for hiking, biking, and horse riding.
• In 1947, Edith Stern hired Caroline Dormon to select plants for the Wild Garden at Longue Vue's House & Garden in New Orleans. Each spring, Longue Vue honors Dormon during its annual Louisiana Iris Day. Dormon also served as a consultant for Hodges Gardens, now Hodges Gardens State Park, in Sabine Parish.