Protected Land
Louisiana State Arboretum in Evangeline Parish preserves and protects flora and fauna for future generations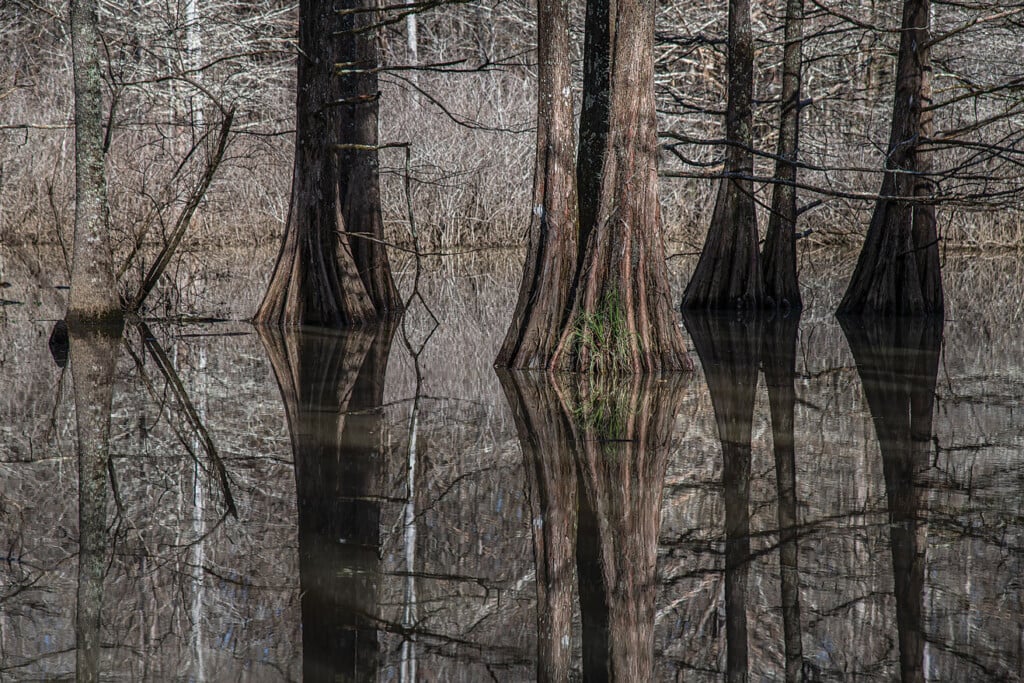 At A Glance
Location
Evangeline Parish
Environment
Bottomland hardwood forests grow in low-lying areas that surround lakes and rivers. Hickories, oaks and plants provide food for wildlife in these forests that store water, filter pollutants and act as a floodplain.
In the Nature Center classroom at Louisiana's State Arboretum, Kim Hollier greets the group of 10 who have arrived for this morning's bird walk. An interpretive ranger, Hollier discusses native birds, providing information about what to look and listen for before the group sets out on two of the Arboretum's six trails. She distributes binoculars and then leads the way out the back door. Behind her bounce four children.
The first sighting occurs immediately. A charm of hummingbirds buzzes near the rain garden beside the Nature Center. Hollier quickly identifies two woodpeckers. Then, within the first hundred yards on the Bald Cypress Trail, she and others catalogue a great blue heron, vireos, more woodpeckers, cardinals and grackles, which arrive each fall to feast on the Arboretum's abundant acorns. Birdsong rings persistent as these and other varieties flutter among the 418 identified species in the 600-plus-acres Arboretum.
"Part of an arboretum is time and stability so that you can have a place that's not disturbed," says Rick Webb, secretary of the Friends of the Louisiana State Arboretum, whose mission is "to help preserve the Arboretum for future generations." Webb says, "This is one place that was protected. It wasn't changed by development. You're at a crossroads between piney woods, Cajun Prairie and the Red River."
Here, inside Chicot State Park, these different ecosystems intersect, providing the key for the location of Louisiana's State Arboretum. Established in 1961, this preservation area of natural growth and other introduced indigenous species boasts being the first of its kind in the South and the first state-supported arboretum in the country. Being at a crossroads, however, often means being in the crossfire.
"Our biggest problem is the weather," says Hollier.
In August 2020, winds from Hurricane Laura stood a 20-foot section of a boardwalk on the Walker Branch Trail upright. "I didn't get very far," Hollier says, remembering her first trek after the storm. She and the other two full-time staff members, including horticulturalist Emma Debenport, commenced clearing an area larger than Disneyland and nearly twice the size of Audubon Park in New Orleans. They worked in sections. One took an entire week to clear.
By that time, the Arboretum had already experienced a drastic loss of visitors due to COVID lockdowns. Then, in October 2020, Hurricane Delta struck the area. "We lost a lot of old trees during Delta," Debenport says. "When you first see it after a storm, you think everything's ruined. But it's mending." She notes that a few positives came out of the destruction: "I see new trees coming along, and new plants have now gotten enough sun to grow."
Besides major storms, the Arboretum staff noticed that rains regularly flood the area behind the Nature Center. To combat this problem, Debenport designed and built a rain garden. "It captures water, slows it down and allows it to percolate through soil instead of running off into the street or running off, in this case, into the lake," she says.
Outside the Nature Center after a Friends of the Louisiana State Arboretum meeting, Rick Webb admires Debenport's work. "It's not just the plants," he says, pointing out the native species, among them hibiscus, rain lilies, goldenrods, irises, aquatic milkweed and swamp milkweed.
"She's started an entire ecosystem."
The arboretum lies at a geographical crossroads where such an ecosystem can thrive. Jim Robinson, current president of the Friends of the Louisiana State Arboretum, first learned about the Louisiana State Arboretum through photographs. In that moment, he decided that he would one day work here. In the 1980s, he managed Chicot State Park and the Arboretum. Then for six years, he worked as an educator for the Louisiana Department of Wildlife and Fisheries, returning to the Arboretum in 1997 as manager and sole employee. He used his position to build the staff.
"With recreation sites, it's like managing a city. You could have a business degree to manage a city, but not to run an arboretum. You have to know the history, flora and fauna, and you also have to be able to talk about these things," he says, acknowledging his admiration for the skills of the Arboretum's current staff. Pausing, he gazes at the gardens in front of the Nature Center. "I've loved this place from the first time I saw it," he says.
Did you Know?
The State Arboretum contains six hiking trails, two of which are wheelchair accessible. Totaling 5.5 miles, these trails take hikers along a cypress-tupelo swamp, bottomland hardwood forest and along ridges of a beech-magnolia forest. The cypress-tupelo swamp is home to the Arboretum's tallest and oldest trees. Named the Louisiana state tree in 1963, bald cypresses can grow to 150 feet. Tupelos can reach 90 feet. Both species can live for 1,000 years.
The Arboretum's Nature Center contains a replica of a bald cypress with a plaque with details about Louisiana's "Champion Trees." The state's largest bald cypress, on Cat Island in West Feliciana Parish, stands at 96 feet and 53 feet 11 inches in circumference. The largest live oak, the Seven Sisters Oak in St. Tammany Parish, is 55 feet tall, with a circumference of 36 feet 7 inches and limb spread of 132 feet. The largest loblolly pine — 157 feet tall, with a circumference of 12 feet 9 inches — grows in LaSalle Parish.
In 2009, Chicot State Park took over management of the Arboretum, the only state preservation area open to the public and the only Louisiana state park that lies within another state park. Management falls on Chicot, but the Arboretum's full-time staff of three ensure that activities abound. School groups arrive regularly for educational visits and fieldtrips. Public programs include bird walks, a tree giveaway on Arbor Day, and, from March to October, canoe tours so popular that they typically fill up within 48 hours of announcement.