Traveling around Louisiana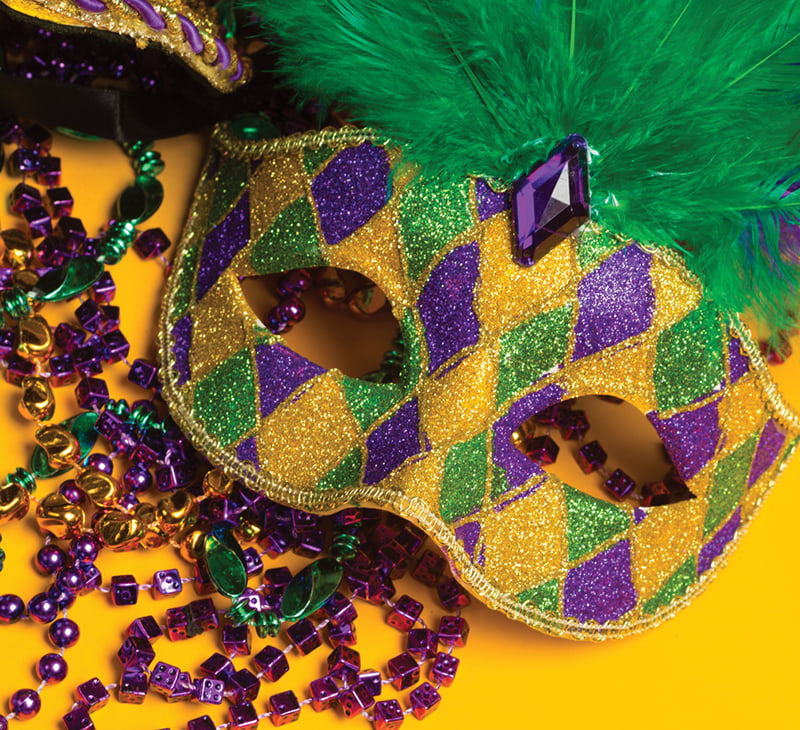 Mardi Gras arrives in Louisiana this season, and cities across the state are gearing up for the state's biggest party of the year. Whether you're looking for the excitement of a super krewe with large floats and fancy throws or a small neighborhood parade that highlights the creativity of the community, there are festivities sure to please from Shreveport down to New Orleans and everywhere in between.
Louisiana's mild winters are also a great time to explore the state's great outdoors and support a New Year's resolution to learn more about your home's history and both natural and cultural offerings. Between New Year's and Mardi Gras, there's much to celebrate across the state this season, including Louisiana's unparalleled cuisine, its diverse landscapes, unique local businesses, and city tricentennials.
Parishes, Cities, and Towns
Louisiana truly has the best of all worlds. Captivating outdoor environments are accompanied by the unbeatable sounds you'll hear inside its music venues. Its arts scene is rivaled by historic architecture. When you visit and explore what Louisiana has to offer, you enjoy a variety of memory-making experiences that you can't find anywhere else.
Louisiana's culture is distinctive among the 50 states, and visitors soon learn each area has its own twist on the state's iconic food, traditions, and music. Just like its gumbo can differ from parish to parish, Mardi Gras does, too, between flamboyant parties in the French Quarter, regal balls in Lake Charles, family-friendly parades in Shreveport, and the Courir de Mardi Gras in Louisiana's Cajun Country.
There's so much to see, do, and explore in Louisiana—no matter your passion, follow it here and let Louisiana dazzle you.
Visit LouisianaTravel.com for more information.
Lafayette is at the heart of Louisiana's Cajun & Creole Country, an area voted as the Happiest City in America by the Wall Street Journal's MarketWatch.com, and it's no mystery why. No matter what time of year you visit Lafayette they will have something for you to celebrate.
One celebration that has visitors from all over the world heading down south with a smile on their face is Mardi Gras. Worldwide, Mardi Gras is known as a time to let loose and celebrate. In Lafayette you can experience all of the excitement and revelry of the Carnival season in a family-friendly atmosphere. The festivities, which span two weekends (Feb. 3, 9-13), feature parades, a festival with live music, balls, and the traditional courirs. So come on down and shout, "Throw me something mister!"
Visit LafayetteTravel.com/Mardi-Gras for the 2018 schedule of events.
Surrounded by the waters of Bayou Teche, Atchafalaya River, and the Atchafalaya Swamp Basin, the Cajun Coast, in St. Mary Parish, is known for its natural splendor and "road less traveled" atmosphere. There's no better way to spend a mild winter day than exploring the Atchafalaya National Heritage Area or winding along the Bayou Teche Scenic Byway. Or you can experience the wilderness by paddling through the Bayou Teche National Wildlife Refuge. Golfers won't want to miss a chance to hit the Atchafalaya at Idlewild, named to Golf Digest's Top 10 Best Louisiana Courses 2013 and Golfweek's Best Courses You Can Play 2012.
This winter, St Mary Parish is alive with festivals and events including Mardi Gras (February 9-13) and the Eagle Expo (February 23-24). The Cypress Sawmill Festival, Bayou Teche Black Bear Festival, and Bayou Teche Wooden Boat Show will be held in the spring. For more information, visit cajuncoast.com.
Allons aux Avoyelles, to pass a good time!
The Rotary Club of Avoyelles will host the Krewe of Cyllenius Parade in Marksville on January 28, 2018, at 2:00pm. The parade begins at the Avoyelles Parish Courthouse square, takes a left on Hwy 1 South and another left on Acton to Preston Street before ending downtown.
Known as the "Easter Egg Knocking Capitol of Louisiana," Avoyelles invites you to pacque on Easter Weekend! Cottonport hosts Knockin' on the Bayou, and Effie welcomes you to Easter on the Red River, both family-friendly events scheduled for Easter Saturday. On Easter Sunday morning, Marksville celebrates its longtime tradition of the egg knocking competition at the Avoyelles Parish Courthouse Atrium with registration beginning at 9:00am.
Spend some quality time with the family outdoors at Ben Routh Recreational Park located on the Red River in the Effie/Vick Community on Hwy 1196. Enjoy the park's play areas, picnic areas, and boat launches. Bring a picnic lunch and let the children enjoy the outdoors on the banks of Red River.
Come for the joie de vivre! Ici on est fier de parler Français!
Looking for a unique culinary experience? Plan a trip to Ruston & Lincoln Parish to enjoy restaurants serving up savory Southern delights, home cooking, and dishes made from only the freshest ingredients, many found at Ruston's own farmers market!
Downtown Ruston offers a variety of shopping, entertainment and dining options. Pop into Ponchatoulas Restaurant for shrimp po-boys, filé gumbo, or the famous stuffed catfish made with homemade crawfish stuffing. New to downtown Ruston is Utility Brewing, located next door to the historic Dixie Theatre. Stop by, not only for craft beer, but also brick-oven pizzas made with locally produced ingredients!
Walk the downtown cultural district to find live bands in local restaurants, shops and boutiques offering exceptional shopping opportunities, arts and cultural events, food trucks, and concerts in Railroad Park! Each weekend brings a new way to celebrate Louisiana's unique culture in Louisiana's College Town! For more information, visit ExperienceRuston.com.
Shreveport-Bossier is making waves! The all-new Shreveport Aquarium is now open in downtown Shreveport. Visitors will be able to view and interact with more than 3,000 animals including sharks, rays, octopus, jellyfish, and more. Shreveport Aquarium is also home to SALT, a contemporary American restaurant that emphasizes sustainable sourcing and offers a unique riverfront dining experience. For more information, visit ShreveportAquarium.com.
Catch Mardi Gras this year in Shreveport-Bossier, where the cities throw the best family-friendly Mardi Gras around! Mardi Gras float-riders toss more than eight million beads each year to seas of people waving their arms and shouting, "Throw me something, mister!" The parades attract as many as 400,000 visitors a year. The party starts with the first parade of the season, Krewe of Sobek, at 1:00pm on January 13. Mardi Gras comes to a close with the Krewe of Highland Parade at 2:00pm on February 11.
For more information, destinations, and events, visit Shreveport-Bossier.org.
Every year, Mardi Gras brings excitement and joy to Louisiana, as families gather to delight in the regalia, marching bands, throws and merriment. As a family-oriented festival set amidst the parades of Jefferson Parish, Family Gras is a highlight of Carnival season featuring music and entertainment for all ages, your favorite Louisiana seafood and cuisine, and a diverse and colorful art market all conveniently placed along the parade route of storied krewes such as Excalibur and Caesar. High-caliber entertainment has included national and regional favorites such as Zac Brown Band, Taylor Swift, Allen Toussaint, Beach Boys, The Drifters, and The Imagination Movers.
Admission is free, though a Royal Pass VIP experience is available at Ticketmaster and offers premium viewing, backstage access, food and beverage, and restroom facilities. This year's festival takes place Friday and Saturday, February 2-3. For information, visit FamilyGras.com or call 1-877-572-7474.
Located ten minutes from New Orleans, Jefferson Parish offers family fun year-round—from the decadent Oyster Trail to the magnificent trails of Jean Lafitte National Historical Park & Preserve and the excitement of minor league baseball. Plan your itinerary at VisitJeffersonParish.com.
Trek into the New Year with a visit to Natchitoches, the little city with a big history. Immerse yourself in 300 years of history in Louisiana's oldest city! It's a year-long adventure.
Explore the historic district and uncover French Creole architecture, a French Marines' life at Fort St. Jean Baptiste, modern architecture, sports legends and history at the Louisiana State Museum, and eclectic shopping featuring nostalgic, collectable, and gourmet treasures. Uncover centuries-old cultural legacies and traditions through National Historic Landmarks, Cane River Creole National Historical Park, and Melrose Plantation as you journey through the Cane River Heritage Trail, a Louisiana Scenic Byway.
Experience culinary delights with authentic Creole, Cajun, and Southern dishes. Whether it's meat pies and Cajun potatoes, seafood and steaks, or burgers and po-boys, Natchitoches is full of flavor! This month, the iconic Lasyone's Meat Pie Restaurant celebrates its 50th anniversary. Finally, relax from your adventures at a national chain/boutique hotel or a quaint bed and breakfast. Plan your trip at Natchitoches.com.
If you haven't been to Lake Charles lately, you might be surprised by all the new shops, restaurants, and locally owned businesses that have added to the charm and eclectic spirit of the area—not to mention new events!
Downtown Lake Charles boasts many locally owned restaurants and establishments with live music and original art along with The Round About record store, Pops & Rockets gourmet popsicles and Botsky's gourmet hotdogs. Lake Charles' own Crying Eagle brewing is expanding recipe selections; Rikenjaks Brewing has live music nearly every night, and The Listening Room, a new food and music series, sells out every show. Also, dining and entertainment selections are ever-expanding at the area's four casino resort complexes where people can pamper themselves with a spa treatment, listen to live entertainment, play a round of golf, or even catch a horserace!
Plan your trip and learn about Mardi Gras Events at VisitLakeCharles.org/Party.


Family Gras
Accommodations & Entertainment
Downtown New Orleans is already full of life, and the energy and activity continue to grow with the South Market District, a new neighborhood within a neighborhood at the corner of Girod Street and O'Keefe Avenue. Encompassing a five-block area connecting the Warehouse/Arts District, the Central Business District, Medical District, and Sports/Entertainment District, this mixed-use, transit-oriented development combines luxury apartments and condominiums with a lively mix of retailers, boutiques, cafes, restaurants, and services.
Visitors can explore nearly 20 shopping, dining, fitness, and beauty destinations, and an on-site garage offers convenient parking and electric car charging stations. Residences include The Standard, The Beacon, and The Paramount, each with their own signature styles and exclusive lifestyle offerings. The Beacon and The Paramount are currently leasing, and The Standard will welcome condominium residents this spring.
For more information, visit SouthMarketDistrict.com.