Big skies & wine
A Texas-sized vino tour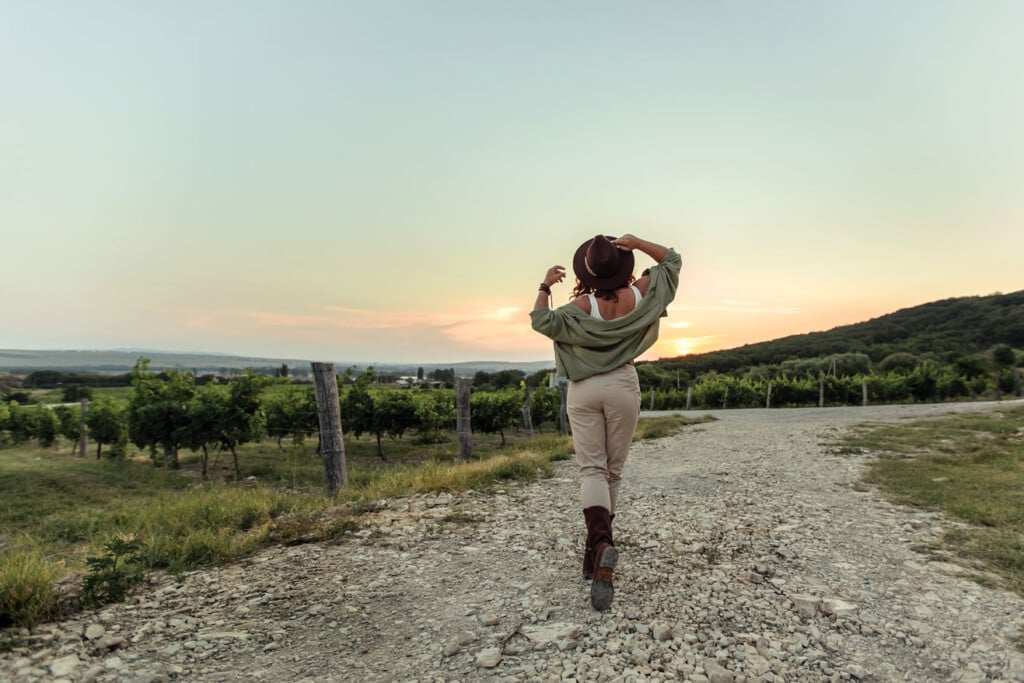 Drinking and driving? That's dangerous! But nobody says you can't shuffle a few steps from the wine bar to your comfy bed using your own two feet after a few tipples. Romantic, beautiful to behold, and a way to commune with the landscape, vineyards and wineries offer a nature-intoned getaway with a culinary or gastronomic focus. Add in that being of the "terroir," wineries offer travelers true sense of place and a way to travel that includes actually tasting the land itself. Voted the third top wine region in the United States by USA Today, the Texas Hill Country (and some of the Lone Star State's other wine areas as well) reigns as an oenophile's happy place for its fine, award winning vintages, variety of grapes, stellar tasting rooms, professional staff and stunning scenery. Some wineries even prolong your tasting experience with the opportunity to bunk in the vineyard or winery outbuildings for the night. Sometimes live music and restaurants are involved; other times it's just you amid the grapes beneath the stars. From luxurious boltholes to chicly rustic cabins to rooms shaped like wine barrels, these vineyard and winery ensconced guest rooms promise more than delectable wine flights.
Carter Creek Winery Resort & Spa
With a veteran master winemaker whose credo is to concentrate on "letting the vineyard speak," Carter Creek Winery Resort & Spa lies between bucolic Johnson City and bustling Fredericksburg in the veritable heart of the Texas Hill Country on 600 acres of wildflower and peach tree-peppered land. Makers of award-winning classic wines created with old world techniques and philosophies, family-owned Carter Creek Winery, with sibling wineries in California, brings a West Coast elegance to the resort, while the varietals remain uniquely Texan. The ever warm growing season and early harvest yields earth-driven wines: crisp whites from gewürztraminer, riesling and muscat and robust reds, born from Rhône-style blends. Taste them in either of two stately tasting rooms or at Old 290 Brewery, the winery's — wait for it — own microbrewery. Not to mix libations, but beer lovers can gulp pilsners, blondes and other ales at the brewery, if they yearn for a wine break.
The Sleeping Arrangements
Choose from 78 residential-style villas, each sporting an ample sitting porch and classic five-star amenities. Splurge on the Premier Villa King, which spans nearly 600 square feet.
The Fare
Gastropub fare pairs well with both Carter Creek wines and the Old 290's own brews. Open for lunch, dinner and weekend brunch, the casual eatery Old 290 Brewery & Restaurant serves hearty cuisine that matches the texture of the terrain. Share a charcuterie board rife with local cheese, meats and honey, then finish with entrées, such as seared swordfish or wild boar ragu.
To Do
Surrounded by myriad untrammelled green space, the region lures outdoorsy types who yearn to hike or bike its many trails. Shoppers will love to roam the streets of nearby Fredericksburg, but vacationers seeking repose may simply stay on site to enjoy the spa, swimming pool and fitness center. Live music in the evenings seals the deal.
Fall Creek Vineyards
You may smell barbecue upon arrival, as this legendary vineyard with sassy tasting room sits across the street from iconic Salt Lick BBQ. The closest winery to Austin, long established — and much heralded — Fall Creek Vineyards draws legions of wine savvy day trippers. Producing discerningly complex wines under the helm of winemaker Sergio Cuadra, a Chilean who hailed from a prestigious South American winery a decade ago, the beloved winery has been both a pioneer and an inspiration to the Texas — and arguably the greater U.S. — wine industry. Lofty enough to be served at the table of presidential inaugurations, the various vintages can be casual, too, ideal for tippling amongst the verdant grounds at Fall Creek Vineyard's tasting room in Driftwood. Linger, edged by vineyards, beneath that big Texas sky, on the covered patios, beside the pool and on the lawn, nipping wines such as a chardonnay (Terroir Reflections 60 Certenberg Vineyards, a Texas Hill Country, 2020 San Antonio Stock & Rodeo Show — Texas Reserve) or a grenache rosé (Vintners Selection 32 Texas Hill Country, 2021 San Antonio Stock & Rodeo Show — Gold). Nibble from their wine bites menu, which includes a Southern-pleasing pimento cheese plate, among other irresistibles (all food options are prepared fresh by a local chef). Note: While the tasting room is in Driftwood, Texas, the winery itself occupies a sunny spot on the banks of Lake Buchanan in Tow — visits are encouraged.
The Sleeping Arrangements
You have two options after lazing about on the lawn. Clamber over to the Fall Creek Vineyards at Driftwood Winery and Tasting Room Guest House, which has two master suites. Bring your best friends or the kids — we won't judge. You'll have the whole garden to yourselves. More intrepidly romantic wine explorers will want to occupy the cozier, exceptionally romantic Chardonnay Room, a suite with striking vineyard views.
The Fare
Unless you want to get into the car, it will have to be Salt Lick BBQ — and even if you are a vegetarian this is not a bad thing. A glorious celebration of Texan spirit, with long wooden tables and bicep-strong slingers of overflowing plates, the storied restaurant gets kudos for its four-sauced, crazily caramelized meats. Sides also please, including beans, cole slaw and potato salad.
To Do
If staying for a couple of days, you may want to go to Austin. Bustling and hip, it has neighborhoods like SoCo prime for shopping, a downtown hike and bike trail that wraps around a lake, museums and notable restaurants.
Messina Hof Winery & Resort in Bryan
It started with a dream like many magical things — and one acre of land near Bryan. Now one of Texas' true trailblazing wineries, Messina Hof boasts more than 90 wine labels crafted from more than 30 varieties of grapes — and has four locations. Its wines have garnered thousands of awards since the winery was founded in 1977 as the result of a love story between a Brooklyn Italian and a wine-loving Texan. With Sicilian winemaking roots that date back generations, the spirited couple has made the business a family affair, and at any of its locations, visitors sense a certain Italian-meets-Texas accent both in wine style, winery vibe and food served. The gold standard-setting, 100-acre flagship Messina Hof Winery & Resort in Bryan in the Brazos Valley provides public tours, cellar tours and private tours, allowing wine enthusiasts to delve as deeply into the process of wine making as they like. At happy hour grab a satisfying $5 glass in the festive Wine Bar, where small plates are paired with wine flights and wine on-tap throughout the day. In terms of bottles, some of the winery's best sellers include a jammy sagrantino and a full-bodied Tempranillo — all made from 100% Texas-grown grapes.
The Sleeping Arrangements
Often trumpeted as a honeymooning favorite, the Villa B&B has 11 sumptuous suites, named for historical and literary figures (such as D'Artagnan and famous lovers Romeo and Juliet), each enveloped in a romantic storytelling ambience. Antiques and heirlooms, such as stained glass from on of Texas' Spanish missions, set a mood, while soaking tubs within and private patios overlooking the lake, feed the senses.
The Fare
On property, The Vintage House Restaurant excels with their trademarked Vineyard Cuisine, which draws produce from the estate's own bounty. An upscale dining experience that matches an indulgent weekend getaway, the eatery serves brunch, lunch and dinner. Food imparts an Italian flair with some Southern accents. Each menu, from the bacon wrapped filet to the chicken and waffles includes a pairing recommendation. Tableside flambé desserts are icing on the gourmand-pleasing cake.
To Do
Most who venture over to Messina Hof's flagship only spend time at the winery and amid the vines, not to mention wandering its well-curated boutique. But nearby Bryan offers a few tempting activities such as the Old Bryan Marketplace, a 22,000-square-foot cabinet of curiosities with antiques and new items galore. 🍷
Three More to Consider
Just 15 miles from Tyler Kiepersol Estate Vineyard and Winery awaits, spread across 63 acres. Immerse in vineyard vibes as you explore the property and sample from the award winning portfolio. A two-story barrel room holds more than 700 oak barrels. Sleep on site in the five room B&B or in three larger cottages. Lined with 120 year-old barn wood, their fine dining restaurant has date night vibes.
Stay in a wine barrel-shaped cabin at Blue Lotus Winery in Seguin, set on a 12-acre spit of land with three diverse soil types. Growing lesser known grapes such as Lenoir, Wine King and Norton, the friendly winery loves to share their passion. After a tasting spree, relax in your own over-sized wine barrel, a comfy enclave with access to a swimming pool and hot tub.
Coleman's award winning Rancho Loma Vineyards celebrates wine in its tasting room, known for its weekly events, from wine classes to live music to winemaker dinners — and all done with the mood of an intimate dinner party. The onsite fine dining restaurant has global gastronomic legs, serving a seasonal menu of farm to fork delectables to enjoy with the wine — think Branzino or beef braised short ribs. The retreat's tasting room also serves small plates to pair with its stellar labels. Five boutique hotel-level rooms with Frette linen-made beds await weary tipplers.