Culinary fight club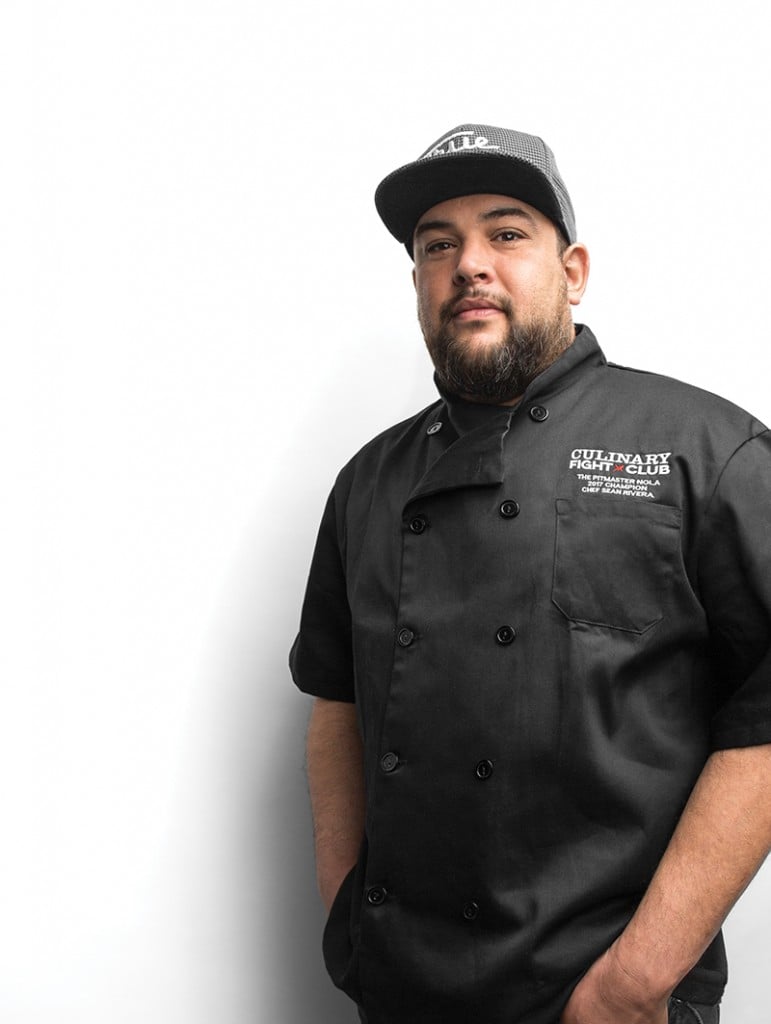 Chef Sean Rivera is not afraid to pick a food fight. As a member of Team GastreauxNomica, Rivera takes on tasty challenges with the Culinary Fight Club, a group that challenges chefs from across the country and the world while raising funds to support feeding the hungry.
"The experience was exhilarating, to say in the least," he says. "At times you forget what it's like to be on the line, in the heat of the rush doing your best to sling out beautiful dishes within strict time constraints."
At each event, home cooks and chefs select 15 ingredients from a supplied food pantry and create a culinary masterpiece based on the theme of the day in one hour. Rivera and his team recently competed in the New Orleans CFC competition.
When not wearing his competition apron, Rivera's base is at Driftwood Cask & Barrel in Baton Rouge. "I've got a few projects in the works, but Driftwood is still my main focus as the chef and partner there," he says. "We're planning to launch our menu soon and can't wait to be a part of the downtown Baton Rouge culinary scene."
While Rivera takes on many food personalities, giving back to the community and inspiring young chefs is his passion.
"The real Chef Rivera is just a man looking to contribute to the culinary scene, most importantly my beloved state of Louisiana," he says.
"What people don't realize about this industry is that, yes, there is a lot of rivalry and friendly competitive banter, but at the end of the day, your team is your family, and everyone working in kitchens day in and day out all have the same goal — to make a difference in young chefs' lives. That's what I'm here to do, and what I hope to one day achieve."
---
Fried Oysters with Sweet and Sour Meuniere

Fried Oysters
In a medium saucepan heat 1½ cups canola oil to 365˚F. Place 1 pint shucked oysters in a stainless bowl and season with 1 tablespoons hot sauce (preferably Crystal), salt and pepper. Mix 2 eggs with 1 cup milk, whisk in ¹⁄³ cup flour, and pour into bowl with oysters. Mix well.
With a slotted spoon, remove some of the oysters, let drain, and add to 4 cups Zatarain's Fish Fri with lemon. Toss lightly, then carefully drop into oil. Fry until lightly browned, about 3 minutes. Remove, drain on paper towels and salt if desired.

Sweet & Sour Meuniere
In a medium saucepan heat 1 tablespoon vegetable oil and sauté ¼ cup chopped yellow onion, ¼ cup chopped peeled carrot, ½ peeled lemon, ¼ cup diced celery and 1 teaspoon chopped garlic until soft. Add 1 cup chicken stock, 1 cup Worcestershire sauce, 1 cup sweet & sour sauce and 1 bay leaf and cook until volume is reduced by one-third, about 25 minutes. (Sauce should be thick and syrupy.) Strain sauce and return to heat. Whisk in ½ cup heavy whipping cream. Reduce heat to low and slowly blend in 2 sticks butter one cube at a time, adding additional butter only after previously added butter has completely incorporated into the sauce. Remove from heat and continue to stir. Season to taste with salt and freshly ground black pepper.

Candied Pecans
Combine ½ cup brown sugar, ¼ teaspoon salt and 2 tablespoons water in a skillet and cook over medium heat until sugar dissolves and the mixture is bubbling. Add 1 cup pecan halves and cook for an additional 3 minutes, stirring to coat pecans in the glaze. Remove from heat, and spread pecans out on parchment paper to let cool completely. Break apart, and place on top of fried oysters.
To serve
Garnish oysters with candied pecans, and top with sweet & sour menuiere.
3-4 appetizer-sized servings