Full of Hot Air
Second Bogalusa Balloon Festival kicks off in June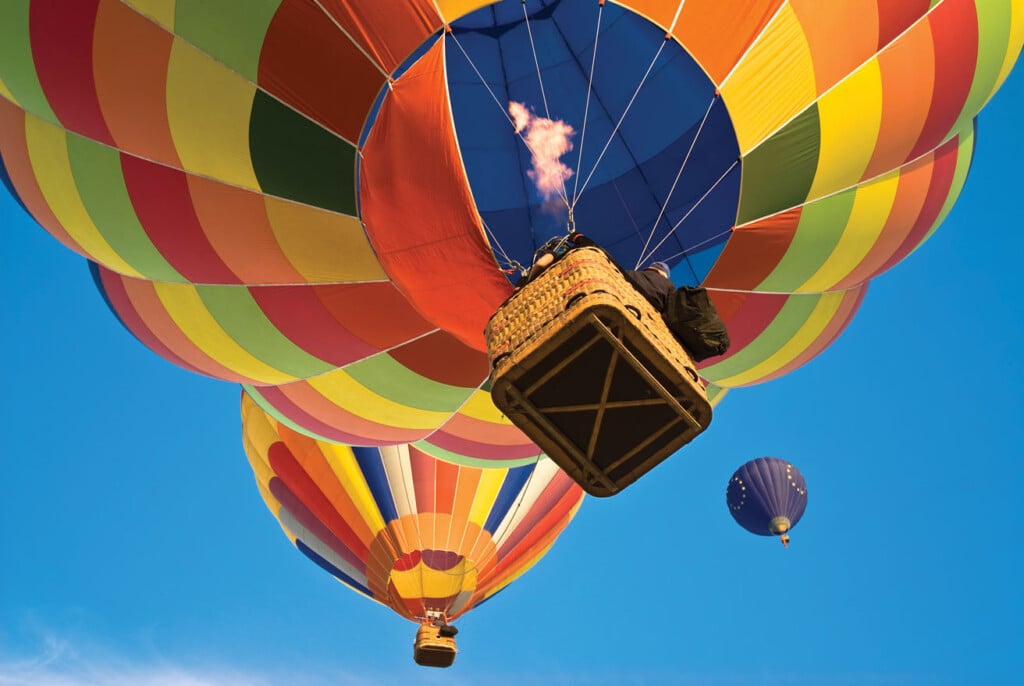 Head to the 2nd annual Bogalusa Balloon Festival (June 2-4) at George R. Carr Memorial Airfield to see hot air balloons flown by pilots from across the region with special events during the week leading up to the festival. Enjoy live music, crafts and a carnival with rides, food and games (louisiananorthshore.com/event/bogalusa-balloon-festival/5215).
Kinder
A Picturesque Powwow
Don't miss the beautiful 26th annual Coushatta Powwow, held June 9-10 at the Coushatta Casino Resort, celebrating Native American culture with tribal costumes, dancers, live music, food, artwork, vendors and demonstrations plus contests that include singing, drumming, shawl designs and basketmaking (coushattapow-wow.com).
Metairie
A TikTok Nutria Tale
Neuty, the 22-pound TikTok celebrity nutria (a Metairie family's beloved house pet for the past two years since rescued in infancy) was set to be removed by officials and moved to the Baton Rouge Zoo. After more than 17,000 folks signed an online "Free Neuty" petition, the state has decided to allow Neuty to remain at home, pending finalization of permits. Meanwhile, the plump and playful Neuty is enjoying eating crawfish and riding in cars (tiktok.com/@neutythenutria).
Pineville, New Orleans
Starry Waffle Night
A painting of Waffle House in the style of Vincent van Gogh's "Starry Night" has gone viral on social media. Waffle House's Instagram also complimented the painting. The original artwork by Pineville native Matt Dawson (a pharmacist by day and a self-taught avocational artist for the past 30 years) has already been sold, but his prints are available on Etsy. For those interested in seeing the real thing, the Van Gogh Immersive Experience continues in New Orleans until May (vangoghexpo.com/neworleans).
Baton Rouge
No Horsing Around
The LSU School of Veterinary Medicine (the only veterinary school in Louisiana) announced an initial $2.2 million state investment that is designed to propel the goal of almost doubling admissions by next year. Increased admissions will also help sustain Louisiana's thriving horse industry estimated at over $2 billion (lsu.edu).
Lake Charles
Queen's Terrace Transition
Chef Amanda Cusey, the Louisiana Seafood Queen of 2022 and the former executive chef of Villa Harlequin (now helmed by 33-year-old Monroe native and former Calla sous chef, Colin Nunez), is now heading the new Terrace restaurant (with pet-friendly outdoor dining) in Lake Adventures' new 35,000-square-foot family entertainment complex featuring customizable parties, an Aquatic Center, Air Park, Gamers Lounge and Southwest Louisiana's first Bouldering Wall (1337 Country Club Road lakeareaadventures.com/the-terrace-restaurant/).
Loreauville
Of Monuments and Myths
A rare, bilingual Acadian Odyssey Monument (one of only 17 worldwide) has been erected in Loreauville to commemorate breakthroughs about the original home sites and final resting places of Acadians led by Joseph "Beausoleil" Broussard, thanks to lengthy research by the New Acadia Project. Considered one of Louisiana's most important archeological undertakings, the findings ascertain that the first Acadian settlement was actually near present-day Loreauville in Iberia Parish, approximately 9 miles southeast of St. Martinville (snacadie.org).
New Orleans
Hot Tips for Weekenders
Although fans won't find their cherished crawfish bread during Jazz Fest's final days (ending a 35-year run), crawfish Monica still prevails along with Grammy-winning headliners Jon Batiste (May 5), H.E.R. (May 6) and Trombone Shorty (May 7; nojazzfest.com). For the first time, Grand Tastings have been consolidated into a single day (June 10) to accentuate a global array of winemakers and top chefs during the New Orleans Wine & Food Experience (June 7-11; nowfe.com). Ice cream flights (four mini-scoops of such flavors as Tropical Sorbet, Cold Brew and Key Lime Pie) are all the rage at the new Lucy Boone (lucybooneicecream.com). Now that Dickie Brennan's group has reopened Pascal's Manale, diners are returning for barbecue shrimp (invented here in 1953) and refreshing Shruberry cocktails (pascalsmanale.com).
Baton Rouge, Port Fourchon, Port Allen, New Orleans, Chalmette, Reserve, Avondale
New Cyber Ninjas
LSU and Louisiana's major ports including Port Fourchon, Port of Greater Baton Rouge, Port of Orleans, St. Bernard Port and the largest port in the state, Port of South Louisiana (which recently agreed to buy Avondale Global Gateway) have announced an historic partnership to develop local cybersecurity talent and technology for protecting critical infrastructure and to solve emerging cyber challenges relative to the ports' national and global transactions (lsu.edu/cybersecurity/).
Shreveport
Filmmakers Ascending
A new program to train students in filmmaking techniques is the latest award from Louisiana's Entertainment Development Fund. The Prize Foundation is slated to received $1 million in five annual reimbursements for its Film Prize Junior program and related activities for high school and middle school students. Plans are underway to extend the funding to schools in all 64 Louisiana parishes within 5 years (prize.foundation).
Priciest Power Update
Louisiana has made the top 10 list of Most Expensive States for Electricity as well as holding the number one spot in the U.S. for using the most electricity according to Ownerly.com's new report about energy consumption across the U.S. (Ownerly.com).
Beauregard Parish
Harnessing the Sun
Recently renamed Singer Solar, a new solar project in Beauregard Parish is slated to begin with the installation of solar panels on a 1,970-acre site in Singer later this year. It will be among the first solar projects in Louisiana and will benefit the parish via an influx of approximately 250 construction workers according to NextEra (BeauregardSolar@nexteraenergy.com).
Grand Isle
On Land and Online
The 6th annual Grand Isle Bloody Decks Rodeo is held Memorial Day Weekend (May 25-28) at the Wake Side Marina featuring live music, prizes, kids' activities, food, cornhole and washer tournaments (facebook.com/BloodyDecksFishingTeam/). Tip: Check out the island-wide garage sale (May 27). Anglers can also enter the Grand Isle Online Rodeo from multiple locations for cash prizes. Weigh-ins run from Memorial Day until October 1 (to register: grandisleonlinerodeo.com/register/; BDfishingrodeo@yahoo.com).