Now We're Cracklin'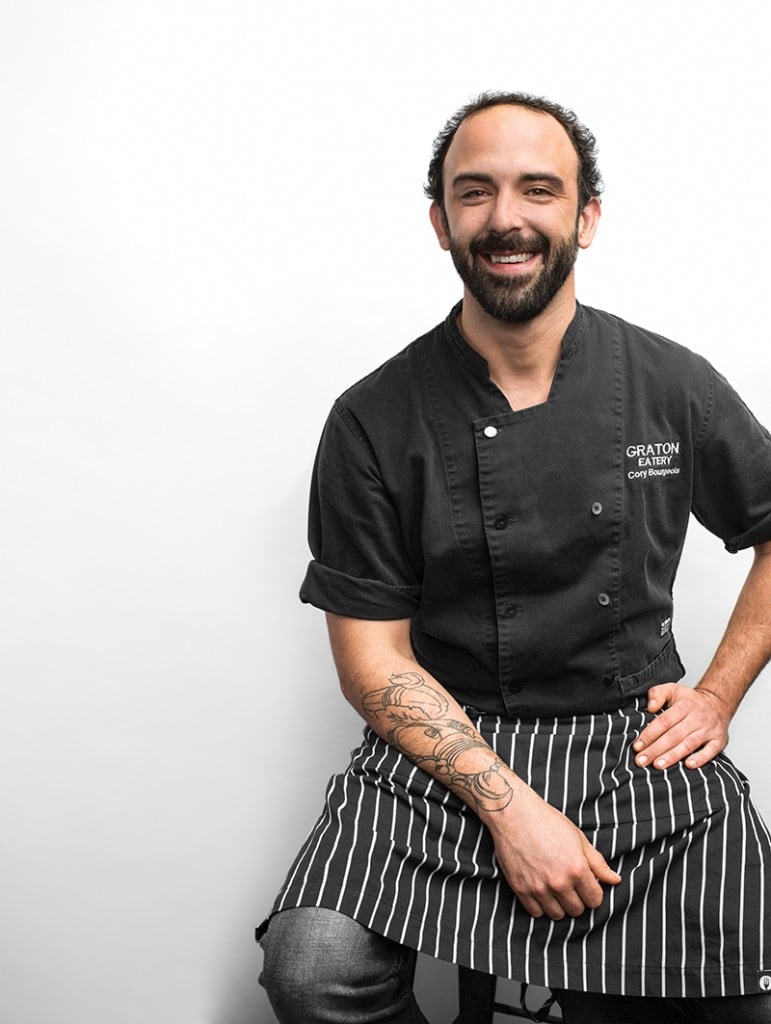 Chef Cory Bourgeois, along with partner and self-described "boss lady" Hannah Ellaham, opened Graton Eatery in St. Martinville last June, an homage to the home-cooked breakfasts, lunches and belly-filling snacks that fuel south Louisiana.
"I remember going to [my grandmothers'] houses at a young age," he said. "We would spend most of our time in the kitchen preparing meals for the family. Food is a way to bring people together."
Graton Eatery's selection of house-made meats, charcuterie, sandwiches, beignets and plate lunches makes it the kind of place that will fill you up and bring you back for more.
"Great food doesn't require white tablecloths and a sous-vide machine," Bourgeois said. "I wanted to serve the types of food that I make at home on the fly. Those simple, satisfying dishes make memories. Our food at Graton uses high-quality ingredients, done right and it is the kind of food that makes you feel instantly at home."
While originally open only for breakfast and lunch, diners have begged for more.
"We decided that there is no meal as deeply satisfying as breakfast and lunch, because those are the meals that we often skip," he said. "However, our customers have been quite adamant about Graton getting on the dinner service routine. So, I guess this is us announcing that we will be opening up a dinner service for a couple of nights a week in the near future."
Chef Bourgeois also gave us a bonus scoop.
"We are beyond excited about finalizing the details on our liquor license," he said. "And to keep St. Martinville classy, we will be slinging house-made daiquiris out of our pick-up window, because only in Louisiana can you snag your drank, slow-smoked BBQ, and fresh popped cracklin's through a pick-up window."
---
Baked Salmon With Roasted Root Vegetables
Salmon: Preheat oven to 400 F on convection. Rinse 12-14 ounce salmon (skin on) with cold water and pat dry with paper towels. Drizzle olive oil, salt and pepper on both sides and place skin side down on the sheet pan. Bake for 7-9 minutes, depending on your preference of final cook temperature. Immediately transfer to a serving dish.
Vegetables: Place 1 pound fingerling potatoes in a pot of salted water, bring to a boil and cook until tender. Cool and slice potatoes in half, lengthwise. Meanwhile, fill a second saucepot with salted water and bring to a rolling boil. Fill a bowl with ice and set aside. Trim about a half-inch from the bottom of 2 bunches broccolini and add to the boiling water. Cook for one minute then transfer directly into the ice bowl. Allow it to remain in ice bath until chilled through, and then remove. Peel and clean 1 bunch tri-colored carrots. Cut in half length-wise and then chop each length across the middle (so you have 4 pieces to each carrot.)
Place two medium sized sauté pans on high heat. Add 1 tablespoon of olive oil to both while hot. Place carrots and potatoes in one pan and the broccolini in the other. Season the broccolini with 1 teaspoon chili flakes and salt. Cook the broccolini on high for 2-3 minutes. After 3 minutes, squeeze half of a lemon over broccolini and remove from heat.
Season the potatoes and carrots with salt and pepper then cook on medium high heat for 7-8 minutes. When the carrots are tender add 1 tablespoon of butter to the pan, give them a toss and remove from heat.
To serve: Place a healthy spoonful of your yogurt sauce on the bottom of each plate followed by your carrots and potatoes, broccolini, and salmon. Top each piece of salmon with a spoonful of gremolata. Enjoy!
Serves 2
Gremolata
In a small mixing bowl, combine 3 cloves of garlic (minced), ½ cup parsley (chopped), 2 tablespoons of chopped pecans, juice of 1 lemon, salt and pepper.
Yogurt Sauce
Combine ½ cup Greek yogurt, 3 cloves of garlic (minced), juice of ½ lemon, ½ teaspoon tumeric, salt, and fresh black pepper in a separate mixing bowl and allow to sit in the fridge for an hour. Note: The sauce is best when allowed to marinate for an hour, but can sit in the refrigerator for up to 24 hours. This will allow the flavors to develop.
---