Take Two
Fresh twists on old favorites from cocktails to catfish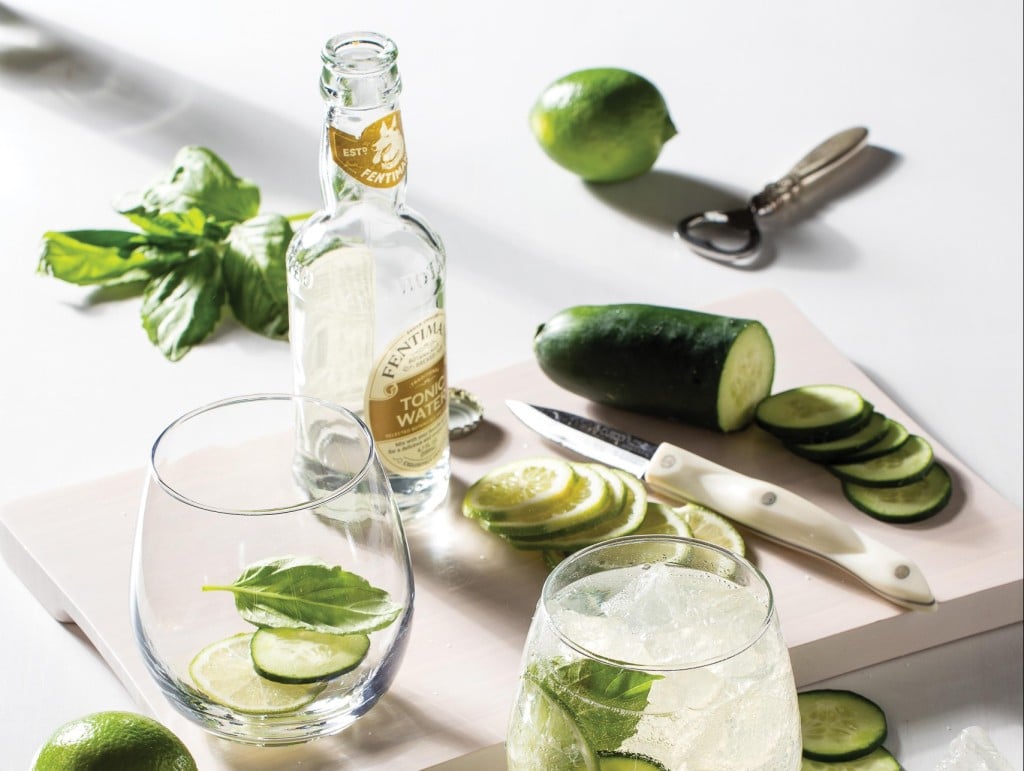 Gin & Tonic
1 slice lime
1 slice cucumber
1 large basil leaf
2 ounces gin
ice cubes
4-6 ounces tonic water
Place lime, cucumber and basil leaf in a tall glass or balloon glass. Add gin and press on the lime, cucumber and basil leaf with a long spoon to release some of the flavor. Add ice cubes and tonic water. Stir and enjoy. Makes 1 drink.
Jambalaya is one of those Louisiana dishes that can start an argument over — of all things — tomatoes. Do they belong in a jambalaya or not? New Orleanians and those who live east of Bayou Lafourche mostly make a red jambalaya (with tomatoes). People in southwest Louisiana mostly make a brown jambalaya (without tomatoes). The jambalaya recipe that follows differs a bit from most because the rice and seasoning vegetables are cooked in oil before liquid is added. Doing so seals the rice and assures that each grain will be separate in the finished dish.
Orzo looks like rice, but it's a rice-shaped pasta. It can be prepared all sorts of ways, but here we're going to combine it with shrimp and seasonings. The dish can be served immediately or at room temperature for a buffet, in which case it could be called a pasta salad. In a far-off time, pasta salad was all the rage, but it outlived its welcome. Who knows, it might be time to invite it back to the table.
At first glance, a recipe for fried fish that calls for coating the filets in mustard and cornmeal just seems wrong. That's what I thought when I first heard about the practice, but the result is delicious. I don't know how it came about or where it originated. It doesn't seem to be confined to any one area. I've had fish prepared this way by two friends, one who lives in New Orleans, the other in New Iberia.
Coating fish filets with mayonnaise before broiling also sounds bizarre, but it's a very good method. The mayo keeps the filet moist and browns beautifully under the broiler. If you wish, you can flavor the mayonnaise with your choice of seasonings.
With summer coming on, it's time to think about gin and tonics. Most people who drink them don't like for anyone to mess with the classic combination of gin, tonic water and a squeeze of lime. Until recently, I never made the drink any other way. But last year I began tweaking the formula and settled on a version that, to my taste, is an improvement. In addition to the gin and tonic water, I add a slice of lime, a slice of cucumber and a large basil leaf. Try it and see if it appeals to you. As always, the quality of ingredients is paramount.
Tip
Both gin and tonic water vary greatly in flavor from one brand to another. Price sometimes denotes quality, but not always. It really comes down to your own personal taste.
Fried Catfish With Mustard
Vegetable oil for frying
4 catfish filets
coarse salt and freshly ground
black pepper
¼ cup mustard
½ cup cornmeal
lemon wedges
Place mustard in a bowl and place cornmeal in a flat container, such as a pie pan. In a deep fat fryer or pot, heat oil until it reaches 375 F.
Meanwhile, cut catfish into small pieces, season with salt and pepper, add to the mustard and turn so the catfish is completely coated. When oil is at proper temperature, remove a piece of catfish from the mustard, dredge in cornmeal to coat and drop in the fryer. Repeat with additional pieces of catfish, being careful not to overcrowd fryer. With tongs, remove cooked catfish from fryer and drain on paper towels. Repeat until all the fish is cooked. Serve with lemon wedges. Makes 4 servings.
Shrimp And Orzo
2 cups orzo
2 tablespoons olive oil
2 cloves garlic, minced
½ cup white wine
Large pinch crushed red pepper
2 tablespoons butter
½ pound small shrimp, peeled
coarse salt and freshly ground
black pepper
1 tablespoon parsley, chopped
Cook orzo al dente according to package instructions. Meanwhile, in a large skillet, cook garlic in olive oil until softened. Add wine and crushed red pepper and reduce by half. Add butter and shrimp and cook briefly to firm shrimp. Drain orzo, reserving some of the cooking water. Add orzo to skillet and stir. Add a little of the cooking water and season to taste with salt and pepper. Simmer for a minute or two to meld flavors. Divide the orzo and shrimp among 4 shallow bowls and sprinkle with chopped parsley. Makes 4 servings.
Shrimp Jambalaya
2 tablespoons extra-virgin
olive oil
1 cup long-grain rice
1 medium onion, diced
2 cloves garlic, minced
1 rib celery, diced
1 medium bell pepper,
seeded and diced
½ pound small shrimp, peeled
1½ cups chicken stock
½ cup tomato puree
1 teaspoon Cajun/Creole seasoning
¼ cup green onion tops
2 tablespoons chopped parsley
In a medium pot, combine olive oil, rice, onion, garlic, celery and bell pepper. Cook on medium heat, while stirring, until vegetables are softened, about 5 minutes.
Meanwhile, heat chicken stock and tomato puree in a small pot or in the microwave. Add chicken stock, tomato puree and Cajun/Creole seasoning to the rice mixture. Cover, bring to a boil, reduce heat and simmer until all the liquid is absorbed, about 15-20 minutes. Let sit, covered, for about 5 minutes, then stir in onion tops and parsley. Makes 4 servings.
Broiled Catfish With Mayo
4 catfish filets
Cajun/Creole seasoning
¼ cup mayonnaise
lemon wedges
Preheat broiler and oil broiler pan. Sprinkle catfish with Cajun/Creole seasoning and place on pan. Using a table knife or thin spatula, coat each filet with mayonnaise. Broil until nicely browned and cooked through. Serve with lemon wedges. Make 4 servings.