Louisiana Proud
Jon Batiste sweeps the Grammys and Minden homes and businesses get star-powered makovers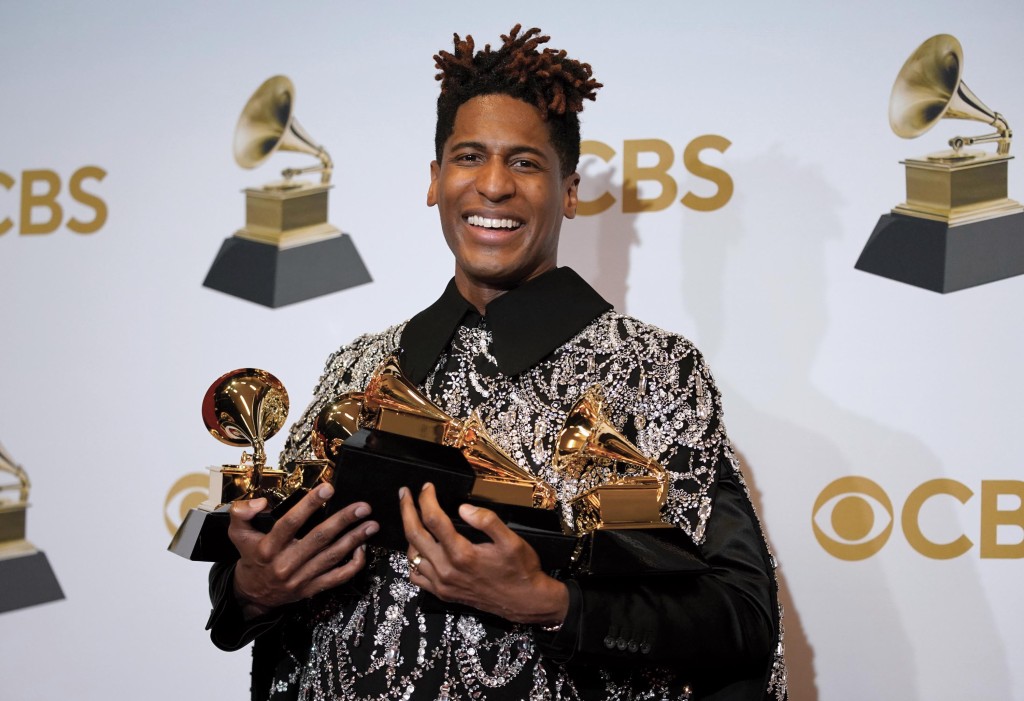 New Orleans' Oscar-winning pianist/singer/composer Jon Batiste, who took home five Grammys at the 64th annual Grammy Awards including Album of the Year ("WE ARE") following his electrifying performance of "Freedom" (with a frolicking finale atop Billie Eilish's table) premieres his genre-melding opus "American Symphony" May 7 at Carnegie Hall. The acclaimed multi-instrumentalist performs with the first all-black classical symphony orchestra in Carnegie Hall's 130-year history (carnegiehall.org/). Batiste's "Freedom," filmed on the streets of New Orleans' Faubourg Marigny, won a Grammy for Best Music Video (jonbatiste.com).
Monroe
Camp with Crime Scenes
Are you interested in becoming a crime scene investigator? High school students can get a taste of forensic science at the college level at Louisiana Delta Community College, which is offering a new CSI Camp June 13-17 for incoming juniors and seniors or graduating seniors. Get hands-on experience with fingerprinting, bloodstain patterns, tool marks and work a mock crime scene. Space is limited (ladelta.edu).
Minden
HGTV Revitalizes a Town
Fueled by two HGTV blockbuster hit series, "Home Town" and "Home Town Takeover" starring Ben and Erin Napier, the franchise expands with an all-new series, "Home Town Kickstart" featuring Minden among five other small towns revitalized for the weekly series (Buffalo, Wyoming; Cornwall, New York; Winslow, Arizona; LaGrange, Kentucky; Thomaston, Georgia). HGTV has deployed its biggest stars to refresh the home of a local hero, give a small business an upgrade and invigorate a public space. People Magazine is sharing each town's unique stories (hgtv.com).
Thibodaux
First Dorm for Furry Friends
Nicholls State University will become the first university in Louisiana to offer a pet-friendly residence hall beginning in Fall 2022. In the aftermath of hurricane Ida, Dr. Michele Caruso and her team researched how pets have helped students get through difficult times. Eligible students will have the option to request a pet-friendly room (for cats and dogs only) in North Babington Hall, which will also be equipped with a dog park for furry residents "to get exercise and socialize" (Call for details, 985-448-4479).
Shreveport
Fishy Fun
Check out the Shreveport Aquairuim's nautical summer camp program, Camp Aqua. Options include the new Fins and Fidgets camp (explore slime and spinners, stress balls and slinkies and create fidget-themed art) and Junior Aquatics (learn what it takes to be a marine biologist). June and July dates available (shreeportaquarium.com/camps).
Major Acquisition
Lafayette
UnitedHealth Group, the nation's largest health insurer, will acquire Lafayette-based LHC Group for $5.4 billion. The merger will add one of the country's largest home-health firms to a portfolio that already includes doctor groups, various home-based services, clinics and surgery centers. The combined companies will form what would be the world's largest home health care company, housed in LHC Group's Lafayette office (unitedhealthgroup.com; lhcgroup.com).
Caviar and Cupcakes, Queens and Cocktails
New Orleans
One of the most celebrated culinary events in America, the New Orleans Wine & Food Experience (NOWFE) celebrates its 30th anniversary June 7-12 with a birthday bash featuring flights of champagne and caviar, cupcakes and commemorative caviar spoons (June 10). From elegant wine dinners and a burlesque brunch to a diverse lineup of labs and experiences including NOWFE's first-ever drag show, Queens and Cocktails (with Trixie Minx and her "glamazons" June 12), NOWFE's big weekend attractions are two Grand Tastings (June 10-11) featuring a vast array of culinary creations by top chefs competing for prizes alongside 50 wineries serving hundreds of fine wines (nowfe.com).
Movie Millions
Lafayette
Filming of the sci-fi thriller titled "57 seconds" starring Oscar-winning actor Morgan Freeman with Josh Hutcherson (Hunger Games) wraps in May, followed by 20 weeks of post-production work that will add currency to the $8.5 million production expenditure (with $1 million in local purchases, rentals and services spent to date). Based on an E.C. Tubbs story titled "Fallen Angel" about a tech blogger's time-travel encounter with a tech guru.
Quick LNG Turnaround
Grand Isle
New Fortress Energy Inc. (NFE) announced it has filed with federal regulators to build a liquefied natural gas (LNG) export terminal offshore Louisiana (16 miles off the southeastern coast of Grand Isle) that could be online in 2023. The company said it has filed applications to deploy its fast LNG technology, which NFE unveiled last year. With rapid deployment, the project can play an important role in supporting Europe as the continent looks to reduce its dependance on Russian fossil fuels (newfortressenergy.com).
Safeguarding a Culture
Eunice
After winning recent U.S. Senate approval for the Save the Liberty Theatre Act, activists are anticipating the restoration and reopening of the circa 1924 beloved Eunice landmark known for its Saturday night live radio and TV show hosted in French with Cajun bands in the Grand Old Opry/Louisiana Hayride format. Members hope to finalize architecture plans by the summer (eunice-la.com/historical-sites/).
A U.S. Debut
Lafayette
Genesis, the luxury car line for Hyundai, debuts its first standalone retail location in the U.S. in Lafayette. Unlike a traditional dealership, options include at-home online sales, test-drives and concierge services (genesisoflafayette.com).
Dead Rabbit in French Quarter
New Orleans
New York's legendary Dead Rabbit bar (deadrabbitnyc.com), acclaimed for its industry-leading drinks and Irish coffees, is going through some rebranding and expansion. The comical rabbit-man mascot with glowing red eyes will be retiring when the 170-seat New Orleans French Quarter location launches in February, 2023 for Mardi Gras. The storied mid-19th century style pub, named for an Irish gang that once ruled streets of lower Manhattan, was a "World's Best Bar" winner at the 2015 Tales of the Cocktail (held July 25-29, 2022).
Gifts of Gear
Gonzales
The 42nd annual Louisiana Sportsman Show and Festival returns to the Lamar-Dixon Expo Center June 17-19. Timed for Father's Day, the family-friendly fest is the largest hunting and fishing sales show in Louisiana featuring everything from hunting and fishing gear to boats, splash dogs and big buck contests (louisianasportsmanshow.com).
For Your Health
Jefferson Davis Parish
The 70-year-old Jennings American Legion Hospital has become part of Ochsner Health and will be renamed Ochsner American Legion Hospital. The merger will better position the hospital to expand access to high-quality, affordable, innovative care for residents of Jefferson Davis Parish and other communities. Minimum wage will increase, and a new electronic health record system allowing patients to complete actions via laptop or smart phone is underway (jenningsamericanlegionhospital.com; ochsner.org).
New Neighborhood Museum
Lafayette
Maison Freetown, Lafayette's first African American neighborhood museum and cultural center, is opening mid-June. Situated in a unique, circa 1929 home refashioned to document and preserve the history of Freetown while providing education and space for neighborhood engagement via exhibition galleries, artist lofts, classrooms, gift shops and co-working spaces (maisonfreeetown.org).
Of Furs, Feathers and Fins
Krotz Springs
Join the locals in celebrating the extraordinary wildlife and habitats on the banks of the Atchafalaya surrounding the community of Krotz Springs June 1-4 at the annual Krotz Springs Sportsman's Heritage Festival. Foodies can vote for the best wild game in the Furs, Feathers and Fins cook-off, then hit the dance floor for some Cajun, zydeco and swamp pop bands while the kids enjoy the fairgrounds (kssportsmansheritagefestival.com).
Expansion Underway
Kinder
Construction is moving forward on a more than $40 million expansion at the Allen Parish Community Healthcare Hospital. Plans include the expansion of emergency services, surgical care and behavioral health services at its 10-acre site. The existing 52-year-old hospital will be torn down as part of the five-year, three-phase project that will allow many procedures that locals are now going to Lake Charles, Alexandria and Lafayette to have done (allenparishhospital.org).
Baby Gator Love
Houma
Slip on your Cajun Reeboks and head to downtown Houma for the second annual White Boot Stroll (May 28). The babies won't bite, so enjoy a photo op with Greenwood Gator Farm's baby alligator petting station (free). Celebrate Terrebonne Parish's art, culture, music and cuisine and leave with some locally made products (houmatravel.com).