Wine and Dine
Monroe and West Monroe offer a fun escape and plenty to sip, see and eat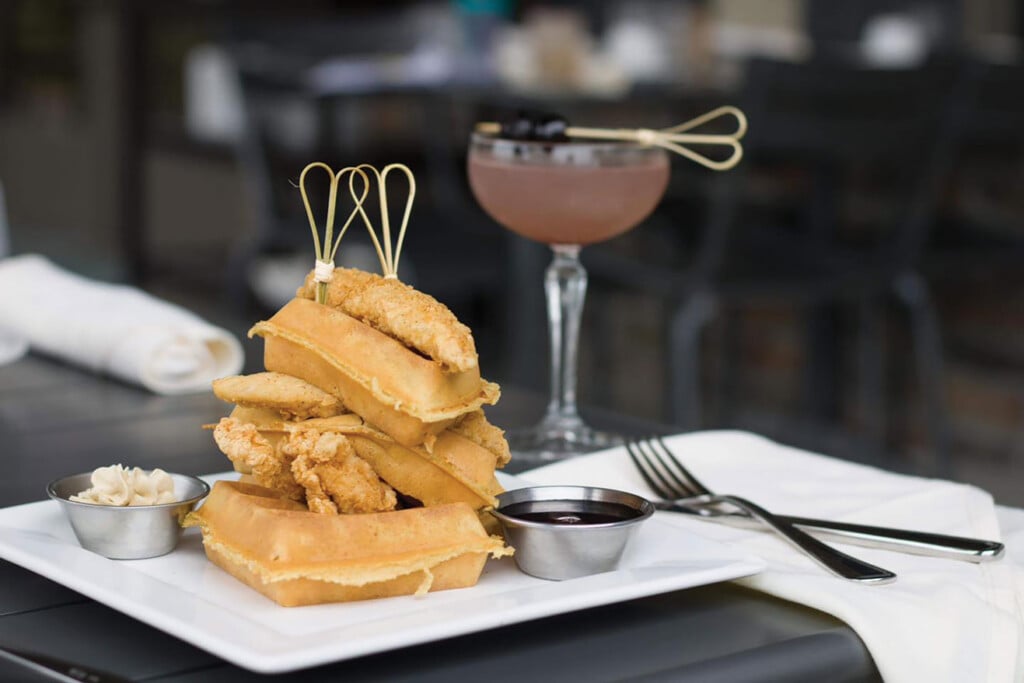 photo courtesy delta biscuit; herons on the bayou; landry vineyards
We must admit we're skeptical when people rave about Louisiana red and white varietal wines. Most vineyards in the Deep South produce sweet muscadine or fruit-based wines. But we were pleasantly surprised to find the hills of northern Louisiana not only producing varietals but offering fun destinations as well.
Jeff and Libby Landry began the trend when they moved their business north from Folsom after Hurricane Katrina destroyed their St. Tammany Parish vineyards. They discovered the North Louisiana hill country to be optimal for growing grapes and set up shop off Interstate 20 on rural Well Road in West Monroe.
The grapes grown in Landry's Vineyards include blanc du Bois, lenoir/black Spanish and crimson cabernet. They also purchase grapes from California to serve 24 different wines in their tasting room, which is open Monday through Saturday. Visitors may tour the winery, vineyard and bottling facility on Saturdays.
New to the property is Landry Vineyard's "Grape Escape" cottages, available for rent on Airbnb, which is great news since the vineyard routinely hosts concerts throughout the year. For instance, Code Blue and The Flatliners perform their rock, country and dance mix on Mother's Day Weekend and there will be food trucks on hand, wagon tours through the property and wine for purchase. It's the perfect opportunity to enjoy an outdoors event with spirits without having to drive. Lagniappe Saturdays are similar events, but featuring a single musician or duo on the front patio.
New to the north Louisiana wine scene is Thirsty Farmer Winery and Vineyard in nearby Calhoun, a winery and varietal vineyard begun in 2022 by Michael and Savannah Ray. Drive up the hill to the hip new tasting room to sample everything from a varietal flight to hard ciders and fruit-forward wines. Visitors may enjoy tasting their bounty to live music on Saturdays while viewing the surrounding vineyards.
What's New
Herons are perching all over Ouachita Parish — public art versions of the wetlands bird, that is. The Herons on the Bayou project matches bird sculpture templates with artists and the result has been a variety of colorful birds created and assembled throughout the twin cities of Monroe and West Monroe. On June 3, 13 new herons will be unveiled to bring the total of public art pieces to 100. Visit facebook.com/heronsonthebayou to find out where these herons will roost.
The Delta Biscuit Co. opened in Monroe to serve cocktails, brunch dishes and, of course, their own style of biscuit and the word has gotten out. Be prepared to wait at this new eatery started by husband and wife team Glen and Jessica Lewellyan, but it's worth it.
Another newcomer is Flying Heart Brewing & Pub, which opened its second location along the Ouachita River in West Monroe (the first being in Bossier City). Visitors may enjoy their unique pizzas, giant pretzels and craft beers inside the oversized restaurant or outside on the back patio, a perfect setting for families.
After all that good eating, a hike through the woods may be in order. Kiroli Park in West Monroe offers 150 acres of trails, plus a dog park, expansive playgrounds, a peaceful lake and gardens.
What's Happening
Coming up this summer is the Red, White & Blue Airshow May 5-7 at the Monroe Airport with performances by the A10 Demo Team, Aeroshell Team, Kevin Coleman and more along with food trucks and vendors.
Ouachita RiverFest on May 13 in downtown West Monroe features live music, vendors, a rubber duck drop in the river, fishing tournament and a kids' area.
In June, art galleries throughout downtown Monroe and West Monroe will open their doors for the Downtown Gallery Art Crawl, an event held bi-monthly on the first Thursday of the month.
For more information, visit Monroe-West Monroe tourism at monroe-westmonroe.org.